by Sun's Dragon    
Well there went another BLiP and it was a great weekend enjoyed by both visitors and exhibitors alike. The Arena in Portimâo is an impressive exhibition venue and the parking facilities were excellent. Being personally greeted at the entrance and handed the BLiP brochure with all the information about this expo was a very welcoming start to a really enjoyable day.
Meravista - a big hit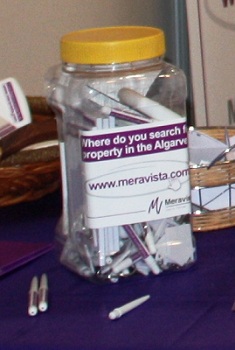 Naturally, Meravista was a huge hit with everyone who came to enjoy the exhibition and folks were queuing up to have some fun with our 'Guess the Goodies in the Jar' competition. There were actually 77 items in the jar, and we thank everyone who took part. The lucky winner of our fine case of Portuguese wine is Nick Downs, who comes from Odelouca, near Silves.
People who weren't looking to buy or sell property were nevertheless impressed with the scope of information on the Meravista website, including the informative articles about towns and counties in the Algarve, activities available across the region and of course the blogs that keep our readers up to speed on what's happening in the area. Everybody wanted to know more about Meravista and we were very happy to update them on our latest developments, our more than 12,000 property listings, and show them just how clever this website is!
The old and the new
Kiss FM supplied good music to keep everybody in good spirits as well as acting as comperes to announce the events taking place. The Algarve Resident supplied everyone with their weekly news and the latest issue of their handy local directory, the Blue Pages. There were a number of long-established Algarve businesses and also some fantastic new innovations to discover among the exhibition stands. It was quite remarkable how far some people travelled to visit this famous event.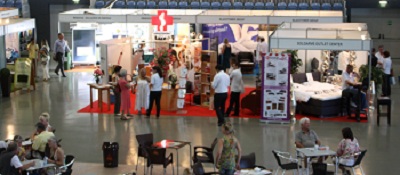 Visitors enjoyed browsing the latest products and services and buying from the stands in the shopping area. It was good to see the British Consulate represented, explaining their presence in Portugal and the many ways in which  they can be of service to British expatriates living here. I have to say, they were very impressed with the Meravista Texas Toll House Cookies!
Turismo de Portugal - Algarve (The Algarve Tourist Board), lending their backing to this great exhibition for the first time, did their utmost to showcase the beautiful crafts produced here. Artisans from all over the Algarve put on an impressive display of fantastic merchandise which was admired by numerous show-goers. In addition, Dora Coelho, Turismo de Portugal - Algarve's Chief of Staff, gave an excellent presentation on Saturday and showed the organisation's inspiring promotional film.
Of course it was AFPOP who first instigated the BLiP exhibition and they naturally had a big presence to inform and educate visitors of their interests in the Algarve and how to make the most of being a resident here.
Medical matters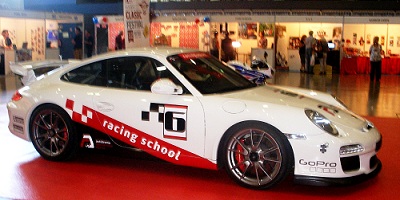 Luz Doc staged active demonstrations, gave free cholesterol, diabetes and blood pressure checks and were delightfully helpful to everyone. Hospital Particular did their bit too with a special offer for a full medical at a very reasonable rate.
Food and drinks
As promised, there were free wine tastings, British pies, Sweet Marilyn goodies and a host of food products to taste and savour. The friendly staff at the cafe worked hard to ensure there were plenty of snacks and drinks for everyone to enjoy and laid tables outside in the sunshine. The food court on the upper level also did a roaring trade with patrons able to look down into the arena and people-watch whilst enjoying their lunch.
Business as usual
A wide range of products were displayed and sold over the two day period, such as
insurances, money exchange, gardening and professional cleaning, as well as cars, bikes and go-karts that were on show for the speed freaks among us. Diversity was definitely the name of the game here.
Algarve Expats Lifestyle Survey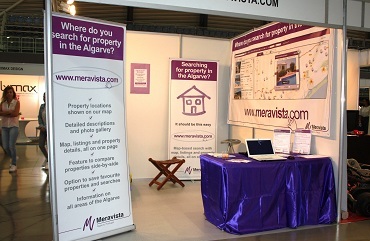 To round it all off, Meravista asked their visitors to take part in their Algarve Expats Lifestyle Survey. Once the data has been gathered our experts will analyse what draws us to, and keeps us enthralled with, life in the Algarve.
If you missed the opportunity to take the survey at BLiP then just click here and join the many expats who have already taken part. There are 3 cases of Portuguese wine to be won, so don't forget to opt into our prize draw.
   Brought to you by Meravista – the place where smart people search for Algarve property for sale.