By Sun's Dragon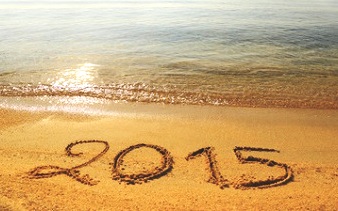 Happy New Year !
Well the turkey (or bacalhau) has gone, the presents have been unwrapped and the tinsel will be coming down any day now. What a lovely time of the year December is, full of compassion, goodwill and the art of giving. Let's try and keep it that way all year long (my New Year's resolution).
The Algarve is the perfect place to be with the glorious sunshine, the showers for the gardens and endless hobbies to keep us entertained. Let's see what there is in store for us this month.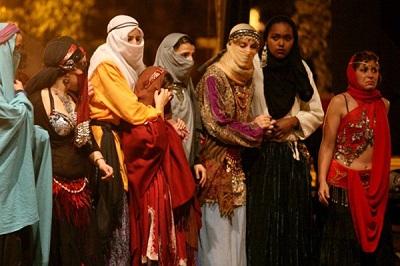 The first Medieval Festival of 2015!
From the 1st to the 4th January, Paderne will be celebrating their Paderne Medieval (Medieval Festival). Starting at midday, including an historical parade in medieval wear, a medieval market and food court with plenty of traditional games and entertainment thrown in, this is a great start to the New Year and fun for all the family.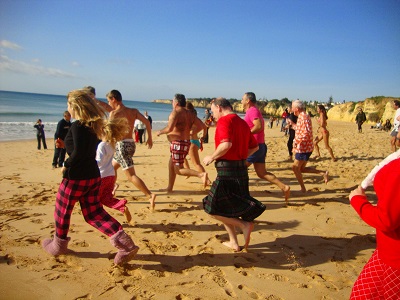 Holiday Inn Algarve – for charity and for yourself
The Christmas Day "Swim for Shoes" was a huge success with over 900 Euros raised, so don't forget the New Years Day Swim (or paddle!) for Shoes that will be held on the beach at Armação de Pêra in front of the Holiday Inn Algarve.
Starting at 11am, let's see if we can join the Holiday Inn to raise more money for those underpriveliged children's shoes!
Don't forget - wear your pyjamas!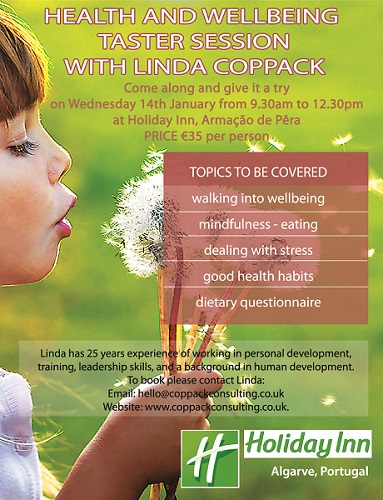 The Holiday Inn will also be hosting the first of a new series of workshops in January. A Health and Wellbeing Taster session will take place from 9:30am to 12.30pm on Wednesday, 14th January.
The session will cover walking into wellbeing, mindfulness - eating, dealing with stress and good health habits.
The cost for this session is €35 per person. To book visit the website or email Linda.
Lose weight, gain fun with Zumba!
Did you gain a few pounds over the Christmas period? Well you're not alone!  So if you want to get rid of some of the excess and have fun at the same time why not have a go at Zumba? Check your local press for the class nearest to you.

For those in the areas around São Bras de Alportel, there is Emma Louise.
Emma Louise will be starting her classes on the 5th January, and on the 6th of January for beginners, at the São Brás Museum at 10.30am. Pop along and see how much fun it is to dance away the pounds and the blues!
If you want to know more you can visit Emma Louise on her Face Book page or even email her. Then start dancing!
Relax on water

Why not take a boat tour from Faro and experience an ecological world, coming face to face with some spectacular wildlife species including flamingos and spoonbills amongst many others in the Ria Formosa. These tours take place every day, all year round and start at 11.30am and 3pm.
This is your chance to see a different side of the Algarve in every season.  There are many operators to choose from – Animaris is one of them.  
Dry scuba diving… keeping your feet dry
On Tuesday 6th January at the São Brás Museum, Jorge Russo will be giving a talk, in English, about Diving on the Wreck of the SS Dago. Entry is only €5 and is a must-hear for diving enthusiasts as well as non-divers with an interest in the underwater world.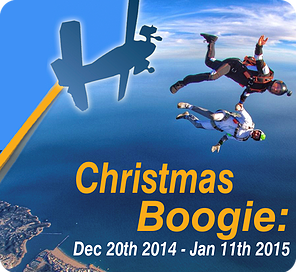 For the brave… more diving, but with your feet off the ground…
If you fancy a bit of boogie with a difference – how about a Sky Dive? The latest "Boogie" at Sky Dive Algarve is from 20th December to 11th January, so it's all going on right now.
Prices start at €199 for a tandem skydive during these dates with discounts for groups. To register or find out more check their website or contact by email.
Golf galore
With 39 pristine golf courses in the Algarve there's always something happening for the avid golfer and here are just a couple of events to whet your appetite.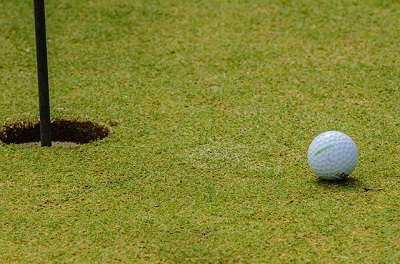 Every Saturday throughout January, the Oceanico group are laying on a singles stableford competition at a different course each week. Prices vary and you can find out more by visiting this website.
The Dom Pedro Hotel in Vilamoura is hosting their 17th Golf Classic from the 10th to the 17th January.  Prices include staying at the hotel for a week and five rounds of golf at courses in Vale de Lobo and Vilamoura. Find out more details and golf-only prices.
Check out Meravista's Google Earth Golf Tour featuring the Algarve's most popular golf courses too.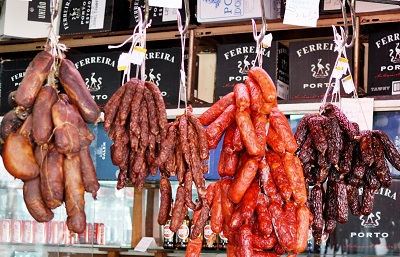 Querença Chorizo Festival
18th January: enjoy the Querença Chorizo Festival from 11am. This festival is in honour of St. Luis (the protector of animals). Traditionally the families in inland Algarve raised a pig to sustain themselves through the year and asked St. Luis to keep it in good health.
To thank the Saint they offer their best homemade chorizo and this is how the festival started. There will be the traditional procession, music and entertainment and mountains of Chorizo and all kinds of food as well as plenty of drinks to enjoy.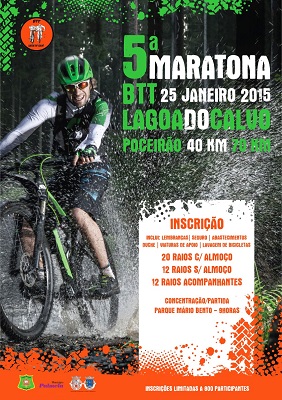 Biking Marathon
Editor's note:  this event takes place in Lagoa do Calvo - This is at Poceirão, near Lisbon and not at Lagoa, Algarve. However biking enthusiasts might still wish to register and take part! 
The 25th January sees the 5thMaratona BTT Lagoa do Calvo: a gruelling marathon on mountain bikes. In fact there are two levels: the first is a 40km route and the second level is 70km.
These are open for both men and women and even for youngsters over the age of 14 (with parental permission).  The event takes place at 9am at the Mário Bento Parque, Porceirão. 
There are only 800 places for participants and it's a first come, first served basis (after payment) so don't hang about! To find out more visit the website or the blog site, or contact by email.
Burns Night at the Pousada Estoi Palace 25th January 2015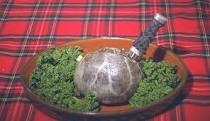 If you are looking for some fun in the New Year and would like to learn a few simple Scottish dance moves, the Rotary Club Estoi Palace International (RCEPI) will be repeating last year's successful Burns Night celebration on Sunday 25th January at the Coaching House, Estoi Palace.
This year the Club has obtained the services of a live Ceilidh Band and Piper, specially flown in from Scotland for the occasion. The cost, including dinner and wine, will be €40 per person and will feature Scottish Country Dancing to music provided by Scots musicians Tunna. Contact Robin Wilson at for more information.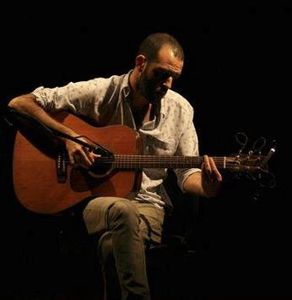 Music in the Algarve
There will be two concerts featuring the famous Portuguese guitarist, Norberto Lobo, in the Algarve this month. The first, on 19th January will be held in Vila Real de Santo Antonio at the Conservatório Regional de Música – contact 259 309 210.
The second concert is on 30th January  in Faro at the Teatro das Figuras - contact 289 888 100.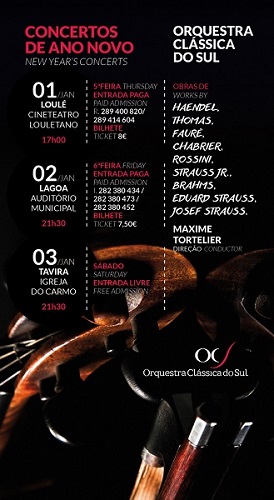 Don't forget that the Charolas will be playing their traditional pranks and music all over the Algarve from the 1st to the 26th January. Check out your local Junta de Freguesia, bars, markets – they are everywhere – so find out when and where they will be near you and join in the merriment. Read our previous blog about this fun tradition!
The Orquestra Clássica do Sul with guest Conducter Maxime Tortelier will be holding no less than three New Year Classical Music Concerts this month:
Starting on 1st January at Cineteatro in Loulé from 5pm, with tickets costing €8. For more information call 289 400 820 or 289 414 604.
On 2nd January they will play at the Auditório Municipal in Lagoa at 9.30pm with  tickets costing €7.50. For more information call:  282 380 434 / 282 380 473 / 282 380 452
On 3rd January they will be playing at the Igreja do Carmo, Tavira, with the concert starting at 9.30pm. Entry is free for this one.
The São Brás Museum will be hosting the Jazz Club on the 18th January starting at 5pm, tickets cost €10 (€8 for Amigos). They are also hosting a Fado Night on Sunday 25th January at 9pm and the entry costs €4 (or €3 for Amigos).
So that's another month packed with action to look forward to. There really is something for everybody in the Algarve. And if you are looking to join a group of like minded people for various activities, why not take another look at our January 2014 blog. As for me – I'm exhausted just thinking about what I don't want to miss this year!  How about you?
Editor's note:
Don't forget, the other activity you can do all year long even if you're not in the Algarve, is find your perfect property on Meravista.com. Holiday hideaway, winter bolthole, second home, retirement quinta or investment villa – we've got them all!
If you have any upcoming events or regular fun stuff you would like us to feature in our monthly events blog, please email details to info@meravista.com by the 15th of the preceding month.
Brought to you by Meravista – the place where smart people search for Algarve property for sale. Contact Meravista