By Sun's Dragon
We all love going to Christmas fairs and Markets. Choirs singing Christmas songs, people selling hot roast chestnuts, mince pies, mulled wine. Children's games, raffles and tombolas. And of course the stalls selling all sorts of festive food and gifts. Some stalls are an extra outlet for their shop, selling ready-made items. But the majority are usually people selling hand-made items which are unique and different from standard stuff (made in China) which you find in the shops.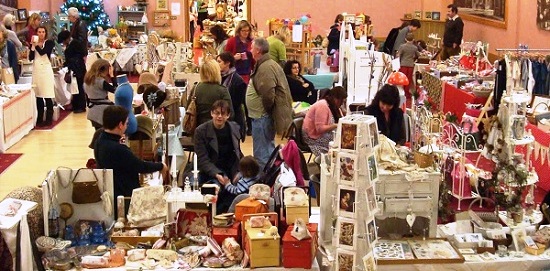 Filling jars!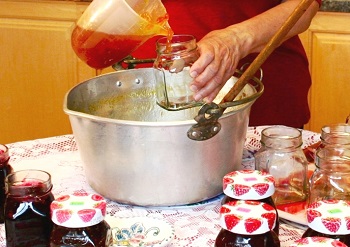 Since moving to the Algarve I have been very fortunate to get bountiful crops of fruit in my garden. What on earth do you do with kilos and kilos of fruit and veg that seem to appear overnight? Pickles, chutneys and jams were the obvious answer, but I found the work involved was staggering.
Picking and peeling, slicing and dicing, followed by boiling, stirring and simmering; sterilising jars, filling them with boiling fruit (mind your fingers!) and then boiling them again is all part of the process. Believe me, peeling, coring and slicing 20 kilos of mini pears took me three days and gave me calluses!  At the end of it all I had jars and jars of pear conserves that were delicious.
The same process was gone through for my bumper crop of peaches, plums and nectarines too. Before discovering wild tomatoes growing between my rose bushes, I had never heard of green tomato chutney! That too turned out really well but at the end of the day you can only store and give away so much.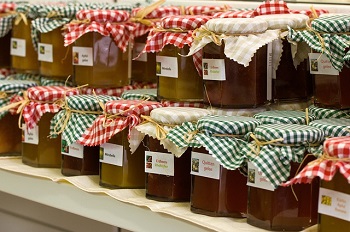 And then what? Christmas fairs of course!
The makers of preserves and other foods have to load boxes and boxes of home-made goodies and lug them to a Christmas market. The stall or table space has to be paid for and, depending on the fair, you might be outdoors and have to worry about rain or wind. In the case of perishable foods, you might have to worry about heat and direct sun.
So do spare a thought for all those wonderful people who will be selling these delicious goodies – you can't compare them to 'store bought'.
A touch of glass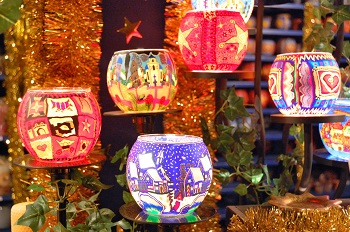 I know two little elves who have been burning the midnight oil as they busily paint glassware. Washing the glass, outlining the pictures and painting within the outlines to make a stained-glass effect takes a lot of time, not to mention a steady hand! They have created delicate bowls for candles, tall vases, Christmas table centre pieces and a host of jars for candies: each item is hand painted and unique.
When you see a table full of glass or fragile items at a fair, you forget how it was made or how it got there. Packaging and transporting boxes of delicate items, and then hoping to display them to their best advantage, takes a lot of planning and care.
Oh Christmas tree, oh Christmas tree
Some of the loveliest tree ornaments I've come across have been made by ladies who 'have an eye' and the time and patience to create these beautiful works of art.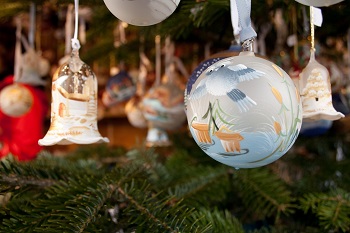 One woman cuts tiny squares of Christmassy material from a large roll, patiently folds each square and then pins them into intricate patterns on Styrofoam balls. Each bauble is stunning and each one takes at least an hour to make!
Another lady painstakingly stitches and embroiders traditional, funny and witty hearts and tree shaped ornaments. She spends hours and hours doing this throughout the year and has a good stock by the time the fairs roll around in November and December. At least the items are small and she doesn't need to worry too much about transportation and breakage!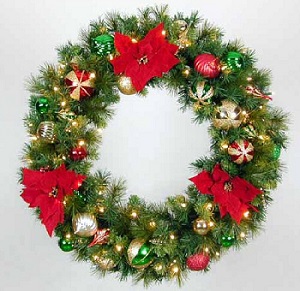 It's amazing what some clever folks can do with a bit of holly and ivy and suchlike. I've seen some fabulous wreaths, garlands and fancy baskets, filled with Christmas greenery and ornaments being conjured up as if by magic. Of course it's not magic, but not many of us have the creativity, time or inclination to do this ourselves.
Most Christmas markets include a clever artist or two selling decorative wreaths and baskets. Having a pretty twinkling Christmas wreath on your door somehow makes a house a home, don't you think?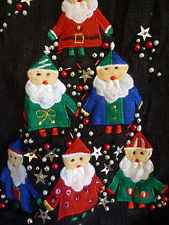 Christmas glitz
No Christmas would be complete without our 'festive finery' would it? You'll be sure to find plenty of pretty handmade necklaces, bracelets, brooches and earrings. Some make beautiful items with a Christmas theme, but others create stunning jewellery you can wear all year round.
There are crafters who specialise in clothing and fabric items too. You're bound to see lovely waistcoats, appliquéd tops and fun slippers, all made by a clever lady or two. Christmas tablecloths and placemats too. I'm still using some beautiful quilted placemats and table runners I bought at a fair about 25 years ago, and every year my family and friends compliment how wonderful they are!
I'm sure there will be funny hats, beautiful scarves and a handmade handbag or two as well. Diamante, sequins and all things glitter are de rigueur for our Christmas outfits and they'll be well catered for at every fair. Just look out for the sparkles!
Cards and calendars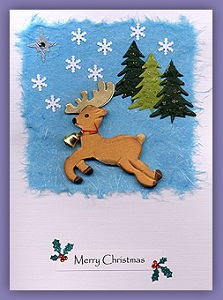 Making a Christmas card is not easy; you need special cutting tools, rather a lot of coloured card and papers, sequins, not to mention a bit of skill and patience galore!
When you consider it, it's quite an investment, both in time and money. Yet there will be lots of special cards on sale at the Christmas fairs and most of us will not realise just how much effort has gone into making them.
Charities will be selling their 2015 calendars and Christmas cards too, to boost their funds. We can expect to see dogs, cats, horses, kids and lots more to choose from to support these worthy causes. These too make excellent gifts, especially if you need to post them to family and friends abroad.
SOS Algarve Animals already has their Christmas cards on sale online, and you can also find them at the Lagoa Christmas fair.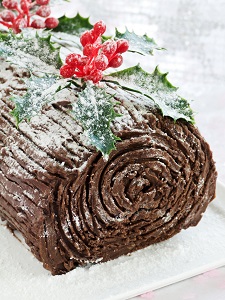 More food
Every Christmas fair I've ever visited in the Algarve has had stalls selling homemade Christmas cakes, Christmas puddings and Christmas 
cookies. Traditional Christmas foods from various countries are usually available, from German Christmas Stollen, British mince pies, Italian Pannetone and of course the Portuguese Bolo Rei. When you find these, don't forget to consider the cost and time that the people making them have invested, including ingredients, electricity, packaging! 
Then there's the chap who infuses special cooking oils with herbs and spices for that extra special taste or a really special gift.
The chocolatiers come into their own with their crafted chocolates using white, milk and dark chocolate or even a mixture of them all. Chocolates are always a welcome present to find under the tree on Christmas morning.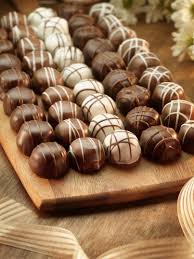 There are even those who make their own special liqueurs or wines from the fruits of their gardens or foraging in the wild. There's nothing like a drop of Christmas cheer in this jolly season.
So if you are running out of time for baking, know someone who loves to cook with unusual ingredients or even somebody with a sweet tooth, you know where to find their unique Christmas present. Oh, and you can relax with them during this season of goodwill with a tasty glass of something special.
To find out where the Christmas fairs, markets and bazaars are in the Algarve this year, take a look at our list.  Be ready for the first fair on Saturday 15th November at the International School at Porches. See you there! 
Brought to you by Meravista – the place where smart people search for Algarve property for sale. Contact Meravista