by Almonds and Oranges   
Summer's well and truly arrived here in the Algarve and what better way to spend a warm sultry evening than enjoying a barbequed meal with friends and sharing a bottle or three of delicious local wine.

So many foods barbeque well and with countless recipes that originate from every corner of the world, you're really spoilt for choice when it comes to compiling a menu. Personally, I like to cook in the traditional style – traditionally Portuguese that is – accompanied by one or two alternative dishes, just to keep it interesting!
Spicy starter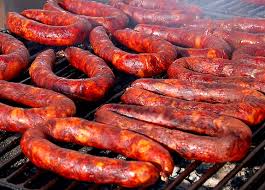 As an appetiser, there's nothing tastier than grilled chouriço; the aroma while it's cooking is pretty mouth-watering too. Most chouriço grills well, so it's just a matter of taste. Portuguese chouriço comes already cooked, but grilling on the barbeque will cook the fat in the sausage and improve the flavour. You can either grill your chouriço whole or you can slice it and place it on skewers. It's great accompanied by chunks of courgette. If you're using wooden skewers, don't forget to soak them in water for about 20 minutes before you load them, that way they won't burn on your barbeque.
It's an easy starter; choosing from the hundreds of varieties on sale in Algarve supermarkets is the difficult task.
Frango no Churrasco (Grilled Chicken)
You can't get more traditional than Frangono Churrasco and I'm sure it's not just my imagination that Portuguese chickens have far more flavour than most.
Always look for the national product label, to make sure that you're buying Portuguese chickens and not birds that have been flown in from South Africa or the like. Cut off any excess fat from your chickens. Butterfly them using kitchen shears or, to make life really easy, buy them already prepared.
You can simply rub sea salt into your chicken and grill it plain, or you can spice it up a little; working on a one-chicken-for-four-people basis, you'll need the following ingredients to cook one bird:

200ml of olive oil

4 garlic cloves

Juice of 1 lemon

1 teaspoon of piri-piri sauce (you can buy this in just about every food store in the Algarve)

Black pepper

Paprika

Coarse sea salt
Rub salt (to taste) and the lemon juice into your chicken. Next rub in the paprika (to taste) and olive oil, sprinkle with black pepper and brush with the Piri-Piri. Let your chicken sit in the fridge overnight or for a couple of hours before grilling.
Place your chicken, breast down, on a hot grill and brush with the juices from the marinade. Using a grill rack or basket makes it easier to manage your bird while it cooks. Grill for five to ten minutes, then flip your chicken over, brush again with the marinade and grill for a further 10 minutes. Make sure the meat is cooked right through to the bone, then remove from the grill and let it rest for five minutes before serving.
Costeletas de Porco (pork chops)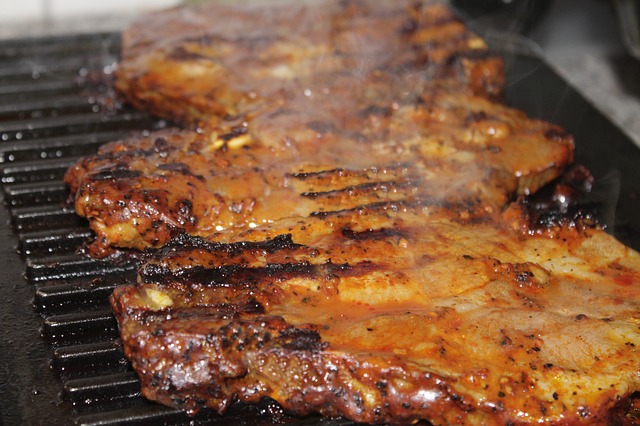 Pork is a very popular meat in Portugal and just about every part of the pig is used in Portuguese cuisine. Pork on the bone is best for the barbeque, as the meat doesn't dry out too quickly and cooking on the bone gives extra flavour too. Costeletas (chops) are great barbequed. You can put them on your hot grill naked (the chops not you), or you can rub them with a little olive oil and/or salt and pepper.
The majority of prepared chops on sale in Algarve supermarkets are fairly thin and should be grilled hot and fast; look out for Costeletas do Cachaço. They cook very quickly, so you need to keep an eye on them. They only need three to four minutes each side on a hot grill. Don't over-cook them!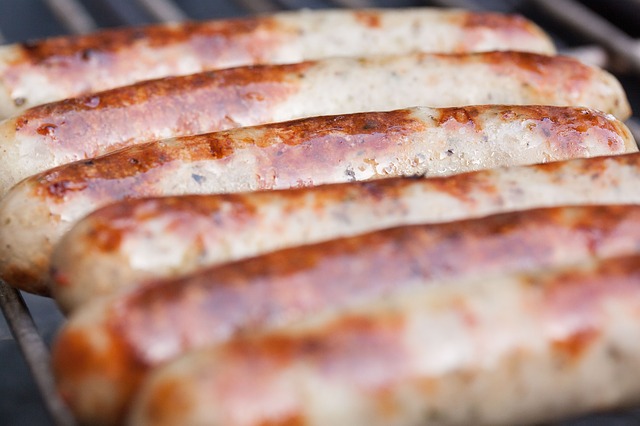 Salsichas (sausages)
There's nothing easier to cook or tastier to eat than a good barbequed sausage. You'll find a range of Portuguese, English and German sausages on sale in the Algarve, depending on which stores you have in your area and the nationalities of your local butchers. I love the spiciness of Portuguese sausages, but my favourite are German sausages, as they are full of flavour and contain 100% meat (that's the law in Germany). If you find a good German butcher, definitely check out the sausages!
.
Always make sure that you cook your sausages right the way through. The key is not to have them too close to the coals so that they cook and char on the outside, but are still raw on the inside. Cook them slowly and turn them frequently.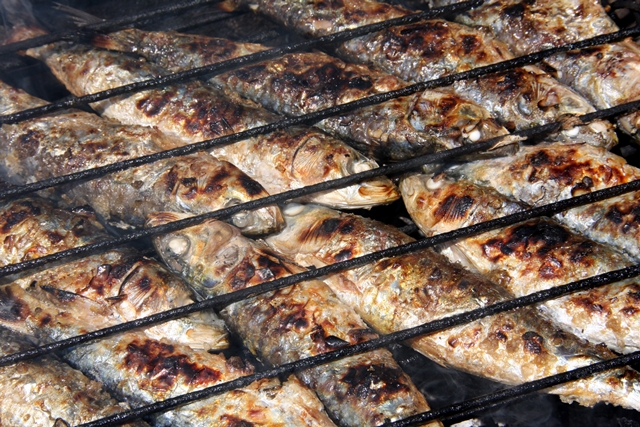 Frutos do Mar (seafood)
Piexe (fish) and all other kinds of seafood is a favourite here in the Algarve. Here are four suggestions for great grilled seafood
1.   Sardinhas (sardines)
These tasty little gems are easy to barbeque. There's no need to gut them (but you can if you prefer). Just give them a good wash, rub off the loose scales with a tea towel and grill for about three minutes each side; it's easier to turn them if you use a rack or basket. Serve the Algarvean way on a piece of bread or drizzle with olive oil and lemon juice.
2.   Robalo (seabass)
Robalo is a meaty white fish that barbeques to perfection. You'll need to gut it first (or get your fishmonger to do it for you) then rub with a little sea salt and grill whole for the best flavour. Don't overcook it. Depending on the size of the fish and the heat of your grill, it should only take four to five minutes each side to cook a perfect rabalo. Before you grill it, you can make a few slits in the skin and tuck slices of garlic into the slits for extra flavour. Again, it's easier to turn your fish if you use a rack or basket. Serve with wedges of lemon and a crisp mixed salad – delicious!
3.   Prawns (camarão grande)
Just simply grill your prawns in their shells side-by-side or on skewers for about three minutes each side, or perk them up with the following marinade:
3 garlic cloves, finely chopped

1 long red chilli (or a couple of piri-piri chillies) seeded and finely chopped

2 tablespoons olive oil

2 teaspoons lime juice

A little salt and cracked black pepper
Whisk all the ingredients. Peel (leaving tail intact) and devein about 750g raw king prawns (camarão grande). Add the prawns to the marinade, toss to coat evenly and cover and place in the fridge for 15 minutes before grilling.
Don't over-cook your prawns. They are ready as soon as they turn bright pink all over.
4.   Octopus
Octopus is an acquired taste; you either love it or hate it. The Portuguese love it and cook it in a variety of ways. They stew it, bake it, deep fry it and, yes, barbeque it.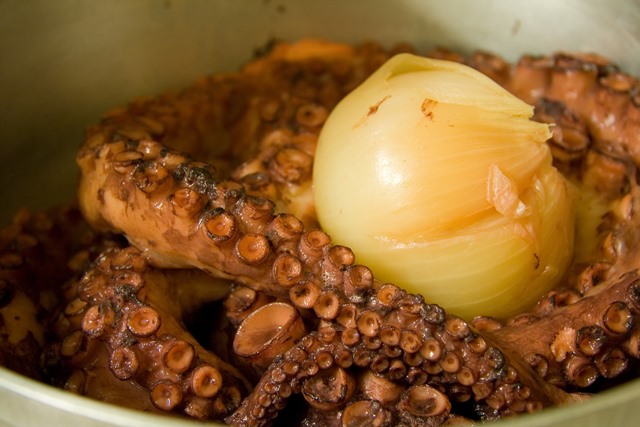 However, before grilling octopus needs to be boiled or braised to release its excess moisture and make it tender for cooking. Throw raw octopus directly onto the grill and your guests will be chewing until dawn.
In the case of octopus, fresh is not best, as the process of freezing then defrosting this seafood tenderises the meat. You can buy frozen octopus in most supermarkets in the Algarve. Make sure it comes cleaned and prepared for cooking. If not, under running water, remove and discard the ink sac, stomach, and eyes from the large head cavity, and remove the beak, at the bottom of the head where it joins the tentacles, with a sharp knife; as I said, make sure it comes cleaned and prepared!
Even frozen octopus needs to be cooked well before it's grilled. Wash it, put it into a big pot with no water, no salt, and one whole peeled onion and bring it to the boil. Reduce the heat and let it simmer. When the onion is cooked, so is the octopus. Let it cool, brush it with olive oil and grill it on your barbeque until golden brown. It takes about 45 minutes – test for tenderness. Serve drizzled with olive oil and a little vinegar, salt, chopped parsley and a green salad.
Vegetarian
Being a vegetarian in Portugal can often mean your menu choices are limited to salads or omelettes. If you're a vegan … well, let's hope you like salad. I like to include a vegetarian option in my barbeque menu, even if I'm not catering for vegetarians. You can't beat the taste of chargrilled veggies.
Skewers
Chunks of veg on skewers, brushed with olive oil that has been whisked up with fresh basil, oregano, salt and black pepper is lip-smackingly good.
Any mix of courgettes, peppers, onion, tomatoes, sweet potato, mushrooms and, for a super sweet kick to the taste, add a few cubes of pineapple.
If you're using wooded skewers, make sure you soak them in water for about 20 minutes to stop them burning and lightly oil your grill to prevent the veg sticking.
Grill your skewers for about 10 to 15 minutes, turning and occasionally basting with the olive oil mixture, until the veg is tender.
Side orders
There are plenty of salad recipes that you can look up online, but here's a few of my favourite side orders.
Jacket spuds
Simple baked spuds! Served with butter or sour cream and chives – superb.
Cheat a little and microwave them for 5 to 10 minutes first (I didn't say that)!
Peppers roasted whole
Try putting a whole pepper on your grill. Turn it frequently until the skin becomes charred. Let it cool a little, peel it, deseed it, slice it and drizzle with virgin olive oil and add salt and pepper – voila, a delectable side salad.
Pontinha salad
You can buy packets of 'massa pontinha' (tiny pasta which looks similar to rice) in most Algarve supermarkets; it's very cheap. Half a 250g packet will make enough salad for around four people as a side dish.
You'll need
125g massa pontinha

Half a small cucumber – peeled and chopped

Small punnet of cherry tomatoes - quartered

One medium onion – finely chopped

Fresh basil – chopped

Fresh oregano - chopped

A couple of tablespoons of olive oil

Lots of freshly squeezed lemon juice
Boil the pontinha according to the instructions on the packet (don't overcook it) then rinse in cold water and leave to drain.
When your poninha has cooled a little, mix in the cucumber, tomatoes, onion and fresh herbs (you can use as little or as much basil and oregano as you like). Add the olive oil, season with salt and pepper and mix well. Then add the lemon juice. Again, you can add as little or as much as you like; personally I like lots of lemon to give the salad a bite. Turn the salad out into a serving bowl and decorate with a few chopped herbs.
Don't forget fresh bread too!
Dessert
If you want a barbequed dessert to finish off your menu, try grilling fresh peaches (stoned and halved) fresh pineapple rings and whole bananas wrapped in foil. These fruits are all absolutely scrumptious topped with a scoop of good vanilla ice cream and a squeeze of maple syrup. A splash of liqueur is divine too.
Yummy stuff!
Four top barbeque tips:

1. Why use artificial lighters? Dried rosemary and bay leaf are great alternatives and they give off a fantastic aroma when used to light your barbeque.

2. If you're cooking with charcoal, wait until the flames have died down and your coals are really hot and glowing, before you start to cook.

3. Have a fine water spray handy and lightly spray your meat while it's cooking, this will prevent it from drying out.

4. Rub a little oil into your barbeque grill before you light it, this will stop your food sticking.
If you'd rather someone else did the cooking, check out our Things to do in the Algarve in August blog. There are numerous food festivals going on across the region.
Brought to you by Meravista – the place where smart people search for Algarve property for sale.