by Sun's Dragon  
Faro is pulling them in by the thousands again; it's the annual Shellfish Festival that's getting everyone's juices going. Every year Faro organises a shellfish festival to celebrate the extraordinary marvel of the Ria Formosa, one of Portugal's seven natural wonders. Along with all its other attributes, shellfish of every kind are found here and the festival makes the most of all of them.
Dates for your diary this year are 31st July to 10th August, from 7pm to 2am.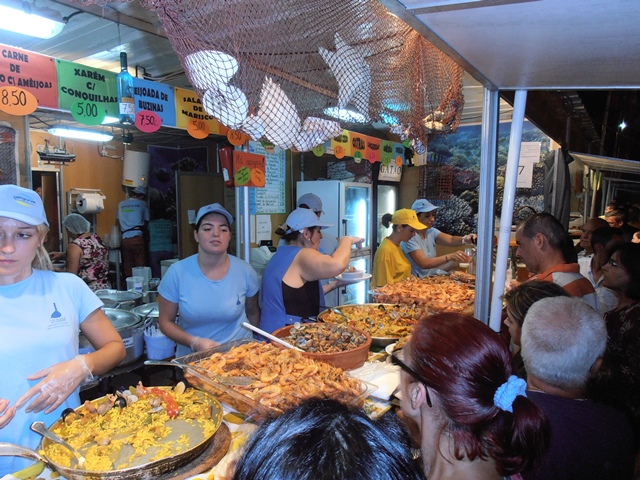 Food and drink
Last year, there I was, along with a thousand other punters, trying to choose from dishes such as paella, seafood rice and fish and beanstew. I wasn't sure if I should pick something else such as oyster's au natural, dressed crab or octopus salad; or maybe a selection of razor clams, prawns, whelks, cockles, clams, lobsters or crab? They were all there waiting to be chosen; maybe a little of each? Of course my eyes were bigger than my belly and I wanted it all. Grilling, frying and boiling are all happening at once and the stall holders are hard put to keep up with the demand. 
The huge seating area fills up rapidly; singing, dancing and music emanate from the massive stage and the drinks stalls are heaving. Everyone is shelling, peeling, cracking claws and spooning up their rice dishes and I am dithering. Eventually I shared oysters and dressed crab with my friend and then tucked into some really delicious paella with another friend, by which time I was full to bursting. Bliss!
Children's corner

The kid's fun fair was going full on and all the children were quite happy to enjoy themselves there. Of course all the sweets and dessert stalls were doing a roaring trade in that area too. Delicate Portuguese fancy cakes along with traditional almond, carob and fig cakes were, dare I say it, going like hot cakes. Candy floss was, as ever, a big winner with the kids.
Party time
As the sun went down and the lights come on, the noise level went up. It didn't matter where you came from or who you were, you were made to feel part of the scene and everybody chatted to everyone else. The bands came on, the singers sang and the dancers performed. People sang along, danced and thoroughly enjoyed themselves. I just love being part of the Algarve's traditions, accepting everybody and being accepted by everyone.
As we left we all vowed to be back next year or maybe even go once more for another session, before the festival was over. We did return for more and we shall be back again this year with bells on!

The festival is free and opens at 7pm and goes on until 2am with everyone having a good time, with good food and good company. There's a large car park, but it fills up rapidly and it can be difficult to park close to the fair, so be warned.
Brought to you by Meravista – the place where smart people search for Algarve property for sale.