By Guy Données
As we enter the New Year and take a look at the current prices of property across the Algarve, it's no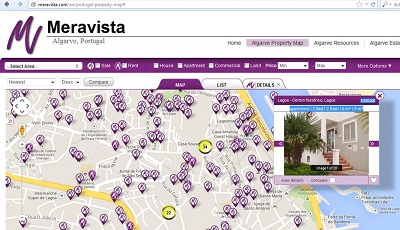 big surprise that 2014 has started in favour of the buyer. What is remarkable is that the actual property prices in the region are now lower than even the bank valuation.
Meravista has the largest collection of real estate in the Algarve. Our database holds over 24,000* properties, with a combined market listing value of €7.1 billion.
Bank Valuations vs. Current Market Values
We have compared Statistics Portugal's (INE) December 2013 bank valuations of a price per square metre for dwellings, in the Algarve as a whole, and for three of the Algarve's more important municipalities: Faro, Olhão and Portimão, to the true market value data using Meravista's database.
Over the past five to six years, the INE price per square metre of a dwelling in the Algarve has steadily fallen. The present price is low, but what is particularly surprising is that the current market value of Algarve property in key areas such as Olhão and Portimão, is either at or below the bank valuation. Albufeira and Lagos, two of the Algarve's most popular areas, also fall below the provincial average.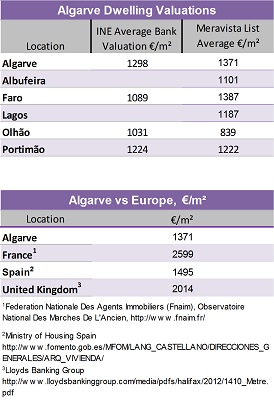 Bank valuations are almost always 1% to 20% less than market value. So why have the tables turned? In a depressed economy, such as Portugal's, banks are valuing property at much lower levels to avoid risk and to insure a price that would reasonably sell to keep the property off of the books.
Great opportunity for buyers
We firmly believe that there may never be a better time to buy in Portugal's Algarve.
On 1st February, leading UK newspaper The Telegraph reported on house prices in the Algarve, quoting Meravista's Anita van Huson: "Algarve property was experiencing inflated growth in advance of the recession, so it was hit particularly hard when the markets crashed. I don't think we'll see valuations as low as these for a long time to come."
The fact that Algarve estate agents and homeowners are actually meeting the values of the banks shows incredible opportunity. It also means that buyers have a more than fair chance of receiving a 100% loan on the purchase.
The list average of Algarve property as a whole at 1371 €/ m² is only 5% higher than the bank valuation of 1298 €/ m² which certainly implies that nearly half of all Algarve real estate is actually so undervalued that it even undercuts the banks' own estimations.
Lagos, in the western Algarve is an area which is becoming increasingly popular with house hunters. However, our cost comparison revealed that property prices in this area are below the regional average. We asked David Westmoreland of B&P Property in Lagos if he could give us an insight as to why. David explains: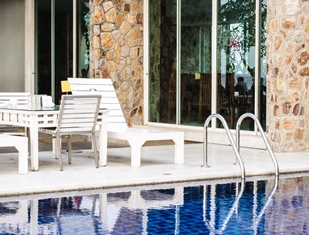 "Lagos has developed hugely over the past 10 years and it was going through a major growth period just as the recession hit. During the peak we saw property values rising exponentially and in some instances at a higher rate than the rest of the Algarve. We were on a catch up to central areas of the region, so some of the growth was inflated and did not have the maturity enjoyed by the central locations. As a consequence, when the recession hit, Lagos experienced larger decreases than other parts of the Algarve. Now, as the market has started to improve, we have seen properties selling at prices more than 30% lower than at their peak."
David concludes: "This is now levelling out, as these things always do. However, it doesn't surprise me that Lagos and the Western Algarve has a lower €/m2 value than some of its neighbours because of this."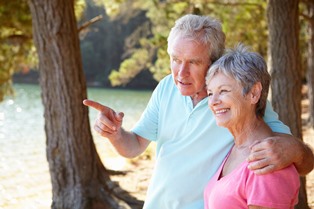 Algarve could be the best place to spend your retirement
Comparing the most popular retirement destinations of Western Europe, the Algarve easily leads them in value. Those looking to retire to a sunny location and have money left in their pockets to make the most of their retirement, might be well-advised to check out the value-for-money properties on offer and to take advantage of the generous tax benefits offered to new foreign buyers.
*Based on actual data held by Meravista Property Ltd.
House prices in Portugal. http://t.co/JJAS3oHYGH

— Meravista (@Meravista) February 3, 2014
Brought to you by Meravista – the place where smart people search for Algarve property for sale.