by Almonds and Oranges
If you've ever fancied living in an unusual home, the Algarve is a great place to find property with a little je ne sais quoi.
Wind powered machinery such as windmills, tide mills and watermills, are an important part of the Algarve's heritage. Built on top of the region's hills and mountains, the circular buildings with conical roofs and whitewashed walls, set against the backdrop of Algarve blue sky, became a familiar sight across the region in the late Middle Ages. Watermills utilised water from the Algarve's rivers, while the many tide mills along the shore and in river estuaries, stored tidal water in large reservoirs, to be released at low tide to turn their wheels. 
Today, many of the mills which once ground corn or wheat, are no more than crumbling ruins, way beyond repair. There are, however, a number that have been restored, such as the Moinho Bengado windmill in São Brás de Alportel, which has become a tourist attraction and the working tidal mill (moinho de mare) in Quinta do Marim, in the Ria Formosa Natural Park. This tidal mill is the last of its kind to be in use since the Middle Ages and is open to the public. Many of the Algarve's former mills have been converted and/or extended to create unique homes. There are several for sale across the Algarve.
Here is a selection of old Algarvean mills that are currently for sale.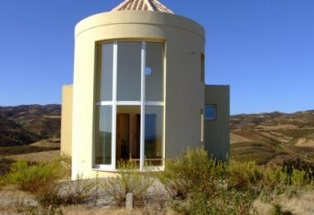 Estorninhos, Tavira - €118,250
This converted corn mill is a little gem. Set in the countryside, just 12 km inland from Tavira, it has been lovingly renovated to create a cosy house with two rooms, a kitchen, a bathroom and, of course, panoramic views. It's a steal at €118,250 and would make a perfect holiday retreat.
View it now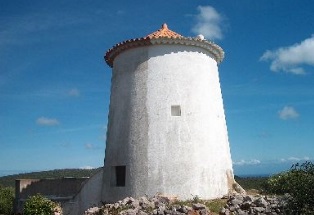 Moncarapacho, Olhão - €215,000
This old mill is in need of a little love, but it's in sound structural condition and has great potential. It has two water cisternas (water tanks) and a private fossa (septic tank). Mains electricity is also available. It comes with two hectares of land and is within minutes of the local town and beaches.
View it now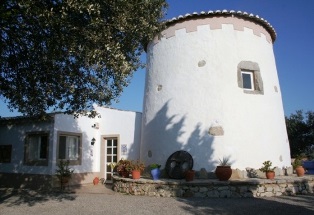 Estoi, Faro - €290,000
This beautifully restored and extended windmill in the hills above Faro has three bedrooms and two bathrooms. It offers spectacular views and an attractive pool area with a natural stone terrace. It's an ideal permanent residence, or a peaceful holiday destination.
View it now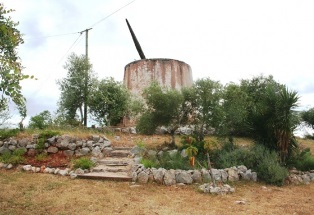 São Bartolomeu de Messines, Silves - €295,000
If you're up for a restoration project, take a look at this property near the town of Messines.
In a quiet location, but not isolated, this two bedroom villa offers an attractive and comfortable home with a pool, plus an old windmill in your back yard! The mill could be renovated to create a cosy annex or studio for you, your guests or for holiday lets.
View it now
São Brás de Alportel, Faro - €365,000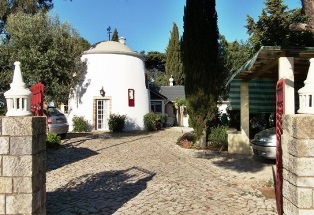 If you'd rather that the work had already been done for you, this interesting, property is certain to win you over.
Here we have a 100 year old windmill, which has been carefully restored and extended to create a charming two bedroom home and a one bedroom detached guest cottage. Looking out across São Brás and the mountains to the ocean, the gardens have been creatively landscaped to provide a tranquil ambiance.
View it now
Carrascalinho, Aljezur - €185,000  - RECENTLY REDUCED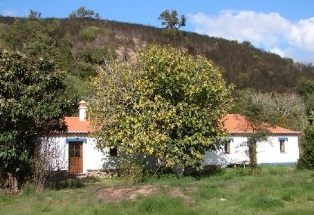 Recently reduced from €215,000, this converted watermill is a real bargain. The mill has been transformed into an immaculate three bedroom cottage and has the potential for further development. The design of the cottage would allow for it to be split into two smaller dwellings, perhaps as holiday lets, and there is scope to convert the existing outbuildings into additional living space.
The property comes with 1.5 hectares of cultivable land with a stream defining the border. It has its own well, mains electricity and gas central heating. It occupies an idyllic location, just three minutes drive to Aljezur and fifteen to Amoreira beach.
View it now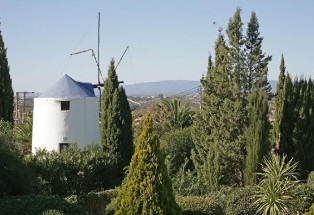 Guia, Albufeira - €1,100,000  - RECENTLY REDUCED
Here we have the best of both worlds. A stunning and luxurious modern five-bedroom villa in a desirable location, with a perfect example of Algarve heritage included.
This fabulous property was originally on the market for €1,650,000 and has been reduced by 34%. Its design is a wonderful mix of traditional and contemporary styles. If you're in the market for an exclusive Algarve home, this one is worth checking out.
View it now
These old mills may no longer be in use, but the Algarve is still generating power from the forces of nature. Today we call it renewable energy, but the principals are the same, just perhaps a little more technically advanced than they were in Medieval Times.
In June 2013, figures from Portugal's national grid company REN, revealed that the total electricity production from renewable sources hit record levels in the country, reaching 72%. Although favourable weather conditions contributed to this increase, it's true to say that there has been a reduction in demand over recent years. People in Portugal are using energy sources that never run out for the vast majority of their supply. The new equipment designed to harness nature's power may not be as pleasing to the eye but, who knows, at some point in the future it may be desirable to own a property in the Algarve with a disused wind turbine gracing the skyline.
   Brought to you by Meravista – the place where smart people search for Algarve property for sale.