by Sun's Dragon   
Chouriço or Chorizo – what's the difference?
They may be pronounced the same but there is a world of difference between Chouriço and Chorizo. The first is a speciality in Portugal and the latter is a speciality in Spain and Central America - and they are all made differently. So Portuguese Chouriço should never be confused with Spanish or Mexican Chorizo.
Portuguese chouriço (sometimes called linguiça) is made with pork shoulder, some paprika, lots of garlic, black pepper and salt with a hefty splash of red Portuguese wine thrown in for good measure.

Spanish chorizo is a cured and/or smoked pork sausage traditionally flavored with dried smoked red chilies, lots of smoked paprika and some garlic, giving it a unique smoky flavor.

Mexican chorizo is a fresh, raw pork sausage made by combining ground pork, dried red chilies, spices, and vinegar.
Cooking the sausages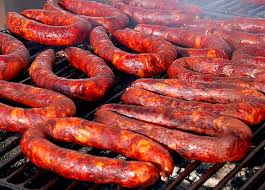 Both the Portuguese and Spanish versions need no cooking before eating, however, Portuguese Chouriço can be served (and often is) for breakfast, lunch and dinner; fried for breakfast, in soup or frittatas for lunch and in stews for dinner. There is also the great favourite for special occasions - chouriço à bombeiro — sausage that is doused with brandy and set on fire at the table!
The Spanish will often add their Chorizo to a roast chicken dish or to their famous tortillas.
Mexican Chorizo has to be cooked before eating and the Mexicans often add their Chorizo to their Burritos, stews and omelets amongst many other dishes.
The Grand Chouriço Festival
So, now we know the difference between these sausages, let's investigate the famous Chouriço Festival in Querença, just north of Loulé.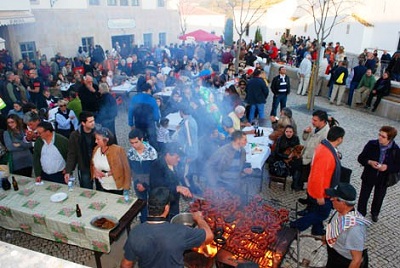 This annual festival takes place every January and this year it will be on Sunday the 19th and held at the Church Square in the village.
This popular festival is in honour of St. Luis, Patron Saint of Animals, to thank him for the well being of the pigs raised in the area that feed the locals throughout the year. A procession is held in honour of the Saint, closely followed by the grilling of a multitude of sausages. There are tasting sessions, lunches and snacks, all made with their famous and beloved Chouriço; all washed down with copious amounts of beer and wine. Entertainment of live music, singing and plenty of dancing takes place with everybody welcome to join the festivities. Very often an auction featuring the local sausage will be held and all proceeds will go to a charity.
So here we go folks, the first of many festivals being held in the Algarve in 2014 and it promises to be a fine way to kick off the New Year. Cheers!
   Brought to you by Meravista – the place where smart people search for Algarve property for sale.