Algarve water-sports
by Sun's Dragon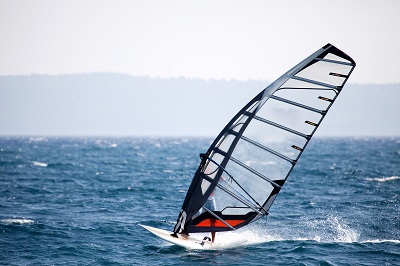 With over 150 kms of coastline, and over 300 days of sunshine per year, the Algarve caters extensively to water sports enthusiast. Whatever type of water activity you might care to try, you're likely to find it here.
Windsurfing
Portimão, Lagos and Sagres areas are a favourite for windsurfers with the Atlantic rollers crashing onto the beaches. The Portimão Formula 1 Grand Prix windsurfing championship is held every year and is a world class event.
There are various camps offering tuition for windsurfing, kite-surfing and wake-boarding in the Western Algarve. Barragem do Arade Lake near Silves is probably a good place to start as a windsurfing beginner although more water sports are on offer there.
Surfing
The west coast is the place to be for the experienced surfer, this is where the really big waves are found. Beginners to this sport will find quite a few surfing schools along the coast.
Water skiing
Calm waters are needed for this sport and the quiet and sheltered waters in the bay of Praia de Luz offer just such conditions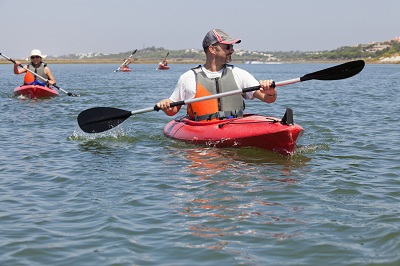 Peddle Kayaking
Californian Hobie Kayaks are for hire from the Centro Nautico at Ilha de Faro and you can enjoy the wonderful nature reserve of the Ria Formosa as you peddle your way through the waters.
More water sports
Opportunities for water skiing, jet skiing, power boating, sailing, fishing and para-gliding are all available in Albufeira at Praia de Oura. Tuition is usually reasonably priced as is the rental of all the equipment needed for each sport.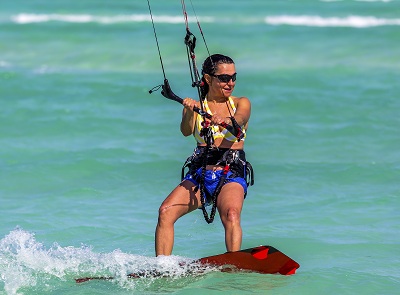 Marinas for water sports
Lagos, Portimao and Vilamoura marinas all have sailing and fishing concession stands.  Boat rental costs vary according to type and size of boat and the purpose the boat is rented for. As with everything, it pays to shop around for bargains.
Messing about on a boat, skimming the waves, swimming or diving are all most enjoyable pastimes in the sunshine of the Algarve. Having the opportunity to do this all year round is even better!
Why not look into owning property in the Algarve and enjoy all the options all year round?
More info:
Information provided by www.meravista.com: your best online resource for property for sale in the Algarve