by Almonds and Oranges    
I've driven the stretch of the N125 between Silves and the Ferragudo exit so often, I'm embarrassed to say that it took me almost seven years to investigate what lay beyond the two massive colourful sculptures that I glimpsed each westbound journey. I was pleasantly surprised.
It was a sunny and unseasonably hot mid-March morning when we turned off towards Ferragudo and Estômbar. Having done a little online research, my partner and I, with dog (Mabel) in tow, had planned this trip specifically to check out Quinta dos Vales' unique combination of winery and art.
We found it (after only one wrong turn) tucked away in an unlikely spot, close to the centre of Estômbar. The gates were opened for us after we announced our arrival via the intercom system. We drove into the immaculate grounds, where a large red bull directed us towards the car park.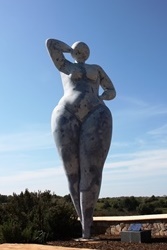 .
We were greeted by Erhard Braun, the centre's administrator, who provided a brief overview of Quinta dos Vales and set us off on an unaccompanied tour. Fortunately, the centre is well-behaved-dog-friendly, so Mabel (after a look-but-don't-touch, chew, wee or poo lecture from mum) was able to join us. We seemed to be the only visitors - it was early and out-of-season, but there was plenty of activity. The Quinta dos Vales staff were busy irrigating the beautiful gardens, trimming the bushes and cleaning the incredible sculptures. Judging by the pristine presentation of the place, which extended to each blade of grass, we guessed that the maintenance team had a full time job.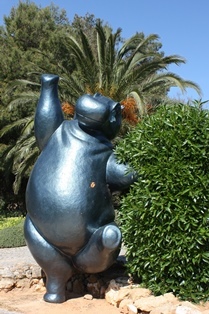 It wasn't long into our tour that we learnt to expect the unexpected. The two sculpture gardens served as a lush green backdrop to the bright and awesomely huge pieces of stunning art. The buxom, towering, bronze lady's incongruousness with her surroundings seemed to make her strangely more appealing, while the elephant bearing tree and life-sized dancing hippo, among the date palms, were unanticipated discoveries.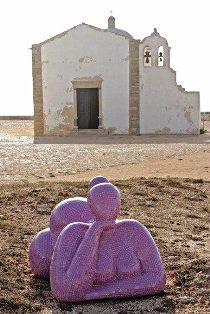 .
Most of the sculptures we saw were moulded in fiberglass and polyester resin, but there were some sculpted in Portuguese marble, others shaped from local stones and some smaller models cast in bronze. The art is the work of Quinta dos Vales' German owner, Karl Heinz Stock, a former banker. The largest exhibition of Karl's work is at Quinta dos Vales, but don't be surprised if you encounter one of his magnificent sculptures displayed in your local supermarket or restaurant. We spotted one of Karl's pink ladies enjoying a day out in Fortaleza, Sagres.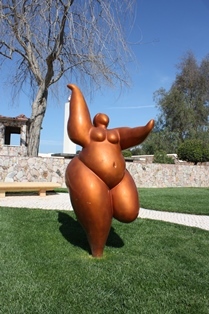 .
Of course, we mustn't forget that Quinta dos Vales is also a winery, with vineyards laid on around 20 acres and a team of specialists to create and develop some excellent Algarve wines. The produce can be tasted and purchased at the centre's shop, or bought online. Talking of tasting, you can book a professional guided wine tasting session, where you'll learn more about the wines and the art of sampling them. If you really want to make a meal of it, you have the option of combining your wine with a delicious choice of lunches.
..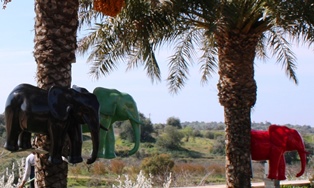 .
But Quinta dos Vales doesn't stop at art, wine and gastronomy. It accurately describes itself as an Experience and Event Centre, where you can enjoy a free visit as we did, experience a guided tour through the wine cellar and sculpture gardens, buy some locally-grown produce, feed farm animals, stage your own concert or conference, get married, benefit from a professional massage... 
...treat yourself to a complete body peel (I kid you not), learn to be an archer, brush up on your tennis serves, or indulge in a relaxing holiday in one of the Quinta's fantastic rental properties. In fact, in a land where ordering a Pink Lady could find you leaving with more than you bargained for, and where naked white ladies with wings fly above you while you sip your champagne, anything is possible!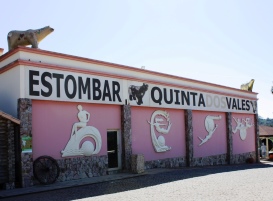 .
Quinta dos Vales is open for visits and shopping, Monday to Friday, 09:00 to 12:00 and 14:00 to 18:00 and Saturdays on request. The centre closes on bank holidays.
   Brought to you by Meravista – the place where smart people search for Algarve property for sale.