by Sun's Dragon    
Do you know why there are so many almond trees in the Algarve? It's not just for the almond crop you know.
Once upon a time, when the Algarve was ruled by the Moors and was known as Al Garb, a young Prince by the name of Ibn-Almuncim ruled from the capital in Silves. He met Gilda, a Nordic Princess and they fell madly in love with each other; they married immediately and lived in Silves.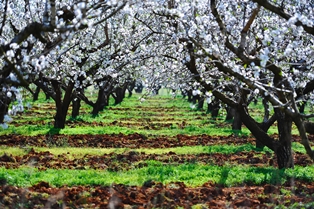 As time went by Gilda began to pine, she missed seeing snow in winter. Gilda yearned for the snow covered fields of her homeland. Her prince was saddened to see his beautiful wife pining away and tried everything in his power to make her happy, but still her heart ached.
One day, whilst riding through the countryside, the Prince hit upon a grand plan. He would transform the Al Garb into a winter wonderland. He ordered thousands of almond trees to be planted from the walls of the palace, down into the countryside as far as the eye could see.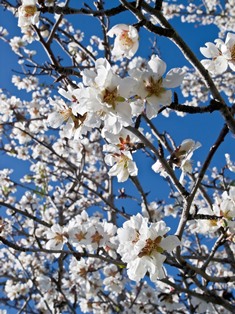 When the time was right and the almond trees were in full bloom, the Prince strode into Gilda's chambers where she lay pining and ordered all the windows to be opened. Taking his fair Princess by the hand, he led her to the open windows. As she looked out at the beautiful scene before her, she was amazed to see that the fields below were covered in what looked like snow. Bewildered, she saw a veritable winter wonderland before her very eyes. For miles and miles in every direction, the beautiful trees looked frosty and the ground was carpeted in almond blossom.
Gilda recovered from her decline immediately and, from that time on, every winter, she looked upon the "snow covered" fields and never pined for her homeland again. And so the Prince and the Princess lived happily ever after.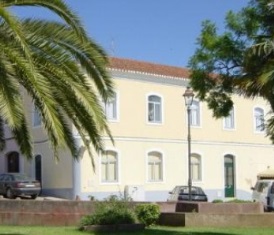 Have you seen the glory of all the almond trees in the Algarve in full bloom? If you'd like to wake up to a landscape of white blossom every winter, then check out the bargain properties for sale on Meravista, in Silves and across the Algarve.
   Brought to you by Meravista – the place where smart people search for Algarve property for sale.