by Almonds and Oranges
If we offered this two-bedroom apartment for sale on Meravista.com for €1.4m, you'd be forgiven for thinking we were having a laugh. But estate agency Maskells, renowned for marketing exclusive London homes, is quite serious about the £1m price tag attached to this former south west London council flat on the fashionable Fulham Road.
Yesterday's housing for the poor – today's bijou residences for the rich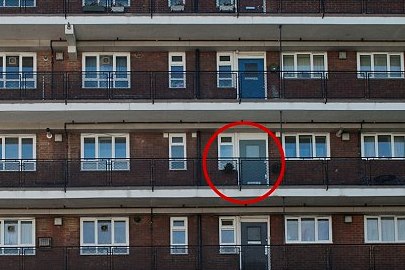 The Royal Borough of Kensington and Chelsea commissioned the building of Keppel House in the 1960s, to provide housing for some of the city's poorer workers and their families. But five decades on, and the tables have turned and this modest home is among many former council properties in the capital that are attracting wealthy investors.
In fact, two separate third-floor flats in this Brompton Cross building are up for grabs at £1m and £1.15m respectively. The local authority sold the Brompton Cross flats off two years ago to interior designer Patrick Dougherty for a total of £1.38m. And, following a complete revamp of each, Mr Dougherty stands to make a respectable profit on the sales. Admittedly, Dougherty has transformed the living space and, if one closes their eyes to exterior of the building (which I note Maskells has wisely excluded from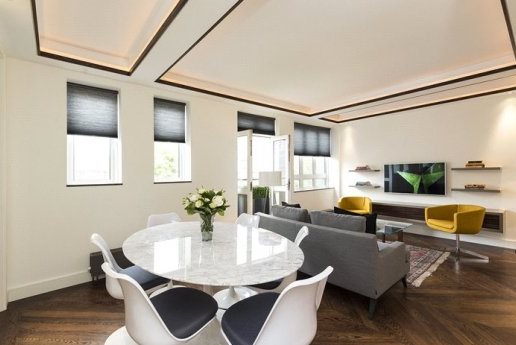 their property listing) the apartment does look quite chic. The agent describes the area as a "highly soughtafter location" and refers to the ex-council block as a "1960s architect designed secure residential development"– all of which is absolutely true!
Many of the block's residents are still council tenants and, in the midst of an affordable housing crisis in the city, some may consider it a politically incorrect move by the borough of Kensington and Chelsea, to sell these homes off at such a high price. But, if people are willing to pay, why shouldn't they?
More to show for your investment in the Algarve
The current cost of property in London in general could almost be described as obscene, but it seems that there's no shortage of well-off property hunters who are willing and able to shell out on a city pad. Call me old fashioned, but if I was spending that kind of money, I'd be expecting a little more to show for my investment.
---
Tavira Country Home with Sea View
This four bedroom detached house for example, which is on the market for just over €1.4m (£1m). Situated near Luz de Tavira in east Algarve, with views over the Ria Formosa and the Atlantic Ocean, comes with three hectares of land, an indoor pool and oodles of charm.
---
Stylish Villa with Pool in Castro Marim
Further east, close to the Portuguese/Spanish border, this stylish villa priced at €1m (£717,000) is light and spacious. It's in a quiet location near the beautiful sands of Praia Verde and has a picturesque garden and pool. The superb view to the Ocean is included in the price too!
---
Six Bed Villa near Lagos
Over on the Algarve's west coast, this rather magnificent six bedroom house in Mata Porcas, with spectacular views over the Ocean, is within easy reach of the historic town of Lagos, the popular holiday resort of Praia da Luz and the quaint fishing village of Burgau. Up for sale at €1.6m (£1.15m), it has many features including a gym, games room, established gardens and a beautiful pool.
---
18th Hole Golf Villa in Vila do Bispo
Even further along the rugged western coast, close to the Algarve's surfing hotspots, this stunning four bedroom villa is a golfer's dream. It's located within a popular golf resort, overlooking the 18th and with elevated views across the course. Designed by a respected architect, it has attractive and secluded gardens with a pool and it's on the market for just over €1m (£717,000).
---
House with Garden in Tavira
But, let's be fair, living in London, or any other capital city for that matter, has its pluses and you don't have to spend £1m for the privilege - that's if you don't mind compact living. Only last year, a north London property deemed to be "Britain's smallest" went up for sale at £275,000 (€380,000). There was literally no room to swing a cat in the former storage shed's 57 square metres.
For the same money, you could have bought this rather more spacious and somewhat spectacular three bedroom villa sitting in two hectares of beautiful east Algarve countryside.
---
Bargain Villa with Pool in Aljezur
Or, if you chose this immaculately presented five bedroom house, with a large pool, on the region's stunning west coast, you'd find yourself with around £10,000 in change.
---
As the saying goes, one man's meat is another man's poison; living in London may have its appeal, but if you hanker after a life away from the city lights, take a look at the properties and the lifestyle on offer in the Algarve. 
*The properties featured in this article were listed for sale on Meravista.com at the time of publication, but may have since been sold or removed from the website
Brought to you by Meravista.com – the place where smart people search for Algarve property for sale. Contact Meravista.com