by Sun's Dragon        
PART 1: East Algarve- Vila Real , Tavira and Fuzeta
I speak from experience when I say that all self-confessed shopaholics should treat themselves to an east to west tour of the Algarve.
From Vila Real de San Antonio in the East, to Sagres in the West, the shopping opportunities are extensive with realistic prices. From state-of-the-art shopping malls to bustling markets and local shops booming with Portuguese products, including leather goods and beautiful items made from cork or linen. The freshest fish, meat and vegetables are in abundance and are full of flavour due to being grown naturally.
What's more, the Algarve's 300+ days of sunshine a year, and a spectacular coastline, is sure to enhance your trip.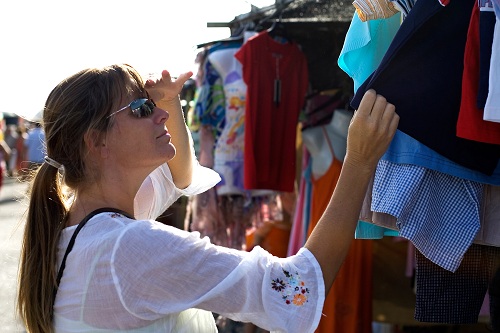 First stop - Vila Real de San Antonio
Let's begin with Vila Real de San Antonio, which is next to the Spanish border. Check out the pedestrian shopping area in the centre of the town which is a joy to explore, with some fantastic shops selling Portuguese fabrics, clothes, leather and much more. You'll find haberdashers and ironmongers along with kitchen specialist shops selling gadgets and Cataplana dishes. There are jewellers with precious metals, stones and rocks, souvenir shops and shoe shops featuring Portuguese leather, cork and suede. If you're into accessories, you'll find them there too, in all shapes and forms. Cafes, bars and restaurants are plentiful to ease you through a very pleasant day out. Whilst there, you can still get the ferry to Spain if you want to explore and you don't want to travel across the beautiful modern suspension bridge.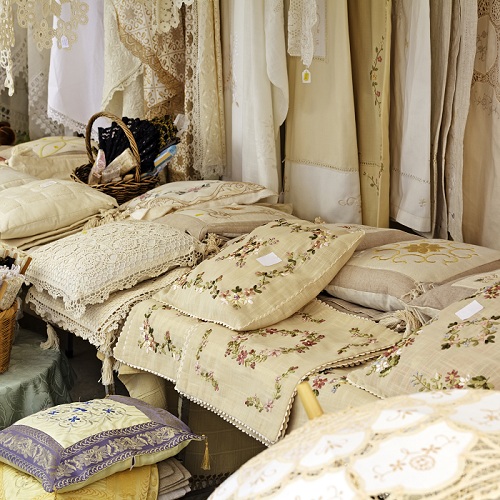 Next stop - Tavira
Leaving Vila Real de San Antonio, follow the N125 to Tavira, driving through the lovely countryside, with typical Portuguese villas, quintas and cottages dotted along the route. You'll pass some really good restaurants on the way too.
Tavira is a real mixture of the old and the new with a river flowing through the centre of the town. The new being Gran-Plaza shopping mall with over 50 shops, a cinema with four screens and a Continente supermarket on one side of the river.  The mall is two-storied and has free underground parking. The old town is a traditional high street shopping centre with some fascinating olde-worlde shops, situated on the other side of the river. There is an abundance of traditional Portuguese restaurants many of which have been in the family for generations.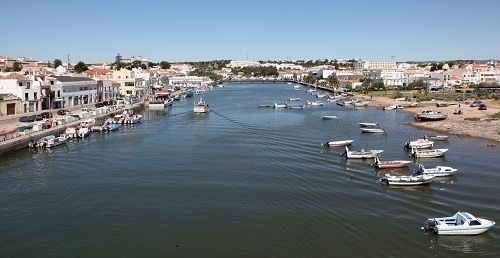 These towns are a joy in which to shop and explore, eat and drink and meander through the old cobbled streets.
Some of the larger markets are:
Vila Real San Antonio – 1st Sunday of the month
Castro Marim – 2nd Saturday of the month
Tavira -  3rd Saturday of the month
Moncarapacho – 1st Sunday of the month
Some of the major car boot sales:
Fuzeta – 1st Sunday of the month
Fonte do Bispo – 4th Sunday of the month
Have you been shopping in Vila Real de San Antonio or Tavira? Are there any shops that you would recommend? What did you think of Tavira's Gran Plaza?
Find out more about Algarve shopping options in our other blogs in this series:
Shopaholics' Algarve – Part 6: Westward bound, from Porches to Sagres
Shopaholics' Algarve – Part 5: Shopping in the Algarve's tourist capital, featuring Albufeira and Guia
Shopaholics' Algarve – Part 4: A diverse triangle of top-end shops and farmers' markets
Shopaholics' Algarve – Part 3: Exploring the traditional shops
Shopaholics' Algarve – Part 2: East Algarve - Olhão and Faro
   Brought to you by Meravista – the place where smart people search for Algarve property for sale.