by Sun's Dragon     
PART 4: A diverse triangle of top-end shops and farmers' markets
Whether a dedicated shopper or a necessity shopper; resident in the Algarve, or just here on holiday, you will love the experience of shopping in this diverse triangle of towns.
Loulé
Loulé is a fairly large town by Algarvean standards, boasting a high street filled with many interesting shops. From typical Algarvean fashion to the latest trends in Europe, including evening and bridal wear. Jewellers and watch menders, shoe shops featuring Portuguese soft leather, and many other shops selling handbags, gloves and a collection of other leather goods, as well as fashion accessories made from cork!
Loulé has art galleries, haberdashers and a very large furniture store. There is also a huge old fashioned ironmonger firm that brings back memories of a past era.
The Municipal markets with fresh fish and fresh fruit and vegetables are housed in an opulently restored historic building. On Saturdays this is surrounded with stalls selling home grown fruits, vegetables and herbs.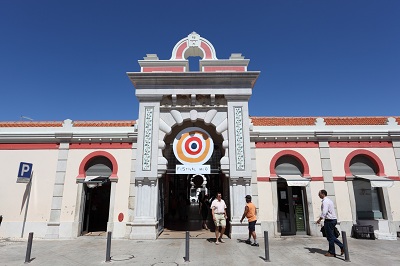 Quinta do Lago
Quinta do Lago is home to a "top-end-of-the-market" shopping centre.  Here is where all the latest in designer clothing, from golfing wear to ball gowns is to be found. Soft and hard furnishings are top-of-the-range in Quinta do Lago. The restaurants here are more likely to offer north European menus rather than traditional Algarvean food and the prices usually reflect this. There is a delightful Irish Pub, Da Barra's, with a comfortable outside terrace for people watching. Da Barra serves 'pub grub' and is a very popular venue.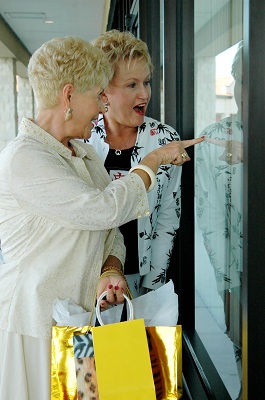 Quarteira
Quarteira is a fine beach resort as well as a good shopping centre. Everything you need to enjoy a day on the sand is to be found along the main promenade including beach toys, beach wear, mats, umbrellas and windbreakers. In the town itself are supermarkets, small boutiques, stationers and much more. Fresh fish and vegetable markets are open each morning.
Every Wednesday morning a large farmers market selling locally grown produce is set up in the town centre, as well as a large gypsy market on the outskirts of the town.  People come from all over the Algarve to visit these two popular markets.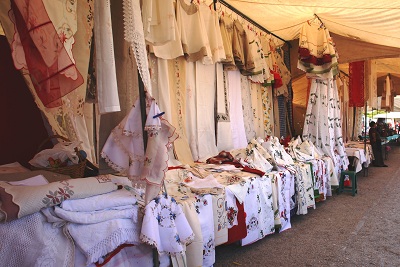 Some of the major markets are:
Quarteira – every Wednesday

Loulé – every Saturday
Have you shopped in these towns? How do you compare shopping in Quinta do Lago to shopping in Loulé?
Find out more about Algarve shopping options in our other blogs in this series:
Shopaholics' Algarve – Part 6: Westward bound, from Porches to Sagres
Shopaholics' Algarve – Part 5: Shopping in the Algarve's tourist capital, featuring Albufeira and Guia
Shopaholics' Algarve – Part 3: Exploring the traditional shops
Shopaholics' Algarve – Part 2: East Algarve - Olhão and Faro
Shopaholics' Algarve – Part 1: East Algarve - Vila Real, Tavira and Fuzeta
   Brought to you by Meravista – the place where smart people search for Algarve property for sale.