by Sun's Dragon    
It's sardine season in the Algarve and everyone is keeping the fishermen busy as they feast on what is arguably the most popular fish in Portugal. Throughout July and August there are feasts, festivals and celebrations from East to West in almost every town and village. More about the 'where' coming up!
Sardinhas Assadas (grilled sardines) are offered in most local restaurants. Some places offer a salada montanheira (mountain salad) which is finely chopped tomatoes, onion and peppers, sprinkled with oregano and dressed with oil and vinegar. Add boiled new potatoes and you have a feast fit for a king.
One of the best things about sardines is that there are so many ways to eat them! Some will use a knife and fork and a plate. Some will only use a fork and some (mentioning no names) will use their fingers. However in the Algarve there is a 'correct' local way to enjoy sardines, which is rather unusual!
How to eat grilled Sardines the Algarvean way:
First you find some nice fresh sardines, and an experienced cook to grill them!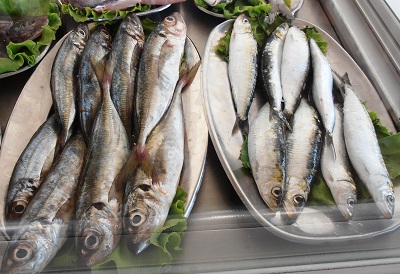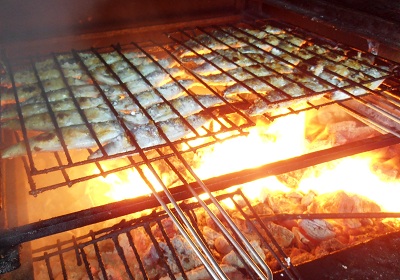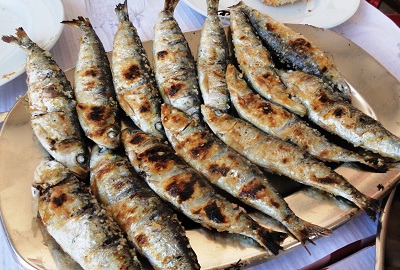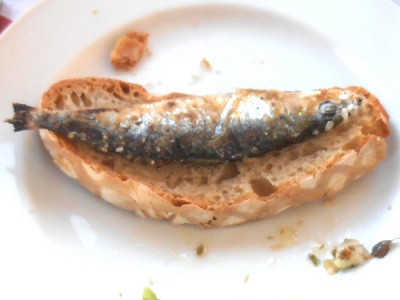 Place a grilled sardine on a slice of rustic bread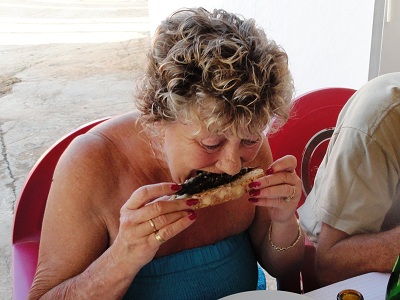 Using your hands to hold the bread,
chew off the meat on one side of the sardine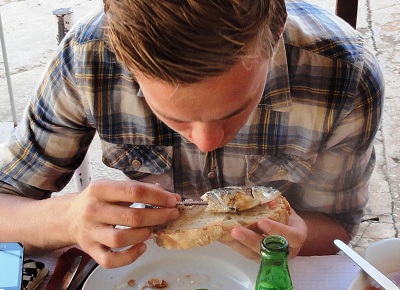 Flip the fish and eat all the meat on the other side,
leaving just the skeleton of the fish. (This takes a bit of practice.)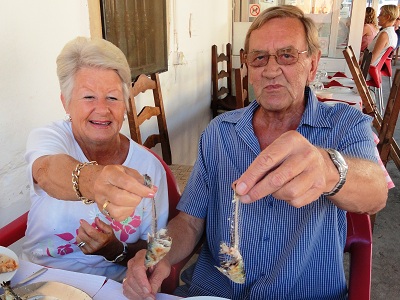 Show off your sardine skeleton to prove to
everyone you didn't miss anything! (This step is optional)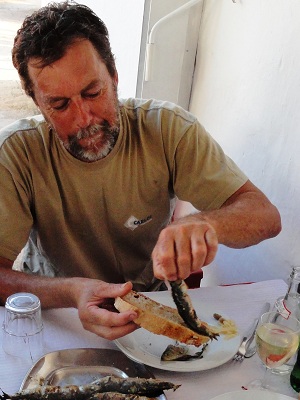 Replace the skeleton with a fresh sardine and continue
in this way until all the fish have been consumed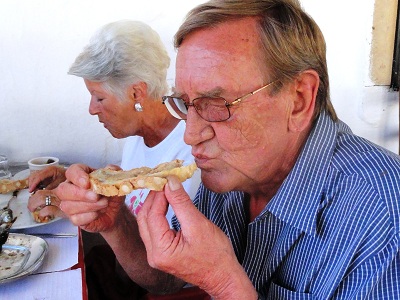 Only then do you eat the delicious sardine-oil-soaked bread!
Watch how it's done!
If you prefer, you can see this in action as Meravista recently took a camera crew along to the wonderful Flor Da Ameixa restaurant in Bordeira (the one near Faro, not the one in Aljezur!) and the following video was the result… enjoy!
Sardine festivals across the Algarve
Historically the most lavish of these festivals is in Portimão. This year the city hosts the 19th annual celebration of sardines with a bit of a twist. Starting on 1st August and lasting for ten days, the event is being labelled as a 'Sardine Party'.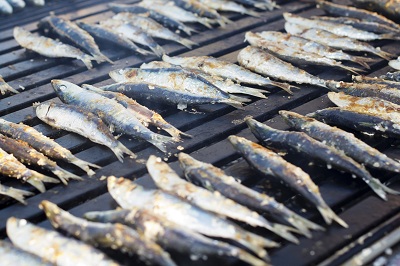 The local Portimão restaurants will be featuring sardine menus and the wonderful aroma of the sardines grilling in the open air gets your mouth watering as soon as you arrive. There are many other kinds of fish on offer as well as chorizo for the non fish eaters.
The waterfront near the old fish market will have a large stage and will feature nightly entertainment including popular music, comedy, traditional dancing and the haunting strains of Fado, the national music of Portugal.
Thousands of visitors from all over the country as well as tourists from overseas can enjoy stalls selling local sweets and handicrafts, fresh produce and plenty of activities for all ages. Because it's a 'party' rather than a festival, there will be no admission charges and therefore becomes more affordable for locals and visitors alike.
16th annual Sardine Festival at Olhos d'Agua
Between the 8th and 10th of August you can enjoy the traditional Festa da Sardinha at Olhos d'Agua. With free entry, entertainment and lots of food and beverages on offer, it promises to be a delight. Located between Vilamoura and Albufeira, it's next to Pine Cliffs golf & country club – you can get in a round of golf before heading over to the festival!
28th (yes, 28th!) Seafood Festival Olhão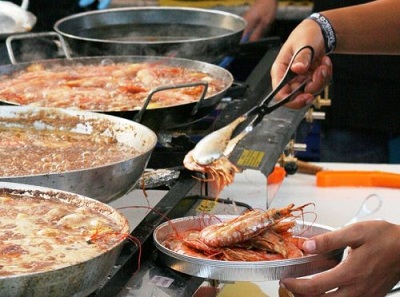 The world-famous annual Festival do Marisco (seafood festival) takes place in Olhão between the 10th and 15th of August. Featuring all types of shellfish and seafood, Sardines are one of the many tasty dishes available. An event not to be missed! More details coming up in the Festival do Marisco blog, coming up in early August.
16th annual Fish Festival in Albufeira
September 6 – 8 sees the annual fish festival in Albufeira, which will feature sardines along with many other types of fish – find out more about it in our September events blog in late August.
Check the local papers for more details of a Sardine Festival near you – and don't forget – try eating them the Algarvean way and then please do let us know how you got on!
   Brought to you by Meravista – the place where smart people search for Algarve property for sale.