by Almonds & Oranges
Alvor is a stone's throw from the bustling city of Portimão, but it couldn't be more different if it tried. Historians will recognise Alvor as the place in which one of Portugal's most revered kings died; King João, known as The Perfect Prince, breathed his last breath in Alvor back in 1495. Over five centuries on, King João may be a little surprised to see the once typical Algarvean fishing village transformed into a popular holiday destination and prime location for property hunters seeking a home in the sun. However, despite the development of modern resort facilities to accommodate the growing number of tourists, Alvor has retained its traditional character and village charm.
In fact there's a whole lot more to Alvor than resort hotels and beautiful beaches.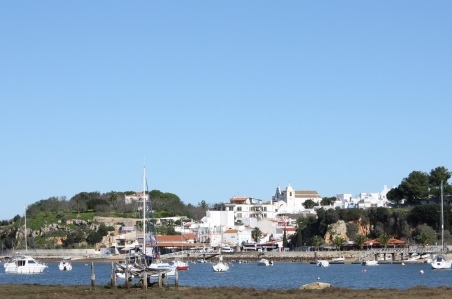 There's a good choice of local amenities in Alvor and, with Portimão so close, with its sports and entertainment venues, fabulous shopping malls, schools and transport links, it's an ideal place to relocate to, or to buy a holiday home. Especially with Faro airport less than an hour's drive away. And, as the area grows in popularity, those looking to get a return on their investment within a five year window shouldn't be disappointed either.
Wake up to the ocean
Own this stunning ocean-front villa and you'll wake up to the sound of waves rolling to the shore every day. Priced at €3m, the main house is surrounded by 3000m2 of mature gardens with a beautiful pool, and it has a separate one bedroom annex too.
If you're in the market for a property of this calibre, it's a must view.
Snap up a sunny bargain
If €3m is stretching your budget a little, this great one bedroom apartment for just €79,500 in the popular Vila Marachique condominium, may be more in your price range. It's situated in a quiet spot within walking distance of the beautiful beaches and the centre of Alvor. South-facing with a large balcony, it's the perfect bargain buy.
Invest in a holiday haven
And here's another great buy at €89,800, particularly if you're looking for a holiday home. This one bedroom apartment is in the desirable Quinta Nova development. It's been completely renovated and includes a fully fitted and equipped kitchen. It has a south-facing terrace and a west-facing terrace. The complex has tennis courts, communal pools, bar and restaurant, supermarket, reception and a year round security service.
Buy a beautiful home
On the outskirts of the town in Montes de Alvor, there's this magnificent villa for sale at €469,000. Its Arabic-influenced architecture makes it uniquely attractive. Bright and airy, its four bedrooms each have fitted wardrobes and balconies. Surrounding the house there is a lovely secluded garden with tropical plants. A beautiful home by all accounts.
These are but a few of around 500 properties for sale in the Alvor area. Take a look for yourself; simply click on Alvor on the Meravista.com map to zoom in and view what's on offer.
*The properties featured in this article were listed for sale on Meravista.com at the time of publication, but may have since been sold or removed from the website
Brought to you by Meravista.com – the place where smart people search for Algarve property for sale. Contact Meravista.com