by Sun's Dragon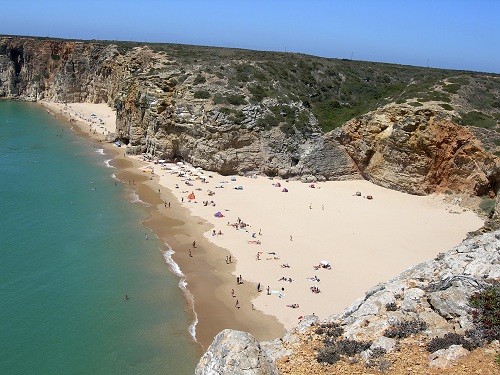 Tourism is big business in the Algarve and the Portuguese are welcoming, friendly and courteous to all the foreigners who come to visit. Many visitors fall in love with Portugal, buy a villa or apartment in the Algarve and settle there.  In any marina or on any beach at any time of the year you will hear a multitude of languages being spoken. Most of the Portuguese people speak English, from a few words to an excellent command of the English language.
Climate
The climate is gentle and the sun shines for most of time - averaging over 3,000 hours of sunshine per year. Daytime temperatures in winter range from 15 to 27 degrees while temperatures in the summer can reach as high as 40 degrees so always make sure you have plenty of high factor sun lotion with you.
It is a good idea to take the N125 for a leisurely drive from one end of the Algarve to the other, stopping at hidden, secluded beaches (Praias), viewing the typical Algarvean countryside with its casas, villas and quaint villages along the way. You will find all the following types of beaches on your drive.
Beaches close to towns
There are beaches attached to large towns such as Portimão, Lagos, Quarteira and Albufeira, as well as smaller resorts such as Quinta da Lago, Vale da Lobo and Praia de Luz. Even Faro airport is practically on top of a splendid popular beach.
More secluded beaches
Most seaside villages and hamlets have their own beach and there are many more in isolated coves along the Algarve coast.

Family beaches
Families flock to the beaches in the summer months where children can play happily and safely. There are sandcastles to be built, pretty shells to be found and digging for crabs, clams and cockles is a very interesting and time-consuming pastime. Shops selling all the necessary beach toys are plentiful and inexpensive and you will always find a good ice cream parlour close to a beach in the Algarve.
Island beaches
In the Eastern Algarve, there are ferries running from Tavira, Olhão and Faro to take you to the islands that form the Ria Formosa lagoon. It is fun to pack a picnic, catch a ferry and spend the day on one of the islands. The beaches on the islands are long stretches of golden sands, quiet and peaceful, boasting a real "get away from it all" feeling. You will see quaint cottages and villas dotted across the islands and there are a few bars and cafes for those who don't want to pack a picnic.
Dogs and beaches
Dogs are not allowed on busy beaches in the summer season but there are so many secluded areas where very few people venture that it is not difficult to find a deserted beach to take your dog for a good run and a refreshing swim. Owners are expected to use 'poop scoops' to keep the beach clean and to have the dog on a lead.
Blue Flag Beaches
A large number of Algarve beaches and marinas have been awarded the coveted Blue Flag for safety and environment.  Many of these are also accessible for people with limited mobility.  Check out the details of these beaches and download the Meravista Blue Flag Beaches list so wherever you may be, you can always find these award-winning beaches!
Algarve beaches guide
In addition to the Blue Flag beaches list, there is also an excellent Algarve beach guide, created by the Turismo de Algarve (Visit Algarve tourist board). Featuring information about each Algarve county's beaches, plenty of photographs and this guide even provides a list of indigenous species found in the region.
With so many beaches to choose from, at any time of the year, it is easy to find your ideal spot, pack your gear and have a wonderful time. To enjoy the Algarve for more than just a holiday, check out the wonderful Algarve property for sale.
Information provided by www.meravista.com: your best online resource for property for sale in the Algarve
Article provided by Meravista.com
Meravista is the world's largest property portal devoted exclusively to the Algarve. It brings visitors the latest state-of-the art search technology, making it easy to find their perfect property in the Algarve.
View maps, listings and property details at the same time
Over 300 standardised property details
Compare properties side by side
Save your favourite properties and searches