by Sun's Dragon     
PART 5 – Shopping in the Algarve's tourist capital, featuring Albufeira and Guia
Since the 1980s there has been a large influx of foreigners buying property in the Algarve. As well being a major tourist destination, many people have relocated to the Albufeira area. Accordingly, shopping facilities have been modernised, expanded and improved.
Albufeira
Coming from the direction of Quarteira, Albufeira can be reached by the N125, passing through typical Algarvean villages with their distinctive 'casas', many of which have entire exterior walls decorated with colourful traditional tiles.
There are a hundreds of local shops along this stretch of road. For instance, Lindy Velas, in the pretty village of Boliqueime, has the most extensive range of outdoor furniture and accessories in the area and it receives customers from as far away as Lisbon. The drive is both interesting and beautiful and you will come across many garden centres, lighting shops, home accessory shops and even small street-side stalls selling home grown oranges.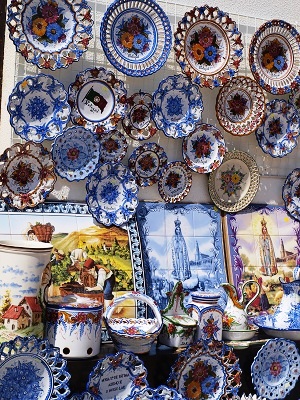 Albufeira itself is the capital of tourism in the Algarve and has a large town square with many boutiques, market stalls and amusements. Cafes, bars and restaurants are plentiful. Small, cobbled side streets leading off the square are filled with hundreds of shops selling many Portuguese made artefacts, accessories, jewellery and clothing. As the beach is located just off the square, beach shops are in abundance too, as are souvenir shops. In fact, the whole area is a shopper's paradise.
In the centre of town, you'll find large supermarkets such as Lidl, Continente, Aldi and many local supermarkets, all of which cater for all the nationalities who live in the area or come to visit the town. Albufeira boasts an old town and a new town with historical buildings and modern edifices and is well worth exploring.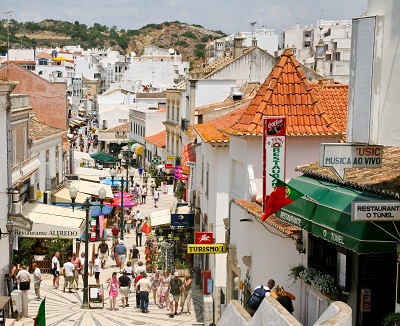 Guia
From Albufeira to Guia on the N125 you will pass two huge garden centres with fantastic statues, ornaments and large selections of plants. You will also pass the famous Zoo Marine with its dolphins and many other attractions.
Guia is home to Algarve Shopping. This large mall has over 100 shops featuring all the international brands as well as local shops, outlet shops, children's shops and a food court. It is an indoor/outdoor mall with a, supermarket and play area. Next to the mall is a smaller shopping area with furniture stores, supermarket and eclectic household stores as well as 'Iceland' for the British food shopper. Opposite Algarve Shopping mall is Makro cash and carry and Leroy Merlin – the largest DIY store in The Algarve.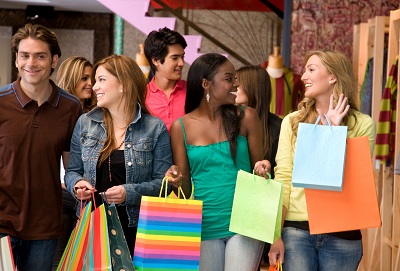 Some of the major markets:  Albufeira – 2nd and 3rd Saturdays of the month
Have you been to the Algarve Shopping Mall at Guia? We'd love to hear what you think of the mall and the selection of shops there!
Find out more about Algarve shopping options in our other blogs in this series:
Shopaholics' Algarve – Part 6: Westward bound, from Porches to Sagres
Shopaholics' Algarve – Part 4: A diverse triangle of top-end shops and farmers' markets
Shopaholics' Algarve – Part 3: Exploring the traditional shops
Shopaholics' Algarve – Part 2: East Algarve - Olhão and Faro
Shopaholics' Algarve – Part 1: East Algarve - Vila Real, Tavira and Fuzeta
   Brought to you by Meravista – the place where smart people search for Algarve property for sale.