By Sun's Dragon
It's December and it's officially Christmas time! We can all enjoy Christmas events and happenings throughout the Algarve. I like to keep Christmas in December too but I also like to get my shopping done as early as possible!
 'Tis the season of goodwill to all men (and women and children!) and it's wonderful that so many events not only provide fun and entertainment for so many, but that the majority of them are also for good causes. Be it raising money for impoverished people, disabled children, needy pensioners, or abused and abandoned animals – people's generosity at this time of year certainly makes the festivities more meaningful.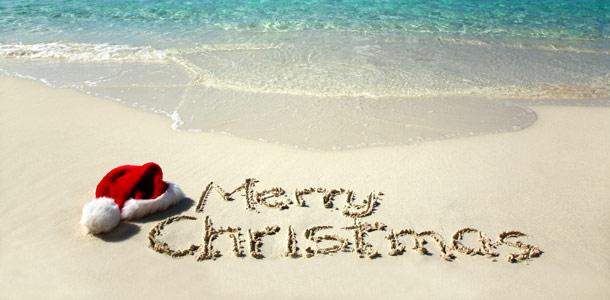 We've already covered most of the Christmas fairs and markets so here we'll try and fit as many events as we can for you to choose from. There are many, many more, so keep an eye on your local press and ask at your Junta de Freguesia to make sure you don't miss anything!
Children, entertainment and good causes
Vila Real de Santo António Christmas Village | Aldeia de Natal
From the 28th November until the 6th of January from 10am to 8pm there will be a Christmas fair, an ice rink, stalls with sweeties and food and live entertainment.  Father Christmas will arrive on 28th November at 6pm – hooray! And on the 29th November there'll be a dance show starting at 3.30pm. So take the kids along and give them a good time - entry is free.
ACCA Christmas present drive for Children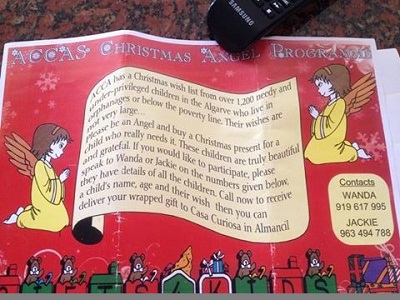 Christmas is all about kids right? So ACCA Children's Charity are asking for a small gift to be wrapped for an underpriviged child to open on christmas morning. It'll be the only present the child receives so it's really not that much to ask for is it? The presents are needed by early December so to find out how you can help call Wanda on 919 617 995 or Jackie on 963 494 788.
I got given a name and age and bought a suitable gift, dropped it off and they sorted the rest. I also found some other bits and bobs which I wrapped and gave with a tag for a girl or boy and an age – I feel good!
Don't forget the Christkindl Market at the Conrad Hotel, Quinta do Lago, is also by and for ACCA to raise funds. It's from 10am on 7th December. Also from 4pm you can see and buy art created by more than 75 youngsters, all to raise money for ACCA.
Almancil's elderly get help too!
Also on Sunday 7th December there's a Christmas Market in Almancil at the Jardim das Comunidades, Rua do Centro Comunitario. The event is organised by the Almancil International Rotary club and is all in aid of Associação Cultural e Social de Almancil, which provides residential and day care to elderly people in need in the area.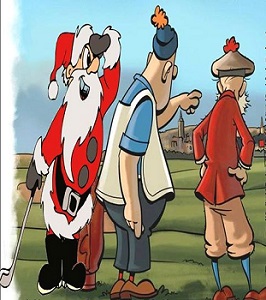 The entertainment starts at 11am and will be varied all day long until 6pm. Featuring The Angels Theatre Group with their Christmas Review at 3pm and the Salvation Army band at 4.30, plus many other performances, food, drinks and market stalls. And a special visit from Father Christmas too of course!
For golfers...
There's a charity golf tournament and fund-raiser being held at the Gramacho golf course on the 14th December in aid of Pirilampes Orphanage and The Albufeira Food Bank. This competition was to be held at Vale de Pinta golf course but was changed due to a conflict in dates.  So get yourself booked in for a great day out on the golf course. Check BJs Canadian Bar Albufeira for bookings and information.
Holiday Inn Hike (and a swim)!
Once again the Holiday Inn Algarve are putting on some fun events for the season of goodwill. First of all dig out your walking shoes, fish out your Christmas hat (or outfit) and get ready to take part in the 3rd Great Father Christmas Walk at Armação de Pêra. It will be taking place on Saturday 6th December, at 11.00am.
This is a charity walk and all donations, large and small, will be gratefully received. Alternatively you can bring olive oil, long life milk, or any dried food items which will be distributed to those in need. The whole family is invited to join in.

Thanks to Dave Sheldrake for the photo!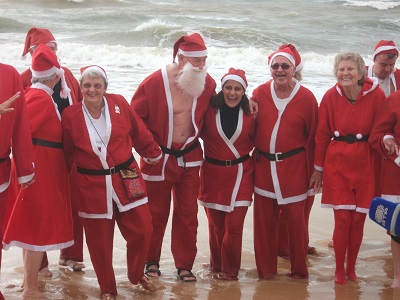 After that, the Holiday Inn will host their two annual "Swim for Shoes" events. At 11 am on Christmas day, wear something Christmassy, while on New Years' day at 11am, wear your pyjamas! These funny events will be held on the beach at Armação de Pêra in front of the Holiday Inn Algarve. Bring a towel, go in for a full swim or just a paddle – the choice is yours as long as part of you gets wet!
These two events also ask for donations to buy shoes for the children who are in care. Let's help as many children as possible to start 2015 with a new pair of shoes.
To find out more about these Holiday Inn charity events you can call 282 320 260 or email: [email protected].
The Conrad Algarve Hotel is hosting a special event for children on 25th December. From 3pm till 4pm. Carols will be sung and Father Christmas will be there with some surprises under the Christmas tree.  Phone 289 350 700 to find out more.
Music and Celebration!
On Saturday 13 December there's a Christmas Concert performance by The Philharmonic Association of Faro. Starting at 9.30pm at the Teatro Lethes in Faro. Phone 289 820 300 for more information and tickets.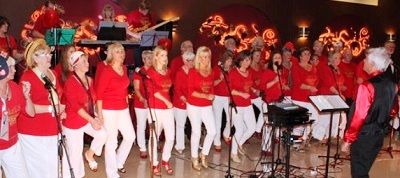 What would appear to be a Christmas concert with a difference takes place at the Sao Bras Theater / Cinema (on the Avenida) on 13th December at 8pm and again on 14th at 5pm.
The Algarve Rock Choir teams up with the Sâo Bras Sally Army and provides a show of Christmas favourites as you've never heard them before. Tickets only €10 so get yours now! Call 289 356 441 or 919 968 768.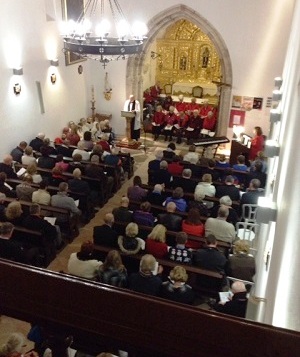 Julie's bar in Santa Barbara de Nexe will be having their annual Christmas Carol sing-a-long from 6pm on Christmas Eve. There'll be mulled wine to whet your whistle and mince pies to set the mood. Bring your voice and Christmas spirit with you!
The St Vincent's Anglican Chaplaincy, Nossa Senhora do Livramento, in Tavira will be holding an early evening Christmas Carol Service on Monday 8th December at 6pm.
They will be holding another Christmas Carol service at St Vincent's Anglican Chaplaincy, St. Luke's Monte da Palhagueira in Gorjoes, on Monday the 15th December, starting at 6.30pm.
Everyone is invited to come along and join in for both services.  To find out more call Fr Lars Nowen - 282 789 660 or Revd Bob Bates - 289 366 720 and they will guide you.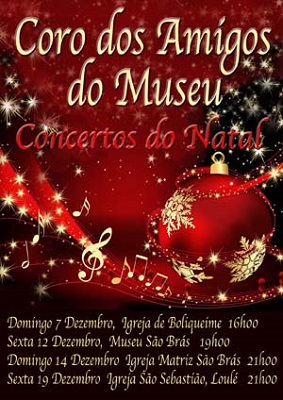 A series of Christmas concerts performed by the multinational Coro dos Amigos do Museu in Sâo Bras, are led by maestro Francisco Brazâo. 
Sunday 7th at 4pm at the Igreja de Boliqueime;
Friday 12th at 7pm at the museum in Sao Bras;
Sunday 14th at 9pm at the Igreja Matriz at Sâo Bras, and finally
Friday 19th at 9pm at the Igreja Sâo Sebastiâo, at Loulé. 
For more information check their website. If you fancy joining in, the choir is always looking for enthusiastic newcomers too!
The International Church Algarve of Vale Judeau presents Bethlehem Village (Aldeia de Belém): the traditional story of Christmas brought to life, with the Salvation Army Sâo Bras providing traditional music. This will be in English on 5th December from 7pm, in Portuguese on 6th December from 8pm and again in English on 7th December from 4pm, followed by a carol service at 7pm. Click here for the poster with details in English and Portuguese, or go to their website for more information.
It's all about that food, 'bout that food, 'bout that food
It's a time to get together and have fun, to meet old friends and make new friends.  A cocktail, a glass of wine, a fine meal and lots of chatting and singing to celebrate the season.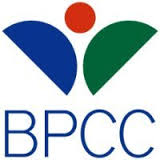 The British-Portuguese Chamber of Commerce will be hosting their annual Christmas Gala Dinner at the Vila Vita Parc Resort and Spa on 6th December. You can reserve a table and make this your company's seasonal event . The evening starts at 7:45pm and  there'll be live music by Yin & Yang.  The price per person is: members €48 and for non-members €58 + IVA. Dress code: lounge suit/evening dress.  Call 213 942 020.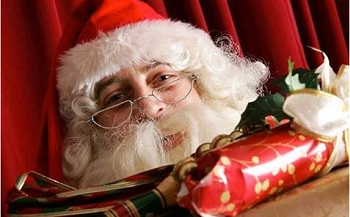 The Friends of the New Goldra Animal Sanctuary are going all out this month to raise funds to help abandoned and abused dogs and cats. Today, 29 November, is their fabulous Christmas Fayre at the Cock and Bull (Galo e Touro) Restaurant in Almancil  from 10am to 3pm, with lots of stalls and entertainment.
They're also hosting a Christmas lunch at the famous Le Marquis Restaurant at Monte Palhagueira in Gorjões near Santa Barbara de Nexe on 13th December at a cost of €30 per person, including wine. Contact Sue for details: [email protected]
On top of all that – they are holding a Thank You dinner party at Galo e Touro in Almancil at 7.30pm on Saturday 13th as well. Dinner will be served at 8pm and then the dancing starts! The cost is €35 per person, and you can book through the Goldra website.
High on the hog with High Tea
For something a little more unusual, you can enjoy a Festive High Tea at the Conrad Algarve, in Quinta do Lago, throughout December. From as little as €22 for adults, to a €12 champagne upgrade, or even try the deluxe Royal treatment for another €26, which includes cocktails and a take-away Christmas cookie basket!  Call 351 289 350 700 to book.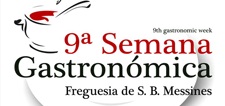 The 9th Gastronomic Week is going on at Messines from 29th November (yes, today!) through until 8th December. Traditional gastronomy on offer at many restaurants plus stalls with sweets and wines as well. Open daily from 5pm.
Almost every hotel and restaurant across the Algarve is offering special dinners and occasions for Christmas Eve and Christmas Day. Check with your local favourites for their events, and check your local press too! 
Here is a taster of what's going on – pun intended!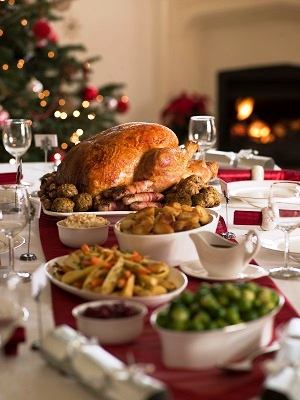 Vaults in Almancil are offering a 3 course Christmas lunch at €65 per person, which will include Bucks Fizz, canapés and half a bottle of wine.  Call 289 391 883 for bookings and information.
Rascals Bar in Cavoeiro are offering a 4 course Christmas lunch with all the trimmings, Christmas crackers, festive music and gifts for the children for €45 per person.  Booking is essential so call 282 354 190.
The Hilton in Vilamoura has several options for Christmas eve, Christmas Day and New Year's eve.  Check out their website.
Lennon's Bar and Grill in Almancil are offering a fabulous five course Christmas dinner on 25th for €45 per person (not including drinks). Call 289 391 842 for more info.
Taste restaurant in Carvoeiro offer a 5-course Christmas day dinner with all the trimmings for €46. Call 969 577 644 for details.
Some of the bigger names in catering include the Michelin star restaurants, though we were surprised to discover that Ocean (Vila Vita Parc) and Sâo Gabriel (Quinta do Lago) are both closed until March 2015!
Non-Christmas events… yes there are a few!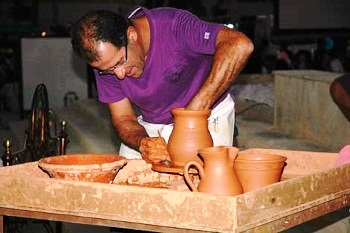 Feira da Serra 2014 happens again this year in Loule on 6th December from 10am to 6pm. Join in on the Avenida José da Costa Mealha for exhibits of crafts and agriculture, traditional basketry, metalwork and pottery, and of course taste delicious regional sweets and sausages. Immerse yourself in Algarvean culture for the day!
The Vila do Bispo Interpretation centre hosts the 'Pioneers of Science' exhibition from 2 December until 2 January. Featuring 11 famous figures in scientific history, each with significance to the Algarve, it promises to be a worthwhile visit.
Paderne Medieval Days takes place annually between 30 December and 2 January. Featuring an historic parade, a medieval market and street food, as well as traditional games and entertainment. Head down to the village and enjoy!
Loud motors!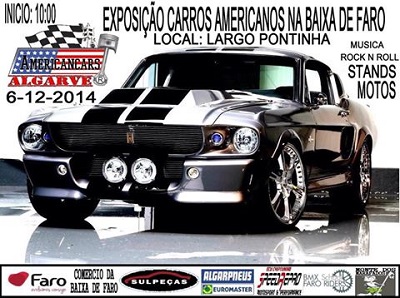 Hot Wheels Raceway Indoor Karting are at the Albufeira Marina, and offer 400 meters of indoor track and the fastest Karting in the business. You can currently get session vouchers as Christmas gifts for the speed-lovers in your family. Open Friday to Monday, from noon to 6pm, vouchers start from as low as €15 for 10 minutes of racing. You can also book the track for group events and celebrations.
American Cars Algarve are having a celebration on the 6th December in downtown Faro. There'll be an Elvis Tribute singer to mark the exhibition which opens at 10am. Find out more about this event.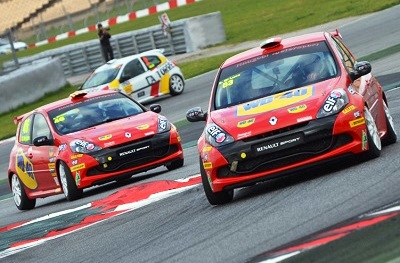 Maxi Endurance 32 Hours - the longest circuit endurance race in the world! Under ideal conditions, new world records for endurance motor sports will be defined! You can go and watch it all at Autódromo Internacional do Algarve in Portimão from 12th to 14th December. Entry is  €5 for 3 days: for more information go to Autodromo do Algarve.
And…. it's back to seasonal events….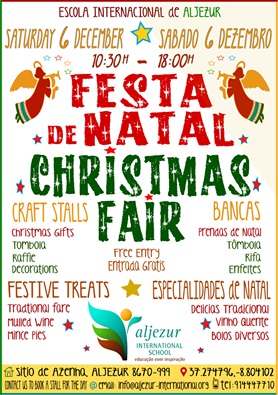 There seem to be more fairs this month than you can shake a stick at, so shopping for Christmas should be so easy! Check out the list of Christmas fairs and Markets at the end of this blog.
The Aljezur International School Christmas Fair will be held on 6th December. All students will be working their class' stalls and making everyone welcome. The students have also been writing and rehearsing Christmas sketches which they will perform on the day and there will be live music from Brendan and Stuart all afternoon. This will be a great day out for the whole family to enjoy.
10 Artenata – Feira de Natal em Ferragudo: every day from Saturday 6 December to Monday 8 December, Ferragudo will be holding their Christmas fair in the town square, from 10am to 8pm. With many stalls selling handicrafts, decorative arts and much more.
The São Brás Christmas Bazaar is being held at the Costume Museum, Rua Dr. José Dias Sancho on Sunday 7th December. Open from 11am to 4pm, this is a good day out for the whole family.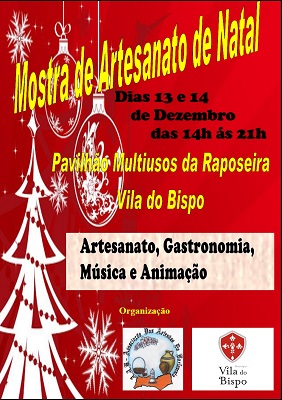 The Mercadinho de Natal of Monchique takes place between 12 and 21 December, daily from 10am to 8pm. For more information contact the Monchique Camara: [email protected].
Mostra de Artesanato de Natal is the Christmas event at Vila do Bispo. Taking place on the 13th and 14th December between 2pm and 9pm, the fair offers traditional Portuguese arts, crafts, food, music and entertainment.
A Christmas Village at Santa Luzia, Tavira, from 19 to 21 December is also not to be missed. Festive fun with Christmas entertainment, activities, a circus and much more.
There are also a series of flea markets (Feira de Velharias) going on in December:
Alandra Vintage Market in Faro – 6 December from 9am to 2pm.

Boliqueime – 7 December from 9am to 2pm.

Faro's Merkado da Avenida – 13 December on the Avenida 5 de Outubro from 10am to 5pm.

Vila Sagres – 14 December. Call 282 624 372 for more information.
Seeing in the New Year – welcome 2015!
New Year's Eve is party time around the world and the Algarve is no exception. There'll be beach bashes and parish parties from Aljezur to Vila Real de Santo António, with live bands and fireworks all the way. The Algarve hills will be alive with music, dancing and feasting.
The Junta's (Parish halls) will be jumping, the hotels, bars, restaurants and cafes will be heaving and everyone will be looking forward to a new beginning after midnight!
Local New Year's Eve celebrations include: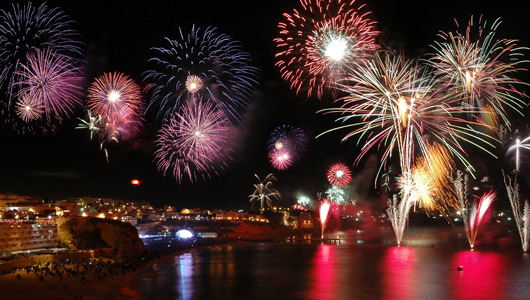 Albufeira hosts a great night of entertainment with live bands playing before and after midnight and a fantastic fireworks display to herald the New Year.
Portimão always has a big celebration with live bands and dancing on the river front, stalls for drinks and food and a fantastic fireworks display at midnight.
Tavira town celebrates with musical entertainment and fireworks.
Lagos offers similar traditional celebrations with a big fireworks display on the waterfront. On a clear night you get double your money's worth as you can see Portimão's display too!
Vila Real de Santo Antonio is open to the public with fireworks and music as well as food and drink of course!
Many more towns will have similar public fun planned, so do check for events with your Junta de Freguesia and your local press. Of course you can also ask your local favourite bars and restaurants for their plans for heralding in 2015!
There are too many private events to mention here: below are a few examples, from one extreme to the other…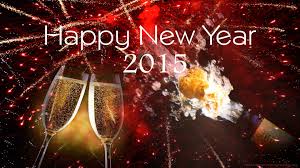 The New Year's Eve Moulin Rouge Gala is hosted by the Conrad Algarve Hotel. For €220 per adult you can enjoy welcome cocktails, a celebration buffet dinner with wine, a bottle of Champers per couple, live entertainment, a fireworks show at midnight and then carry on at the cash-bar after party in the ballroom!
New Year's Shindig at Julie's Bar in Santa Barbara de Nexe. Julie and Martin will be hosting their annual party with food, drink and music, encouraging everyone to let their hair down. New Year will be brought in with giant party poppers and Auld Lang Syne plus a complimentary glass of fizz, followed by more singing, dancing and party mayhem. Entry is free, party mood is required!
New Year's Eve Masquerade at the Thai Beach club, Vilamoura, from 7pm to 5am. Regular meal with wine at €50 per person, deluxe option with champagne and spirits for €150 per person. Fabulous Thai food, beach setting, masks, fireworks and all night after-party are part of the package.  Find out more here.
Celebrate 2015 at Harry's bar in Carvoeiro from 8pm, with live music from Ian Dee. 
For something completely different, check out the healthy option for New Year at Vivenda Miranda resort, and start your resolutions early!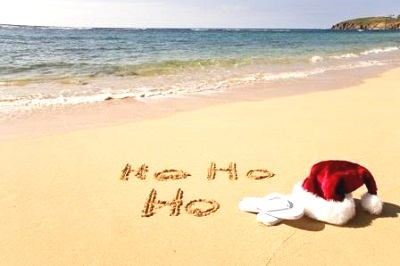 So whether you choose a 'posh' do or a 'local' do, be sure to get your glad rags and dancing shoes on and  be ready to party!
So that's our 'brief' round up of events and festivities for this December. Plenty to keep everyone of all tastes and ages entertained. 
We love living in the Algarve!
Brought to you by Meravista – the place where smart people search for Algarve property for sale. Contact Meravista