By Sun's Dragon
Making crafts and gifts of all descriptions ready for the Christmas buying frenzy is time consuming for sure, but so satisfying. Take a look at some of the beautiful items that have been especially made for the Algarve Christmas Fairs, and hear from the some of the creative people behind this exquisite work.
The International School hosted a very successful fair at the school in Porches last weekend, with an excellent turnout and a good amount of money raised by the students, teachers and parents all in aid of the Casa de Nossa Senhora da Conceição orphanage for girls.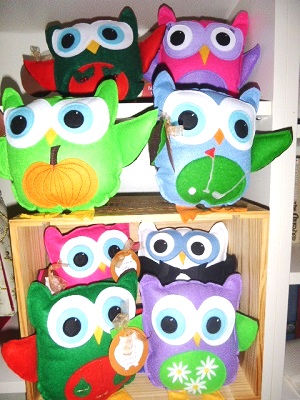 Cards for all occasions - plus Owls too!
Kay Shorter is famous for her beautiful handmade cards for all occasions, as well as bookmarks and other lovely items.
One day Kay enjoyed making an owl with her visiting granddaughter.  When Kay realised just how lovely their owl turned out, and saw the delight on her granddaughters face, she decided that she would make more for the Christmas Fairs that she attends each year.
Kay will be offering her owls along with her simply amazing collection of cards this weekend at the Porches Rotary Christmas Market, at the Lagoa Galeria Arte. You can also find Kay and her stall at the São Bras market on 7th, and the Tavira Christmas market on 14th December.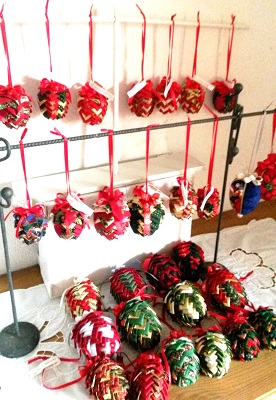 Hand-made tree ornaments with Christmas fabrics
Lis Jensen used to import fresh Christmas trees to the Algarve at this time of year and would make a few baubles to show the beauty of the tree. These days Lis focuses on creating stunning handmade Christmas pinecone ornaments created from a variety of colourful Christmas fabrics. Each ornament is unique: painstaking and time consuming, but infinitely wonderful. This clever lady appears at all the fairs and markets offering us something of unbreakable beauty for our traditional trees.
Cork and unique bags from Lisbon
At the Porches school bazaar last weekend, I chatted to a couple of ladies from Lisbon who had come all the way to the Algarve to promote their handmade articles, frequently using cork. They had the most gorgeous embroidered bags too. While we are not sure which fairs they will attend, they confirmed they plan to do more markets in the Algarve this season.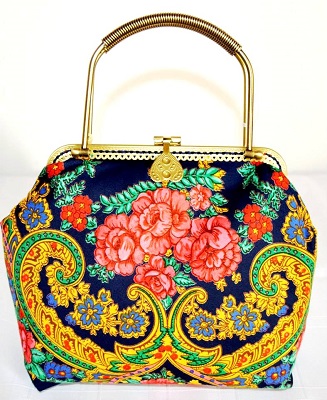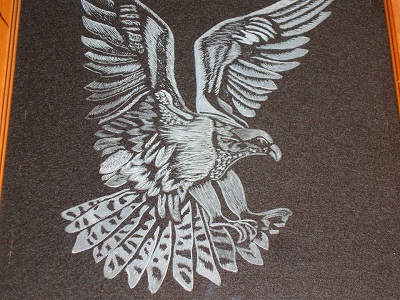 Glass Art - engraving special gifts for Christmas
Line Leatherbarrow is a glass artist. She has been hand engraving and painting glassware since she was nine years old and recuperating from meningitis. Originally a hobby to create gifts for family and friends, Line has now branched out to producing these wonderful gifts for markets and fairs as well as creating bespoke unique items to order.
Line will be at the The Friends of the New Goldra Dog Sanctuary Christmas Market on the 29th November with her unique gifts and Christmassy items, and plans also to demonstrate her art. It would be well worth while to make a visit and see how it's done.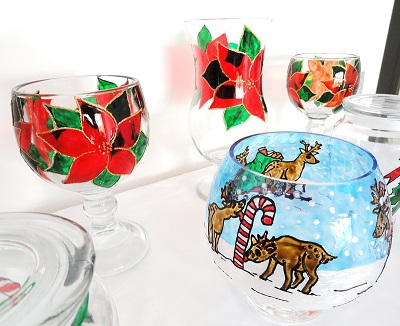 The One Stop Christmas Shop
When not writing blogs, taking care of my dogs (and various strays from time to time) and enjoying my wonderful Algarve social life, one of my own hobbies is creating gifts for Christmas. A small team of us have formed The One Stop Christmas Shop and we enjoy spending the months leading up to Christmas making a variety of unusual and interesting bits and pieces.   
Hand-painted glass bowls, jars and candle holders make unique gifts for people of all ages. Some are painted with traditional holly and poinsettias, Father Christmas or angels, while others have complete nativity scenes.
There are also small glass candleholders, hand-decorated with beautiful rhinestones. Each item is individual, you won't find anything like it in the shops.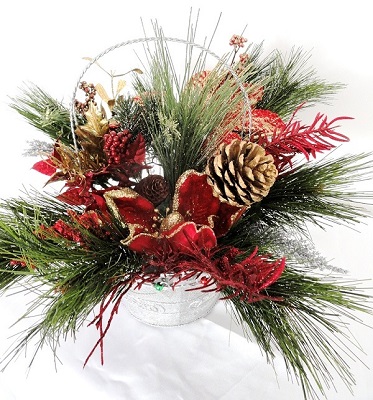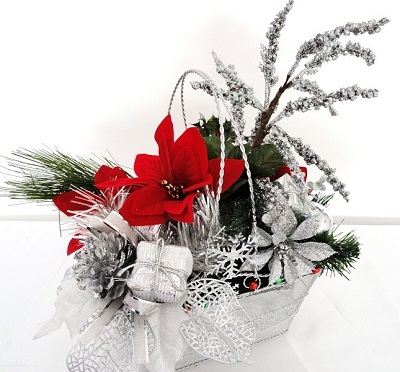 Christmas arrangements and centre-pieces, set in delicate silver or gold filigreed baskets and filled with Christmas foliage and decorations, add that elegant touch to your Christmas table or décor and make unusual presents for friends and family.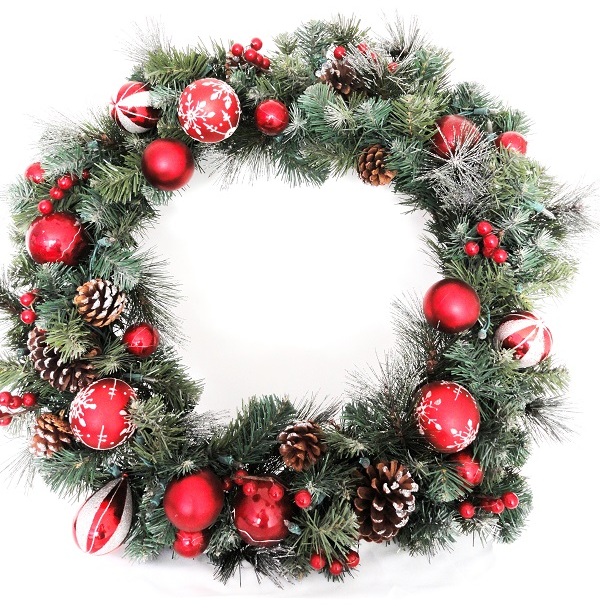 The most popular items are probably the wreaths:  thick and natural looking, these wreaths are not only fully decorated with Christmassy ornaments, but you can choose ones with twinkly lights to brighten your house or without lights for on your front door.
There are a limited number of these as they take quite a lot of time to make, get yours before they sell out!
One of our group is a former chef, and this year he has created a wonderful aromatic herb-infused olive oil, offered in lovely bottles filled with yet more herbs. This oil is delicious on salads or as a dipping oil with creamy balsamic glaze.
But his fastest seller this year is his garlic and pepper oil. Virgin olive oil is infused with garlic and piri peppers and served in small bottles decorated with red and green piri peppers and rosemary. 
The first taste seems like regular olive oil, until moments later when the pepper suddenly blooms on your taste buds. It has to be tried!
The One Stop Christmas Shop will be at the Porches Rotary market at Lagoa Galeria Arte this weekend, Vale de Lobo Auditorium on 6 December and at the Almancil Rotary Christmas Market at the Almancil Jardim das Comunidades on 7 December. Come and say hello, taste some of the infused oils and pick up your free Meravista shopping bag too!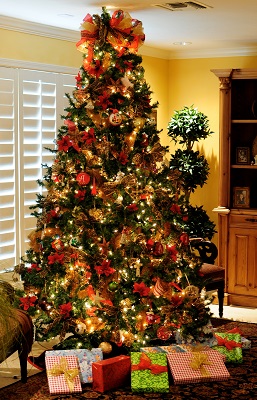 More artists, many fairs!
These are just a few of the talented people you can meet at the fairs. Of course there are many more, such as Linda, who makes all sorts of wonderful cookies and cakes as well as her own chutneys, jams, preserves and even liqueurs, and (Sweet) Marilyn who specialises in sweet treats and Christmas goodies such as mince pies and ginger cookies.
Why not take you and the family to the fair? Most of the Christmas bazaars and markets offer food and drinks, entertainment for adults and kids as well as all the stalls with the creative, the inventive and the unusual. You are bound to find some interesting stuff, and best of all, they won't be mass produced!
See you there!
This year's markets at a glance:
(if you know of any more Christmas fairs and markets please let us know!)
22 / 23 Nov - Porches Rotary – Lagoa Galeria Arte – 10am to 6pm both days
29 Nov – Friends of Goldra -  Nelitos Almancil - 10am to 3pm
29 Nov – Vilamoura Colegio – 10am to 3pm
30 Nov – Nandi Animal Charity - Mercado de Levante (next to the bus station) Lagos – 10am to 4pm
6 Dec – Aljezur International School – Aljezur – contact [email protected]
6 Dec – Vale de Lobo -  Vale de Lobo Auditorium – 11am to 5pm
6 Dec – Quinta Shopping – 10am to 6pm
7 Dec – Hotel Conrad / Acca Childrens Charity Fair – Quinta do Lago – from 10am
7 Dec – Almancil International Rotary – Jardim das Comunidades Almancil – 11am to 6pm
7 Dec – São Bras Museum Christmas market – São Bras de Alportel – 11am to 6pm
6 – 8 Dec – Artenata Ferragudo – Largo Rainha de Leonor Square – 10 am to 8pm
12 – 14 Dec – Annual Christmas Market Lagoa – Lagoa Auditorium – 12 noon to midnight daily
14 Dec – Cacelha Velha traditional Christmas market – Vila Real de S.A. – 10.30am to 5pm
14 Dec – Tavira Christmas Market – Mercado Velho (old market) Tavira – 10am to 1pm
19 – 21 Dec – Carvoeiro Christmas Market – Largo da Praia – 12 noon to midnight daily
Brought to you by Meravista – the place where smart people search for Algarve property for sale. Contact Meravista