By Sun's Dragon
Guia is a small town, a friendly town and a well situated town. Right in the middle of the Algarve, Guia is a short drive from Albufeira's beaches and hustle and bustle – yet far enough away to be a quiet traditional village. Famous for it's Piri Piri chicken, the village has many restaurants serving this and other traditional dishes.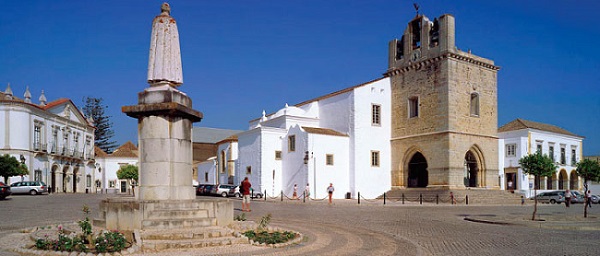 Guia area is also great for shopping: the Algarve Shopping mall as well as the retail park next door, plus Leroy Merlin and Max Mat for your DIY and Makro cash and carry are also some of the nearby shopping options.  

Not only is Guia an attractive town in itself, but you can find some very good attractions nearby, including Zoo Marine just outside the village, as well as Aqualand Waterpark just down the N125 at Alcantarilha.
Guia's property also includes the renowned vineyard Adega do Cantor owned by Sir Cliff Richard, the most famous local resident. But we don't think Sir Cliff's Adega is for sale though. But there are some lovely alternative options if becoming a wine producer is not your cup of tea (or glass of vinho!).

So what are you likely to discover in the way of properties for sale in this lovely, typical Portuguese town? And how do the prices of property compare for this part of the Algarve?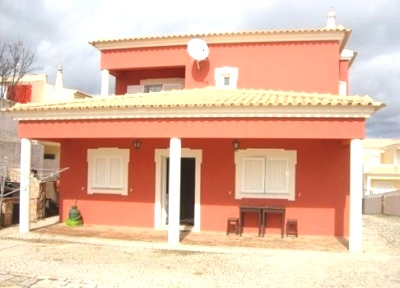 Villas for sale in Guia
Well for a start there's this detached two-storey villa sitting on a small and very manageable plot of 660m2. The villa itself has 200m2 covered, so it's spacious. There are three bedrooms and two bathrooms: the kitchen is large with a dining table and chairs and there's a nice sized living room.
Outside it's got a built in BBQ, a private garage and solar panels. There's enough room for a pool if you want one and there are also two parking spots outside. At €245,000 it's ideal for a family home in a pretty town.
Then there's this detached villa in the quiet area of Quinta dos Alamos that's been built on a plot of 730m2. This neighbourhood is only 1km from Guia town centre. The house is modern and has clean lines, with a swimming pool, garage and BBQ area outside.
Inside there's a living/dining room with fireplace and a lovely large kitchen plus a bedroom, office and two bathrooms on the ground floor. Upstairs you'll find two more bedrooms and bathrooms, balconies and a huge roof terrace too. As a super family home, this is a snip at €572,700.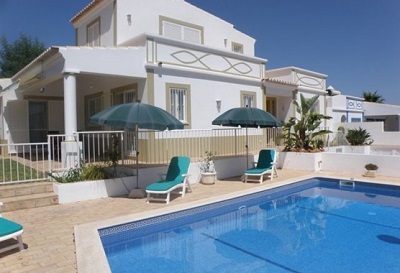 Here's another three bedroom villa in the quiet Alamos estate. This one has an open-plan living/dining room which has a lovely fireplace, and there's also air conditioning for the hot summers. The spacious kitchen is fully equipped and has lots of cupboards and drawers which is so important for those who like to cook! The villa has three bedrooms and two bathrooms, one of which is en-suite.
Outside the villa is an 8m x 4m swimming pool that is gated for safety and is surrounded with lovely sunbathing terraces. There's a car port, garden and BBQ area. The extra benefit of this property is that it has an disabled access ramp! 
The cost of this lovely villa is €385,000. Now considering it's close to the coast, golf courses and the town centre that's a really good price.
Are all the properties in this town detached villas with pools? Not a bit of it, here's an interesting townhouse in the centre of the town with all the shops, bars and restaurants right on your doorstep.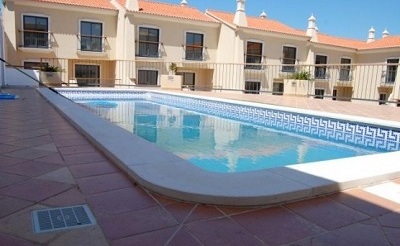 These stunning brand new townhouses are part of a condominium with all facilities. This is cosy and friendly living and, if you want it as a second home, then it has good rental potential too. There are two storeys: downstairs includes a hall with a wardrobe, guest toilet, living room with fireplace and a kitchen that leads to the private BBQ and terrace, which opens up to the communal patios, gardens and swimming pool.
Upstairs has three bedrooms with fitted wardrobes and three bathrooms: one is an en-suite with a jacuzzi and hydro-massage shower! The entire finish of the property is excellent. The windows are double glazed and have electric shutters, there's a security system in place as are solar panels and pre installation for air conditioning. All in all it's a great investment for €270,000.
As you can see there are some lovely properties in this small town – and many more besides. To see more of them click here.
Did I mention that Salgados golf course is just down the road? It's a lovely links course with a great atmosphere and friendly members.
Then there's the International School do Algarve that's only 20km away and has an excellent reputation for children's education and after school activities. The Galé Blue Flag beaches are only 6km away and are just perfect for summer relaxation and winter dog walking.
Guia really does provide a super lifestyle in the sunshine of the Algarve.
*The properties featured in this blog were listed for sale on Meravista at the time of publication, but may have since been sold or removed from the website.
Brought to you by Meravista – the place where smart people search for Algarve property for sale. Contact Meravista