By Sun's Dragon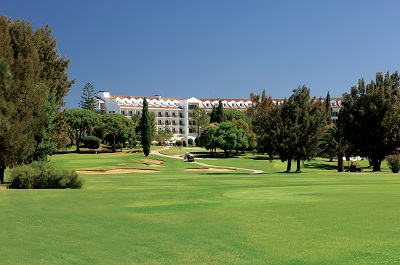 Did you know?
The Legendary Sir Henry Cotton designed the first proper grass golf course in the mid sixties at Penina, just outside of Portimão. The course is now known as The Championship course at Le Meridien Penina Golf & Resort and is renowned for the precision needed to play it. As the popularity for golf has grown rapidly in the Algarve, so the number of golf courses has mushroomed across the region since then.                                          
Golf all year round
Most of the golf clubs have properties surrounding their courses, ranging from simple apartments to 6-bedroomed mansions. Golfers who are not lucky enough to own property in the Algarve, flock to the region in their thousands for golfing holidays.
The main season is from late autumn to late spring where many can escape their North European climates and enjoy golf in the sun during winter. Many golfers live in the Algarve through the winter months, spending the summer months in their native country. However, golf is played all year round for permanent residents and visitors during their summer holiday. Whilst it does rain occasionally in the winter; the Algarve sunshine is well above most European countries, boasting over 3,000 hours of sunshine a year.
Where to play
Many residents opt to join a Golfing Association such as "Golf for Greys", aimed at retirees, thereby benefitting from lower green fees and playing many different courses, rather than join one particular club. It is also possible to join a group of golf courses such as the Pestana Group or the Oceanic Group, both offering a variety of courses for one membership fee.
Pestana give the option to pay half the annual fee and receive reduced green fees for golfers and their guests. This is ideal for golfers who have a second home in the Algarve and only spend part of the year as residents.
Where are the golf courses?
One of the top destinations in the world for golfers, the Algarve now has 39 courses: there are 13 in Western Algarve, 19 in Central Algarve and 7 in Eastern Algarve. Each course brings its own challenges to the golfer while all of the courses have spectacular scenery to be enjoyed during the round. There is hardly a place to live in the Algarve that is not within a 20 minute drive of one or more courses.
Here is a comprehensive list for easy reference. Or if you prefer you can 'fly over' each course and get lots of information about most of the courses using our Google Earth tour of the Algarve's golf courses!
Western Algarve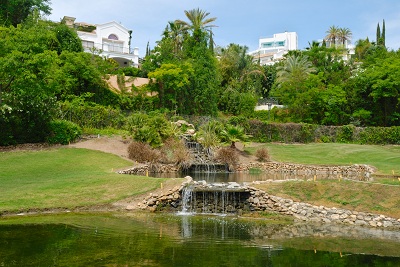 1. Espiche Golf Club, West of Lagos
2. Boavista Golf, Lagos
3. Parque da Floresta Golf Club, Budens
4. Palmares Golf, Lagos
5. Le Meridien Penina Golf, Portimao
6. Penina championship course, Portimao
7. Penina Academy (9 holes), Portimao
8. Alamos Golf Course, Portimao
9. Morgado Reguengo Course, near Portimao
10. Alto Golf Club, Alvor, (Pestana Group)
11. Vale da Pinta, Carvoeiro, (Pestana Group)
12. Vale de Milho Golf, 9 holes, Carvoeiro
13. Gramacho Course, Carvoeiro, (Pestana Group)
Central Algarve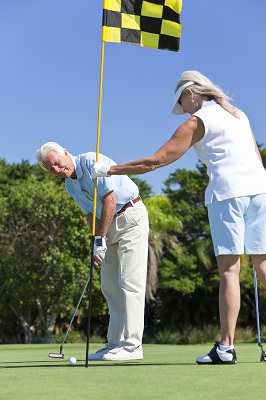 14. Silves Golf. Silves (Pestana Group)
15. Faldo Course Amendoeira, Nr. Silves, (Oceânico Group)
16. O'Connor Jnr Course, Amendoeira, Nr. Silves (Oceânico Group)
17. Salgados Golf Course, Salgados, Albufeira
18. Balaia Golf Village, Near Albufeira
19. Pine Cliffs Golf & Country Club, Albufeira
20. Victoria, Vilamoura, (Oceânico Group)
21. Millenium, Vilamoura, (Oceânico Group)
22. Laguna, Vilamoura, (Oceânico Group)
23. Pinhal, Vilamoura, (Oceânico Group)
24. Old Course, Vilamoura, (Oceânico Group)
25. Vila Sol, Vilamoura, (Pestana Group)
26. Ocean Golf Course, Vale do Lobo
27. Royal Course, Vale do Lobo
28. Quinta do Lago South Course
29. Quinta do Lago North Course
30. San Lorenzo Course, Quinta do Lago
31. Pinheiros Altos Course, Quinta do Lago
32. Laranjal Course, Quinta do Lago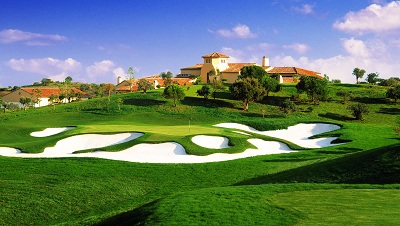 Eastern Algarve
33. Colina Verde 9 hole course, Moncarapacho
34. Benamor Golf, Cabanas, Tavira
35. Quinta de Cima, Near Altura
36. Quinta da Ria, Near Altura
37. Monte Rei Golf Resort, Vila Nova de Cacela
38. Castro Marim Golf & Country Club, Castro Marim
39. Quinta do Vale Course, Near Castro Marim
Prices vary enormously from course to course for membership or green fees, and the cost of hiring trolleys or buggies varies too. Green fees will also fluctuate for non-members depending on the time of year. It does pay to shop around and choose your area, club and course carefully. Fortunately, with so many courses across the region, there is plenty of choice for the part or full time golfer!
So, grab your clubs and get out there and enjoy the walk, (or the ride), the fresh air, scenery and sunshine, and not forgetting the all-important 19th hole! 
Information provided by www.meravista.com: your best online resource for property for sale in the Algarve
Article provided by Meravista.com
Meravista is the world's largest property portal devoted exclusively to the Algarve. It brings visitors the latest state-of-the art search technology, making it easy to find their perfect property in the Algarve.
View maps, listings and property details at the same time
Over 300 standardised property details
Compare properties side by side
Save your favourite properties and searches