By Sun's Dragon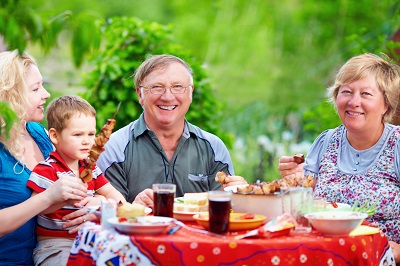 For the next three months the Algarve will be bursting at the seams with holiday makers taking a break in the sun. But it's not just tourists is it? Most residents get lots of friends and family visiting, while Portuguese people who live and work abroad will be returning in droves to holiday in their beloved homeland.
While there are many places to explore in this region, at this time of year there are plenty of events and activities to keep people entertained. Here we look at just a few of the options.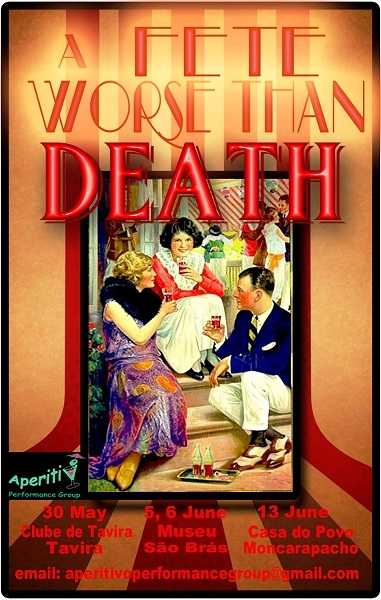 For a laugh
Aperitivo's latest Murder Mystery is their funniest play to date and the whole cast are enthusiastic to get their audience in stitches.  Dates and places to see this comedy:
Saturday 30th May at Clube de Tavira

Friday 5th June at the Museum, São Brás

Saturday 6th June at the Museum, São Brás

Saturday 13th June at the Casa do Povo, Moncarapacho.
All performances begin at 7.30pm, with dinner at 8.30pm and the Solution to the Mystery at 9.45pm. Tickets are €8 for the theatre or €18 including a 3 course dinner.
For more information you can email the Aperitivo group, or for performances at the Museum in São Brás you can email the Friends of the Museum.
Fair Enough
The weekend of 6 and 7 June is the renowned International Algarve Fair at the Fatacil showground in Lagoa. The fair is open from 11am until 7pm and this is where you can have a great family day out. There's a whole lot of fun going on for kids, with games and activities, while adults can see all the latest innovations for their home and garden.
Shopping stalls are plentiful with a huge range of products on offer. Live entertainment is ongoing throughout both days plus there's ample choice for food and beverages too.
The International Algarve Fair is organised by The Portugal News, the Algarve's leading English language daily newspaper.  Check out the event website for all the information you need.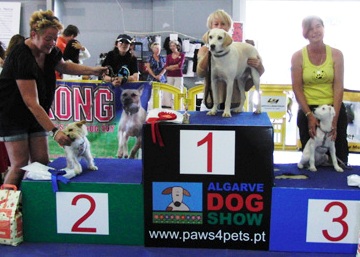 The Fair is also home to the Algarve Dog Show, now the largest dog event in the region. Organised by Paws4Pets, the show is open to all-comers in all categories (including Naughtiest Dog).
This year's proceeds will go to support the Cadela Carlota animal protection association.
All that jazz
For all you jazz enthusiasts out there, The New Orleans Jazz Band, featuring musicians from England, Scotland, Portugal and Holland, are performing at Casa do Povo in Moncarapacho on 6th June. Starting at 7pm, tickets are €10 for non members or €6 for members of Casa do Povo. There's even a dinner option available for €18. Take a look at the New Orleans Jazz Algarve website and be prepared for a great evening's entertainment.

Whine or Wine?
Now here's something for the wine lovers to get their lips round! On Saturday 6th June is a great wine tasting session at the Adegga Winemarket Algarve 2015.  Taste a variety of local wines, and of course take home a case or two of your favourites if you like. This is taking place at the Epic Sana Algarve Hotel near Albufeira, from 5pm until 11pm, so plenty of time to make your choices.  There are different entry fee options so do check the website.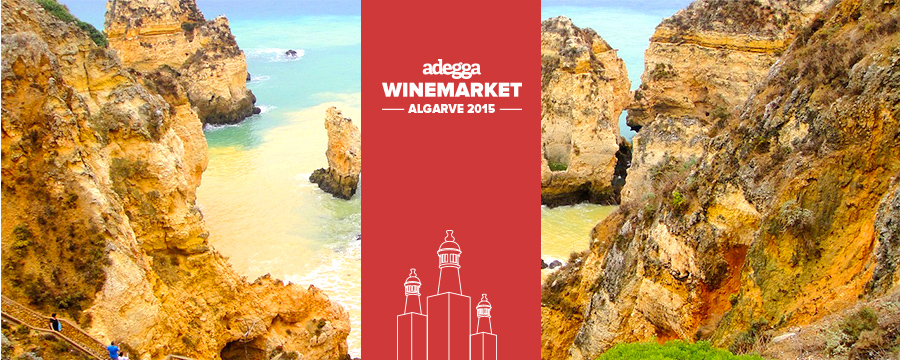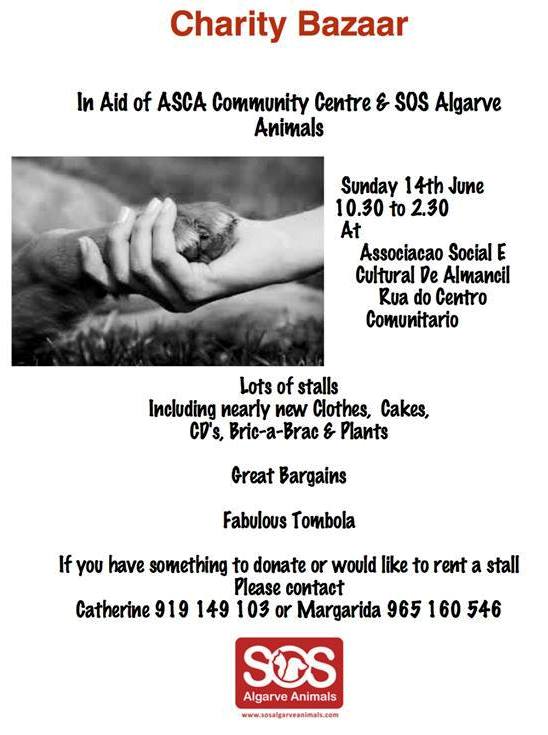 A Bazaar event
ASCA Associão Social e Cultural de Almancil was started in 1992 by a group of concerned people because of the lack of social facilities in Almancil. In 1996 they opened a day centre for the elderly and have continued with this work ever since.
SOS Algarve Animals runs an animal sanctuary where they help the helpless by rescuing, neutering and nursing strays and abandoned animals. These two very worthy causes have come together to raise much needed funds for their work.
On Sunday 14th June they are holding a bazaar at the Almancil Community Centre (near the Sunday market area) from 10.30am to 2.30pm. Not only are you invited to attend but you can also rent a stall and sell your own goods or even donate your things for them to sell.
Contact Catherine on 919 149 103 or Margarida on 965 160 546 for more information. So make a date in your diaries and take the whole family along to support these wonderful causes.
Royal Ascot Ladies Day in the Algarve!
It's all about the hats, about the hats, about the hats!
Yes it is, when it's Ladies Day! Get out your glad-rags and that all-important hat, and come along to the social event of the year! Virtual Ascot Ladies Day 2015 takes place on the 20th June in the prestigious Pestana Vila Sol Golf Resort and Hotel in Vilamoura. An all day event, it starts at 10.30 in the morning and finishes at 6.30 in the afternoon.

Following the traditions of Royal Ascot, there is a strict dress code, and ladies have the opportunity to dress to the nines (not forgetting the hat of course!). Gents will need to look spiffing too: you're required to be 'smart' – or you could even wear (or hire) your morning suit and really support the ladies!
You can order your bespoke picnic hamper in advance, or you can take your own, along with tables, chairs or picnic blanket. The grounds will be set up in traditional English village style, and of course there will be plenty of opportunity to purchase food and drinks at the venue.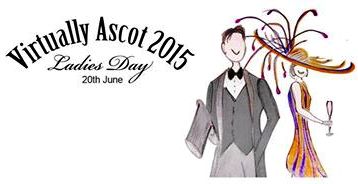 No less than five charities will benefit from this magnificent event: ACCA, Madrugada, Goldra, ARC and Associação Portuguese de Epidermólise Bulhosa (DEBRA PT).
Entry costs €15 for adults and half price for children between 7 and 16, while 6 and under get in for free. Discounts are available for Simply Key Algarve and other association members. More information is  available on the Virtual Ascot Ladies' Day Event page, and also on the attached poster - but you can also get your tickets at the door on arrival.
The event will feature local artists and artisans, musicians and singers, plus a few surprises are promised. I've a feeling this is going to be one of the biggest events of the year so don't miss out, grab your hamper and have a fabulous day at the races! But remember, it's all about the hats!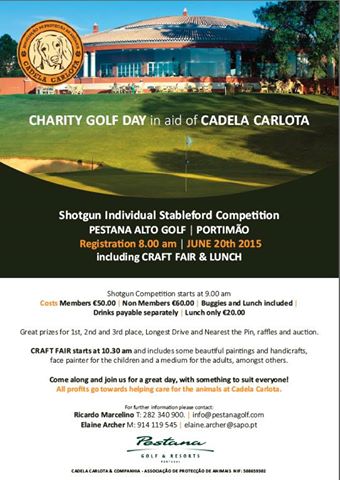 Crafty golf?
Well here's a golfing day out with a difference; those intrepid fund raising ladies of Cadela Carlota have arranged a golf tournament at Pestana's  Alto Club near Alvor.
It's all happening on Saturday 20th June with a shotgun start at 9am, so get there early for registration. Prices start from €50 with lunch and golf carts included, and lunch for your non-golfing friends is just €20.
Not only do you get a fun day out but you make a very valuable contribution to the work of rescuing animals in dire straits. 
A Craft Fair starts at 10.30am where you get the chance to buy some beautiful gifts, get your kids' faces painted or even visit a medium!
For more information you can email Ricardo or Elaine Archer
Party time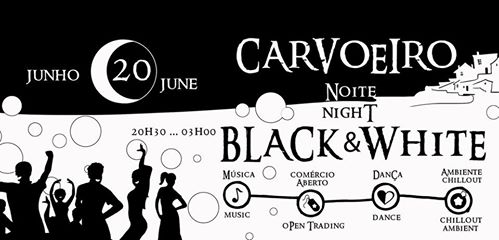 Carvoeiro is hosting its 2nd Black and White Night themed party on 20th June (a busy day). This event was attended by more than 10,000 people last year so if you are going to drive to the party, my advice is to go early or better yet, take a cab.
Starting at 8.30pm in Este do Farol and in the town square, of course there's going to be music - loud music - until the early hours of the morning. So get out your black and white outfits and join in the fun.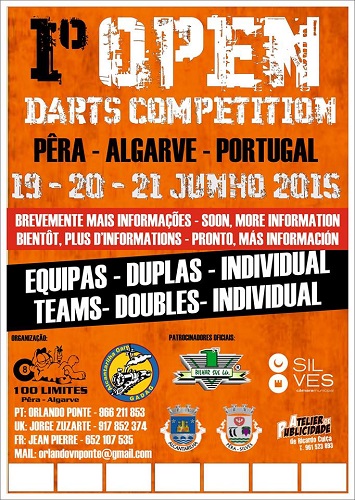 Bullseye!
I remember watching darts competitions on the telly many years ago. It seemed to me that all the players were rather rotund and held a pint of beer in one hand whilst hurling darts with the other, and every now and then you would hear the scorekeeper loudly call  'One hundred and Eighty!'
Now we have our very own 1st Darts Competition in the Algarve; taking place between the 19th and 21st June at the Pera Sports Pavilion. I don't know if you are supposed to be rotund or manage to hold a pint whilst throwing at the board, but all players, doubles and teams are welcome. Entry into each category costs €15 but if you enter all three categories the charge is €40.
So, if you play darts or are part of a darts team, why not join in the fun for a great weekend, where you'll no doubt make new friends too. For further details of how to participate, contact:  Jorge Zuzarte - Tel 917852374 (English and Portuguese speaking) or Orlando Ponte of 100 Limites Bar in Pêra.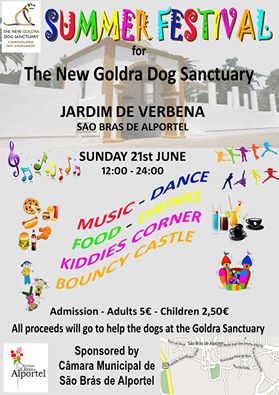 Fun in the sun
On the 21st June – the longest day of the year – there's the Goldra Dogs Sanctuary's Summer Festival in Sao Bras.  From noon until midnight in the Jardim de Verbana you can celebrate this auspicious day with some great music, dancing, food and much more.
This is a family day out with plenty of fun things to do and see, for both kids and adults alike. The entry fee is €5 for adults and €2.50 for children and all proceeds go towards helping the sanctuary's running costs.
Of course there'll be stalls selling all sorts of good stuff too and if you want to know more about this wonderful event you can contact either Sue Ward or Angela Keenan and they'll be happy to answer any questions you may have.
Listen to this!
Having thrilled audiences with their innovative Easter concerts, the Coro dos Amigos do Museu (Choir of the Friends of the Museum) in São Brás de Alportel are putting on two Summer Concerts in June.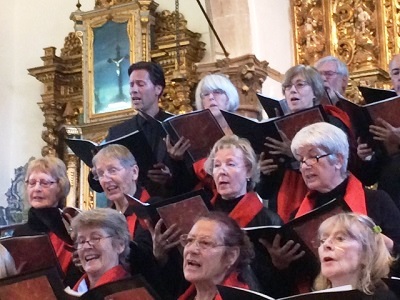 Maestro Francisco Brazão is concentrating on secular music this time, including some modern pieces and with an international theme. Featuring a variety of songs and compositions from France, Germany, the UK and of course Portugal, we can expect two evenings of excellent music.
The Summer Concerts will take place at 8pm at the Casa do Povo, Moncarapacho on the 25th June, and at 8pm at the Museu do Trajo, São Brás on the 27th June. A donation of €5  is suggested. More information can be found on the Choir's website.
Loulé does it again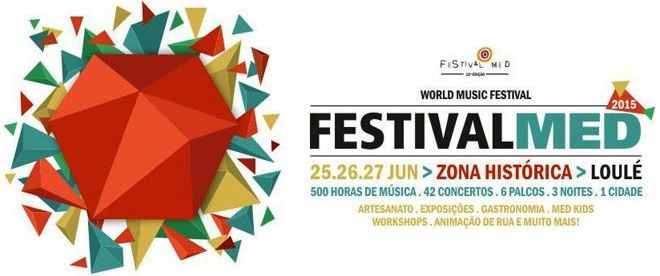 Between 25th and 27th June you can join in the Festival Med in the heart of the bustling town of Loulé. Featuring "music and much more", there'll also be dance performances, street art and theatre.
Various participating restaurants will be offering traditional cuisine from the different countries participating. This is your chance to explore this great town and taste foods and wines that have been part of the Mediterranean culture for years.
Go to the Festival Med website or their Facebook page for more information.
Popular Saints Festivities
Saint Anthony, Saint John and Saint Peter are the popular Saints who are celebrated throughout Portugal during the month of June.  All around the Algarve there will be festivals, parades, music and dancing along with oodles of food, all paying homage to these Saintly men.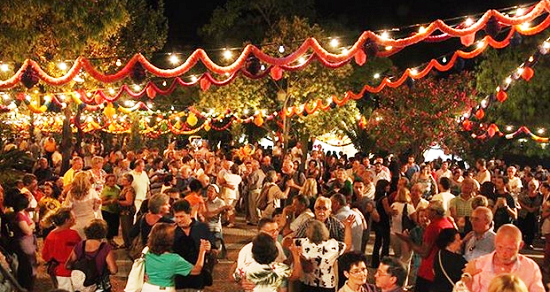 Check out your local Junta de Freguesia to see what is going on in your town or village.  Here are a couple of the big ones, but there are many more:
Quarteira holds one of the most beautiful and elaborate Parades of Popular Saints – Marchas dos Santos Populares - in Portugal.  On the 12th, 23rd and 28th of June, hundreds of marchers parade through the streets of Quarteira delighting visitors with songs and dances.​
​Tavira celebrates the Festas de São João (St John's feast day) on the 24th June as their Day of the City, when the streets of Tavira are filled with paper streamers, the aroma of grilled sardines, popular Portuguese music and people dancing and singing the night away. The evening usually rounds off with a big fireworks display.
Here's a video of the Quarteira Marchas dos Santos Populares  (skip to 1.30 to see the parades).
Fighting Fires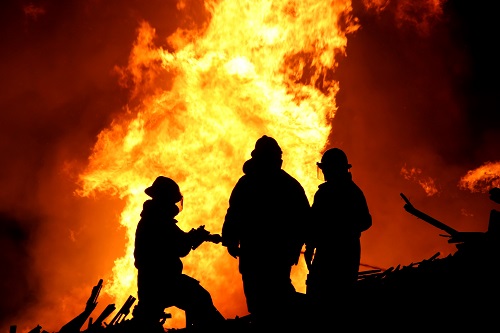 Everyone who lives here knows about the dangers of fires breaking out during the long, hot summer months and we all know to be careful. However, fires do happen and some of them have been devastating. But, they would have been a lot worse without the heroic efforts of our Bombeiros (fire fighters).
These men and women are mostly volunteers and depend upon the community to provide much of their equipment. Fund raisers are held regularly to aid the Bombeiros and here's a really good one for everyone to contribute to, and a great night out to boot!
On 27th June there's to be an auction at Julie's bar in Santa Barbara de Nexe, starting at 7pm. Items to be sold off are still coming in as I write - but to date here are just a few of them to whet your appetite.
Deep Purple have kindly donated a signed photo and a boxed set of their latest CD's. Both are collector's items...

Dinner for two at the Village Eatery (Julie's Bar) plus Full English Breakfast for Two

A giant bag of 1,150 PG Tips teabags, bottles of wine, bottle of whiskey, chocolates and other food and drink items.

An Omani silver box, a crystal decanter and other home items.

A beauticians voucher and vouchers still coming in from other shops and services.
Look out for updates on Julie's Facebook page. If you want to donate an item for the auction, just contact Julie's or Meravista and we'll make sure it's added. All monies earned will be donated to our brave Fire Fighters!
I seem to say this every month, but once again, all these exciting events are just the tip of the iceberg. There's so much to do and see in the Algarve that it's hard to find the time to fit everything in! However, if you want to know more about available sports, places to visit or things to do and see, take a browse through our information section where you will find much, much more.
So go on, spoil yourself, take a peek and maybe find yourself a new sport to play (or house to buy) or find out lots more about our lovely Algarve.
Brought to you by Meravista.com – the place where smart people search for Algarve property for sale. Contact Meravista.com