By Sun's Dragon
The heat is upon us and there's so much going on in the Algarve this August that we're spoiled for choice. Between festivals and fairs, kids workshops and activities, classic car shows and lots of food festivals, how to decide what we want to do most? Here's a very partial list of all that's on offer in the Algarve this month. 
Food and more food!
You'd better get ready for some expanding waistlines now because the food festivals are upon us with a vengeance!  Take a look at some of the big ones!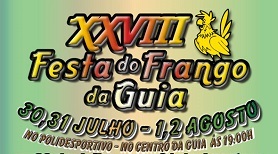 Guia, near Albufeira, is kicking off with their 28th annual Festa de Frango - chicken Festival. Yes, this is where the original chicken piri piri started and each year you can 'feast at the festival' where the delicious aroma of grilled chicken permeates the air.
Taking place from 30th July until the 2nd of August, from 7pm onwards, there'll be nightly entertainment as well as an array of stalls selling local desserts and artefacts.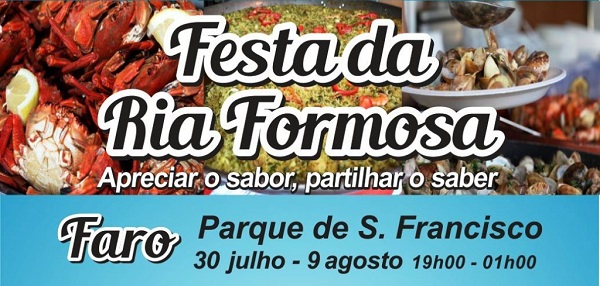 The next big one is the Festa de Ria Formosa – a giant shellfish festival taking place in Faro old town between 7pm and 1am daily from the 30th July until the 9th August. An abundance of stalls selling everything from crabs to fish rice and every kind of shellfish you can think of in between.
You would be hard put to have a taste of everything in one night so it's just as well that this festival goes on for so long. There will be lots of entertainment with live music and dancing every night, and plenty of kiddies amusements too. Entry is free, the food is reasonably priced, so pop along and eat your fill.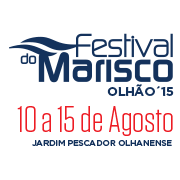 In case you miss the festival at Faro, Olhão celebrates their 30th annual Festival do Marisco from the 10th to the 15th August. Considered the largest shell fish festival of the region, as usual there will be a huge variety of shellfish on offer. Each evening there will be a different celebrity on stage, providing dancing and entertainment for all ages. Check out the Festival do Marisco website for the programme.
This is a ticketed affair and the cost is from €9 for adults, €4 for children aged 7-12 and free for those under 7 years old. Cooking starts at 7.30pm with the celebrity entertainment at 11.30pm. The merriment continues until 1.30am.
The 18th annual Festa da Sardinha in Olhos de Ãgua, near Albufeira, from the 6th to the 8th August. Largo dos Pescadores dos Olhos de Ãgua (the Fisherman's Quay) is where food, crafts, entertainment and dancing will all be happening from 8pm.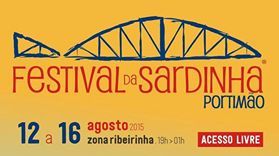 Not to be outdone, Portimão will be holding their world famous Festival da Sardinha from 12th to 16th August, between 7pm and 1 am, when the freshly caught sardines will be delivered to the quayside and loaded onto the smoking grills on the riverside between the bridges.
No Algarvean festival is complete without the live entertainment and this sardine festival promises plenty of that too!
In case you've not enjoyed sardines in the Algarve before, you might be interested to know how they are traditionally eaten. How can you eat fish without a knife and fork and not get your hands sticky? Watch this!
So there you go: food fit for a king whether you are into chicken, shellfish or sardines! Don't forget, each of these festivals have nightly live entertainment, stalls selling desserts and sweeties, plenty of beer and wine stalls plus carousels and more for the kids. There'll be craft and artisan stalls, places to learn about and buy local produce and food galore for everyone.
Just for kids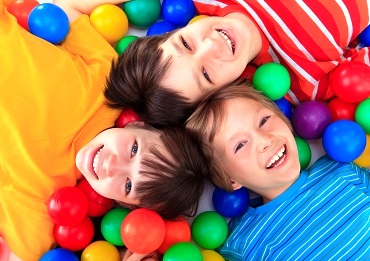 Did you know that there are summer workshops for kids in the Algarve? Neither did I. Here is the perfect opportunity for your kids to enjoy an afternoon of arts and crafts, games and lots more.  From 2pm until 5pm the workshops at the Bodhi Room in Lagos, will teach and occupy children in lots of different ways and they'll make friends with other kids while they enjoy themselves.
An afternoon of activities costs €7, or €30 for a whole week.  Running from 3rd August until the 28th August, call Constanza on 920 559 642, but hurry: there's only space for ten kids at a time.
Then there's the Stage School in Albufeira at Academia Imortal Basket, behind the hotel Montechoro, which is run by two professional ex dancers, Beverly and Leanne.
The summer dance camp is for children from 3 years old and is open on Thursdays and Saturdays from 10.30am to 1pm. The cost is €75 for the month of August and if you want more information for your budding star you can email or check out their Face Book page.
Going back in time
Oo-arrrrr me hearties! Come and enjoy Pirate Week in Armação de Pera from 30th July until the 5th August. Each evening from 7pm sees Pirates arriving, recreating historical events, carnival parades, entertainment on the streets and much more. A huge effort from the Pirates group has been made to ensure everyone has a spectacular time. Find out the programme of events and more about Pirate Week.
We can't guarantee Johnny Depp will show up, but then you never know your luck!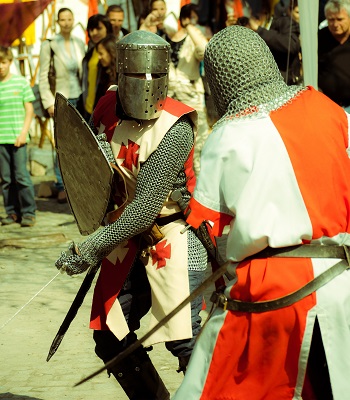 In the county of Vila Real Santo António lies the village of Cacela Velha, where from the 3rd to the 6th August they will be celebrating their Moorish history with the Noites D'Encanto festival. Featuring a traditional souq, folklore shows, music, oriental dancing plus workshops for percussion and belly dancing. Arab, Christian and Sephardic cuisine will be there for the eating!
Silves Castle provides the amazing backdrop the 12th Feira Medieval de Silves -  the most flamboyant of the medieval fairs where visitors take part in the recreation of the bygone events.
From the 7th to the 16th August, the ancient cobbled streets are lined with pedlars, making and selling artefacts from those times while snake charmers, jugglers, belly dancers and acrobats perform among the visitors. Parades of kings, queens, noblemen and the poor meander through the throng, whilst jousters and actors recreate the scenes of times of old.
Starting at 6pm each evening and costing €2 entry, you may want to rent a costume (€3 for adults and €2 for children) and get into the swing of it all.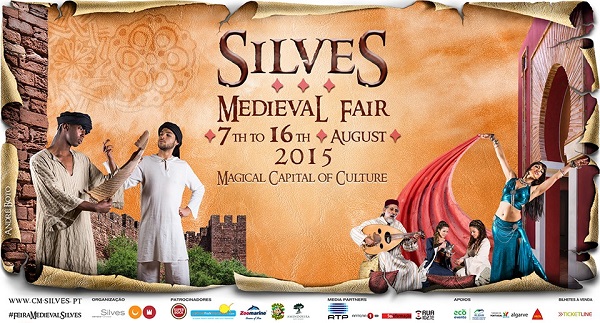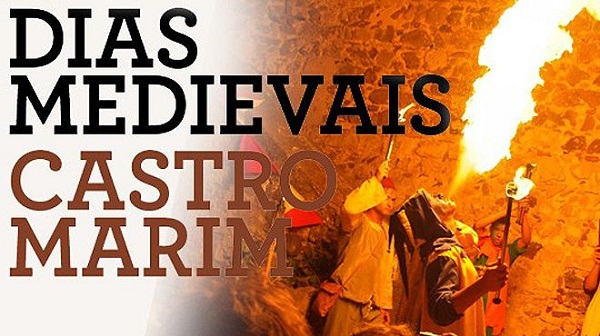 Dias Medievais - Medieval Days - in Castro Marim takes place from 27th to 30th August. The whole town returns to the Middle Ages, in a highly rigorous historical recreation featuring jousting tournaments on foot and on horseback, street theatre performances, banquets accompanied by medieval music. A handicrafts and merchandise fair complement the entertainment activities of these Medieval Days, enabling us to relive the magic and mystery the time of the Moors.
Patron Saint of Fishermen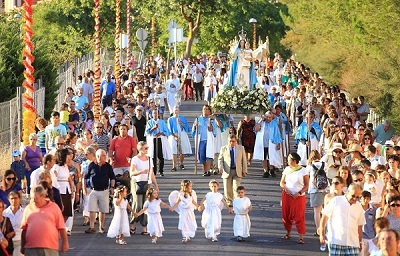 On 14th and 15th August is the Festa da Nossa Senhora da Orada (the festival of Our Lady of the Oracle) - the patron saint of Albufeira fishermen. For over 500 years the people of Albufeira have celebrated this significant event and the whole city gets involved.
There'll be a mass at Igreja Matriz church followed by a procession to Praia dos Pescadores (fishermans' beach) and back to the church. Then the party starts on Largo Enginheiro Duarte Pacheco (in the centre of town) and will be followed by fireworks.
White Nights is Party Time!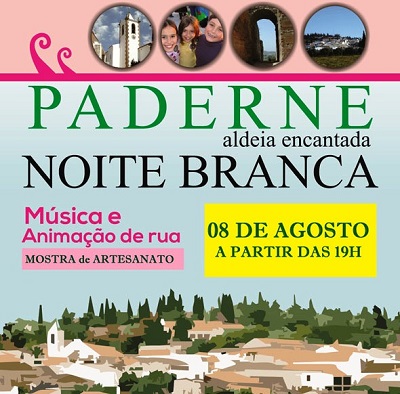 Paderne is a village in the county of Albufeira and is hosting their Noite Branca - White Night - party on the 8th August, starting at 7pm and carrying on until 1am the next morning. Wear white and get with the programme! For more information you can call 289 367 2688 from the 2nd to 6th August between 9am and 4pm.
As promised, Loulé are hosting their huge White Night party on the 29th August this year. The city will be dressed in white, the entertainers will be dressed in white, the shops will be decorated in white and even the bars will be serving 'white' drinks! As well as being a great party (with everyone dressed in white) it's a fantastic night out for the whole family.
Entry is free but parking will be difficult, so be warned and get there early. It all kicks off by 6.30pm and goes on to the early hours. Watch this video to get a glimpse of what it's all about: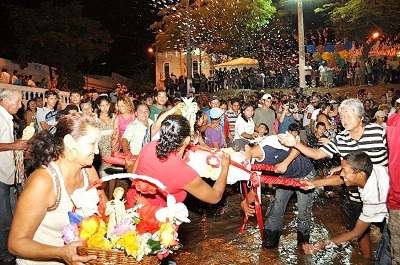 Last year I told you about the Festa de Banho 29 that takes place each year on the 29th August in Lagos, over to the west. Well it seems that this is the date that John the Baptist lost his head.  Now I don't know why people celebrate a holy man getting his head chopped off but they certainly do here.
With a theatre street show in the city and competitions, sports and events on the beaches by day and parties by night, the tradition includes a dip in the sea at midnight. Join the fun in Lagos at Batata, Meia and Duna beaches.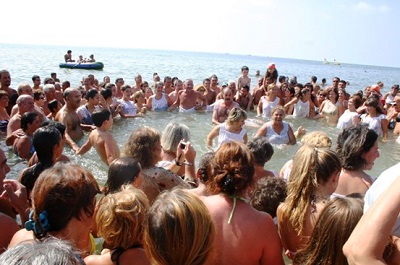 Not only will folks in Lagos be having the time of their lives but over in East Algarve, Vila Real de Santo Antonio will be honouring St. John with their traditional Festa de Banho at Manta Rota beach too.
A full entertainment programme starts with a Fado contest in VRSA on the 27th at 9pm dancing and waltzes on the 28th evening, and the main events on the 29th.  With a traditional 'holy' dip in the sea at 11am, there is a procession and open-air mass at 6pm, followed by dancing and folkloric celebrations on the beach. The spectacular night ends with fireworks at midnight. There are more folkloric celebrations and displays on the 30th to close the event.
So it doesn't matter which end of the Algarve you are in, you can join in the beach parties.
All the fun of the Fairs!
Albufeira has a public holiday on the 20th August to celebrate their Day of the City. There'll be fun, sports, entertainment and fireworks for the whole family to enjoy. Make a date in your diary for an exciting day and evening.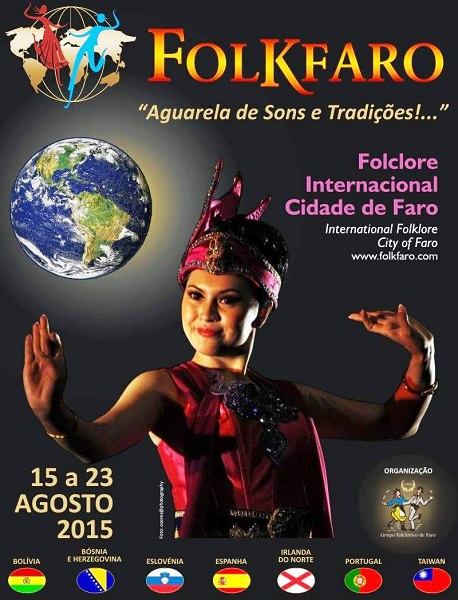 From the 15th to the 23rd August is Folkfaro featuring eight days of folklore and culture from around the world.  There'll be all kinds of international events taking place all over the city during this time, showing the traditions of forty five countries in folk music and dance. 
The gala opening at the Teatro das Figuras is an opportunity given to groups from all over the world make their debut in this beautiful theatre. 
Almost at the same time, Faro is also hosting their 29th annual
Feira dos Doces, Frutos Secos e Bebidas Regionais
(Festival of sweets, dry fruits and regional drinks). This is where you discover the Algarvean famous cakes and sweets made with almonds, figs and carob. Taking place from 16th to 23rd August at the Jardim Manual Bivar, entry is free.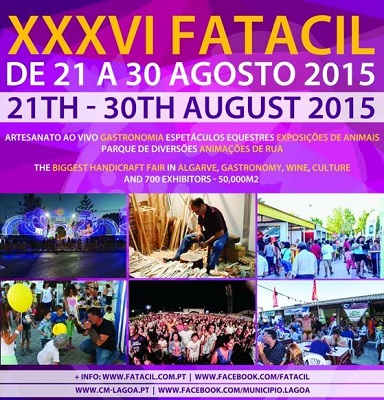 For 35 years Lagoa has hosted the Fatacil, the biggest fair of the region. You can shop till you drop at all the fabulous stalls selling everything from clothes to holidays. Handicrafts abound, agriculture and trade are represented and business is brisk.
This year's effort is the 36th annual show and is running from the 21st to the 30th August. This is the place to visit to find just about anything that the Algarve has to offer. Wine is high on the list this year and being promoted energetically.  Eat your fill at the many outlets and enjoy the music and entertainment all day long. 
Entry costs €3.50 for individuals or €12.50 for a family or group of 4. The Fatacil is open between 6pm and 1 am every evening, with the nightly concerts starting at 11.30pm.
Sports events
Now here is the perfect antidote for all the fabulous food that's on offer this month.
The 2nd edition of The Ultra Trails of Rocha da Pena are taking place on 15th August in Salir. There are three trails for you to choose from:
Caminha = 15 km,

Long Trail = 25km

Ultra Long Trail = 60 km
All of which are long runs as far as I'm concerned. So, for all you athletes out there check it out and challenge yourself. Even if you're not into running, this video shows some of the stunning countryside around Salir.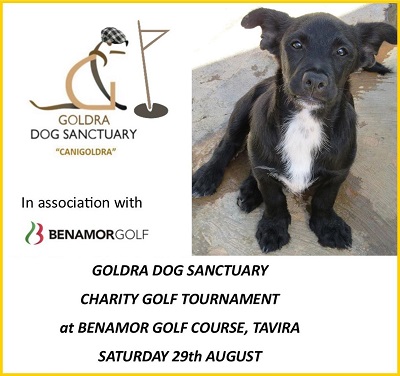 The 29th August is a busy day but the choices are all very different. 
This time it's the Goldra Dog Sanctuary who are laying on an event. There's to be a wonderful Golf Tournament and Lunch at Benamor Golf course, Tavira on Saturday 29th August. The cost is just €65 per person for 18 holes of golf including a buggy and lunch. The competition will start at 8.30am with a shotgun start. The 3 course lunch with wine will be from 1pm. 
You don't have to be a golfer to support Goldra at this event because they are also offering just the lunch option for €30 per person. This is a great deal at a great club and for a great cause, so get out those trusty golf clubs and join in the fun. To book or find out more you can email Sue or check the Benamore golf website.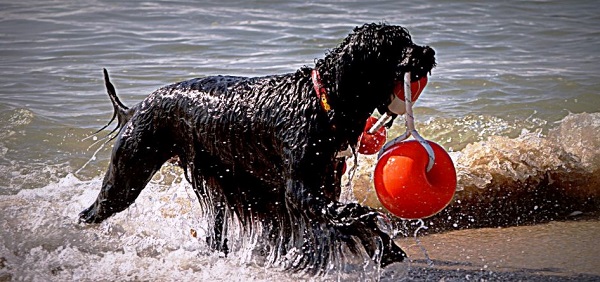 Talking of dogs, there's a fantastic opportunity to meet and interact with Portuguese Water Dogs.  This wonderful breed of dog originates from the Algarve and they were a boon to the local fishermen. Your group (minimum 4 people) will meet at the Conrad Algarve Hotel in Quinta do Lago and be taken by a local nature guide and a Waterdog trainer for two glorious hours at the Ria Formosa.
This excursion is available from 1st July to the 30th September. To take advantage of this incredible offer and to find out more, just call 289 350 700. Don't forget to take your camera!
Cars and more cars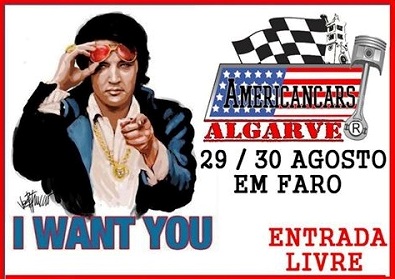 In case you missed the Vilamoura Classic Cars event last month, you might want to check out the Classic Cars show on the Promenade at Armação de Pera. It happens every first Sunday of the month at 10 am. See you there on Sunday 2nd August?
The last weekend of the month is a real treat for the car enthusiasts among us. Once again there's an exhibition of American Cars in Parque de Lazer das Figuras in Faro. On the 29th and 30th of August the famous cars of the west will be on show for people to drool over. Mosey on down to the park from 10am and enjoy the display and the live entertainment, including music from the Dixie Boys.
If you want to know more about this event just call 914 918 444.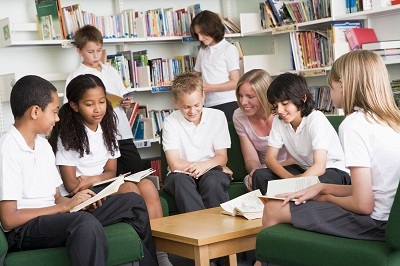 Back to school – Backpack Drive
The end of the month also means the end of the summer holidays and kids will be going back to school. Unfortunately some children in the Algarve are in need of some of the basics that most of us take for granted in order to attend school. If you would like to assist, you can sponsor a backpack and gym back for just €5, or you can donate a backpack of your own. The attached Backpack Drive leaflet tells you more.
As you can see there is a host of events going on, and amazingly you will find that I've barely touched the tip of the iceberg in this blog. Check with your local Junta de Freguesia (parish council) to find out what is going on in your local area – there are always markets, festivals, dances and events every month! Also check your nearest theatres and auditoria: you will find productions of dance, drama, music and more, usually all at very low rates, and some even offering free entry.

Quite apart from all of the exciting events that I've listed here there're still the water parks for kids of all ages, hidden gems to explore, farmer and gypsy markets to visit and beaches to enjoy. The Algarve is bursting at the seams with places to go, people to see and things to do: check out our information section to make sure you don't miss anything.
And if you fall in love with the Algarve (as we all do) then maybe check out our property listings too and find your own dream home in this paradise.
Brought to you by Meravista.com – the place where smart people search for Algarve property for sale. Contact Meravista.com