by Sun's Dragon         
As a rough guide: bringing a dog or cat into Portugal from Europe is relatively easy, a pet passport with the relevant up to date inoculations and the corresponding certificates for those inoculations is essential. To bring a pet in from outside the EU requires a government certified health certificate, not more than 10 days old, as well as a valid rabies certificate and certificates for any other valid inoculations the pet has. Dogs must have a microchip, and are required to be registered at the Junta de Freguesia (local council).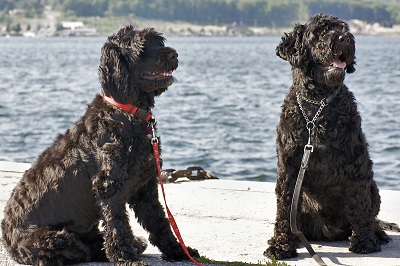 If you are considering moving to the Algarve and you want pets, then you will find it easy to choose from the hundreds of local animals seeking a good home. Almost everyone, expatriate or local, has at least one pet - most have more - and almost all have been rescued.
There is even a 'Scruffts' annual dog show organised by the APAA (Association for the Protection of Animals in the Algarve), featuring pedigrees, mongrels and rescued dogs. Every year the show is sponsored by local companies and attended by hundreds of enthusiastic dog owners and visitors, who come from all over the Algarve for a wonderful day out.
Local dog breeds
The most famous Portuguese dogs are:
The Water Dog, a rugged, web footed dog, bred to work with fishermen, helping them to retrieve broken nets and herd shoals of fish into the nets.

The Serra de Estrela mountain dog, a magnificent specimen used to ward off wolves in the old days.
Portugal has all breeds of dogs and every mongrel mixture you can imagine. It is typical to see very small dogs in the Algarve. These are not pedigree miniatures, but mongrels that are mini versions of big dogs. Unlike most small breeds, these dogs do not yap: they bark, which is quite comical when seen and heard for the first time.

Cats
Unfortunately the stray cat population is bigger than it should be. The good news is that cats are popular pets in rural areas, helping to keep the vermin population down. Also, as more apartment blocks are built in urban areas, more people are opting for cats as pets.
Horses and donkeys
Horse riding is very popular in the Algarve and lots of people own their own horse(s), stabling them at home or at one of the many equestrian centres. There are still numerous working donkeys in the area too, mostly with local farmers and gypsies. Gypsies of course are big on horse trading and many still earn a living at this occupation.
Small pets
With so many apartment blocks springing up, small pets such as rabbits, guinea pigs and hamsters along with fish-filled tanks are increasingly popular. Budgerigars, canaries and parrots talk and sing on sunny balconies, adding to the ambiance of a stroll on the street.

Vets
Every town has qualified veterinary services available, and simply asking your neighbour is likely to lead to a recommendation. Most vets have at least one English-speaking person available and occasionally other languages are also spoken. Prices of standard vaccinations and treatments vary so it's wise to ask around.
Government vets visit local villages at certain, well publicised, times of the year and for very little cost will inoculate all the pets brought to them
There are some excellent Animal Hospitals across the Algarve and if your vet is unable to operate, they will recommend one best suited to your pets' needs.
Pet supplies
There are many outlets for pet food and probably the local supermarket is the most popular. Most of the name brands are available there. However, there are many pet shops specialising in food and such items as toys, baskets, leads, harnesses and collars. All kinds of cages and climbing apparatus can be found here too.
These shops usually cater to the needs of all types of pets ranging from dogs, cats, guinea pigs, rabbits and hamsters to many species of birds as well as fish, terrapins and reptiles. Often found in the large malls as well as in the cobbled streets of towns, with several more along the N125 which runs from East to West Algarve, many of these shops have a good variety of products.
Kennels and catteries
The Algarve offers some first class kennels and catteries.
Some provide excellent spaces for giving a dog a good run or walk.

Some provide training facilities with expert dog handlers on hand.

Most will cater to your pet's diet and medication needs.

Prices and facilities may vary enormously – shop around.
In addition, there are a number of reputable house and pet sitters available throughout the region. Your pets can happily stay in their own environment and you take added comfort in the knowledge that your house is not left empty while you are away. Be sure to ask for recommendations and check references.
If you're thinking of buying property in the Algarve, you can rest assured that your beloved pets can easily move here with you and even if you acquire them here, you will find everything necessary for their well being.
Information provided by www.meravista.com: your best online resource for property for sale in the Algarve
Article provided by Meravista.com
Meravista is the world's largest property portal devoted exclusively to the Algarve. It brings visitors the latest state-of-the art search technology, making it easy to find their perfect property in the Algarve.
View maps, listings and property details at the same time
Over 300 standardised property details
Compare properties side by side
Save your favourite properties and searches