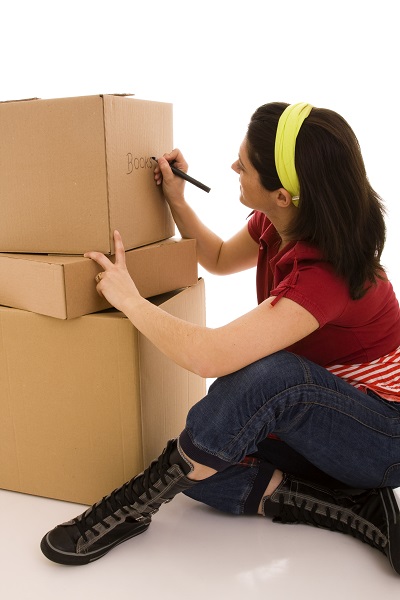 I've moved house more than 40 times in total. I have more than 15 international relocations under my belt and I have assisted my family in seven International relocations, as well as at least five local moves. In addition, I've been called upon, no doubt due to my extensive experience, to help numerous friends with their planning and packing for their own upheavals. I therefore feel that I am justified to declare myself an expert in the art of moving home.
Here, I'd like to share with you some advice and tips gained from years of experience 'in the business'.
Things that can and did go wrong
Toiletries that were needed got packed

Bags filled with rubbish got packed

Baby gear, not ours, got packed

Spare car tyres, that we'd sold, got packed

We lost our ladders

Our paintings disappeared in storage

Our computer was ruined by packers

Our cat almost got packed
How it went wrong
Despite giving our packers instructions on where to start first so we could keep an eye on them, one guy had already started packing up our bathroom unbeknownst to us.

An over-zealous packer put our big black sacks filled with rubbish into our removal container.

Taking my eye off the packers and chatting to a last minute well-wisher ended up with us frantically hunting for her bag of baby stuff. Luckily we found it boxed, numbered and ready to go!

The tyres that we'd sold, as part of our moving plans, were loaded into our container by an eager packer left alone in the garage.

Packers who were running out of time, took our ladders to be packed at their warehouse; they were never seen again.

After three years in storage it took a while to realise what was missing – our paintings!

Our computer was packed in Styrofoam balls without being wrapped first! Unbelievable but true.

Anybody who has a cat knows they love suitcases and boxes – thankfully I found mine before I closed the suitcase!
Lessons learned
Make sure that you employ a professional and experienced team of packers. Ask for references.

NEVER leave packers to do their job without watching all the time.  Sometimes you may even need three of you constantly prowling and checking, but it's worth it.

Regardless of how overrun the removal men are, never let anything leave the house without being packed, numbered and loaded.

At your final destination, ALWAYS check any box that has been tampered with before signing off as received

Instantly dismiss an inexperienced or indifferent packer, no second chances.

And finally, watch the cat!
Things that can easily be missed
Dressing gown behind the bedroom door on a hook

Ironing board stacked behind the laundry room door

Pictures and wall hangings

Loo brush in the bathroom

Brooms, brushes and pans used for last minute clean up

Curtains
I have seen all of the above almost overlooked during my 'career'.
When making that final check, remember to always look up, under, inside and behind as you walk through your empty house. Often items that have been in one particular place for years are no longer "seen". It's best to employ two or more pairs of eyes for that last look.
Packing tips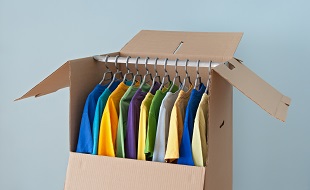 Always stand plates, saucers etc. on their sides rather than flat.

Make a crate with "slots" for paintings and very large framed photographs.

Lay clothes on hangers in long flat boxes if there are no wardrobe boxes for them.

Lay curtains in long flat boxes.

Fill wardrobes/cupboards you are taking with you with pillows and cushions.

Fill drawers with bedding, linens, towels and tea towels.
The whys and wherefores
Crockery stood on its side with good packing material under, between and around it, protects it from having heavy objects placed upon it and distributes the weight evenly. We once had a sharp object wedged alongside a stack of plates laid flat only to find a neat row of chips down the length of the stack!

Bubble wrapped large wall hangings placed in the slots of a wooden crate is the safest and easiest way to pack them. They can't shift around in slots, or be damaged by the hooks or screws in their backs.

Laying clothes on hangers in long flat boxes can save a lot of time and effort at the final destination. This applies to curtains too. Ensure the boxes are kept flat and well-padded for transportation.

Space, not weight, is where the cost lies in removals, so filling empty spaces with soft furnishings or clothing cuts costs considerably. Don't forget to remove the hanging rods in wardrobes, wrap them, stack them and then secure them inside the wardrobes.
Being organised
If you're well organised before the removal men arrive, packing and loading is the easiest thing in the world to accomplish. You'll find the arrival at the final destination will go smoothly and without problems too.
Always speak to the foreman and all his crew before the work commences. Tell them exactly how you want the boxes marked and numbered (your name, type of content, from which room it was packed and the number of the box). Show them exactly what's to be loaded last – the things you will need immediately upon arrival at the final destination. Very importantly, make sure the removal team know which room not to enter – the one with all your personal belongings, pets and anything that is not to be packed.
Your possessions are precious. It doesn't hurt to explain from the outset that an inexperienced or lazy packer will be dismissed instantly. You can always temper your remark by promising to "take care" of good workers upon completion.  A good gratuity at the end of a successful operation is always looked forward to and gratefully received.
For more information why not download our handy Moving Checklist
Article provided by Meravista.com
Meravista is the world's largest property portal devoted exclusively to the Algarve. It brings visitors the latest state-of-the art search technology, making it easy to find their perfect property in the Algarve.
View maps, listings and property details at the same time
Over 300 standardised property details
Compare properties side by side
Save your favourite properties and searches