Packing to move to another country can be a lot more complicated, time consuming and stressful than just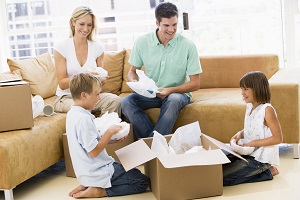 packing to move down the road. You will have a ton of things on your mind besides packing, including getting your new house purchase completed, sorting schooling for your kids, travel or transport for the entire family (including the pets!) and much more. You can reduce your stress levels by being well organised before and during packing.
Before packing starts
Put your travel clothes, toiletries, valuables, paperwork and luggage to one side and keep all of these things in a place away from the packers when they arrive to make sure nothing untoward gets packed and transported by accident. This also applies if you are doing your own packing.
Tip:keep the pets out of the way. For the sake of the pets and the packers, and for your own sanity, keep your pets away from the packing action. This avoids stress for the pets and avoids any slow-down of the packing process. Depending on the age of your children, the same applies.
Professional packers
Professional removal companies will supply you with a master list where you fill in the box number, contents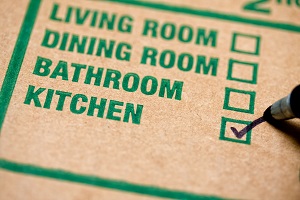 and the room the contents came from. If they have not given you such a list, you can create one yourself. Knowing exactly how many boxes, what they contain and which room they came from helps to track your stuff when it's being loaded, and again when it gets unloaded at your new place.
Tip: having the room marked on the box helps you to know which room the box needs to go to at the new house.
Luggage that is not needed immediately in your new home can be sent with the removal van to lighten your load but make sure each case lists what is inside, is numbered and included on your master list.
The speed at which professional packers work is quite amazing and you could well be astonished at how fast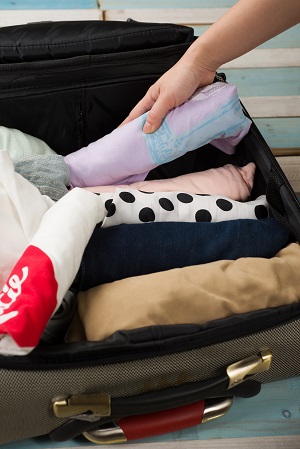 your precious belongings disappear into boxes, crates and blankets. Some companies will want to start loading stuff as it's packed, which makes it harder to track.
Tip: Limit the number of packers who come to pack up your house. It's better to have three packers and need two days to complete, than to have 5 packers who finish in one day. This is so that you can keep an eye on everything that is going on. Not only that, but very often large packing crews include one trainee or novice, whereas smaller crews tend to be made up of experienced packers.
Packing yourself
You will need:
Good quality boxes and cardboard

Wide masking tape

A Stanley knife

Bubble wrap

A thick marker pen

Plenty of white packing paper.
Tip:you can use newspaper but it leaves newsprint marks. White paper avoids you having to wash everything again as it is unpacked at the other end.)
Pack heavy items at the bottom of the box with lighter items on top, with all items wrapped individually. Make sure there is no movement inside the box by stuffing all crevices with paper.
Tip:  If you give the box a gentle shake and can hear movement of paper inside, it means there are still pockets of space.
Tape each box securely top and bottom, mark the box with your name, give it a number, show which room it came from and add it to the master list.
Dismantle 'flat pack' furniture, wrapping all parts individually to avoid scratches: cut cardboard to make a box and seal thoroughly. Mark your name, box (item) number, room.
Cut carton to make boxes for chairs, beds, wardrobes, cupboards etc; remove legs from tables, wrapping them individually and box them. Mark your name, box (item) number, room.
Tip:place all screws and clips removed from dismantled items in a small plastic bag. Tape the bag to the wrapped parts of the furniture. This avoids the screws being thrown away with packing paper by accident when you're unpacking.
Getting loaded
When it comes time to load everything into the removal van, tick off each item on the master list to make sure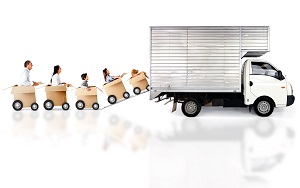 everything gets loaded. We recommend that all the packing is finished before loading starts, then make sure you check each box number off your master list as it's loaded. 
Keep all paperwork to do with moving in a file with your other important documents.  Add your complete master lists to the file, ready to find it easily when the time comes to unload – so you can check off each box number as it comes off the van.
Double check everything, then check it again.
When the house is empty, go through the whole house to check for items which have been overlooked. Then go through it again with the packing foreman. Check walls, windows, behind doors, under sinks, bathrooms and showers, cupboards and drawers, double check the attic, the shed and the garage. Don't forget to check the front as well as the back garden, and check terraces and balconies too.
Tip:check your car! You might have a tire pressure pump kit, torches and other valuable bits and pieces in the car that you don't want to carry by hand.  And if you're driving your car to your new location, make sure you don't pack things that you might need for the car or the journey. (Small cool-box for drinks and water, toys and games for kids, bowls for pets, etc.)
Once this has been done thoroughly you can breathe a huge sigh of relief and wave goodbye to the departing van.
Why not download our Moving Checklist to help you stay organised?
Article provided by Meravista.com
Meravista is the world's largest property portal devoted exclusively to the Algarve. It brings visitors the latest state-of-the art search technology, making it easy to find their perfect property in the Algarve.
View maps, listings and property details at the same time
Over 300 standardised property details
Compare properties side by side
Save your favourite properties and searches