In western Algarve is the modern municipal gem called Lagos. When you first arrive into the town you are presented a grand promenade fronting a marina filled with yachts and other pleasure craft. The old town, with all its restaurants, shops and winding lanes is no less beguiling. Yet with all this to distract you, it is impossible to ignore what you are forever seeing south of town: the famous sea cliffs and their turquoise waters.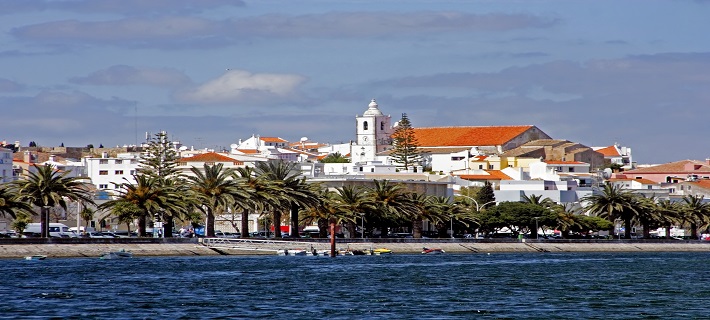 A 200 meter walk from Lagos centro leads you onto the famous cliff walk of Ponta da Piedade where steps carved into the sandstone cliffs lead you down into secluded little beaches such as Praia do Camilo and Praia Dona Ana, and where all about you are the grand sea caves and grottos formed by the relentless Atlantic. A little further down, the cliffs give way to the wide sandy beach of Porto de Mós and the charming enclave of Praia da Luz with its own seafront promenade.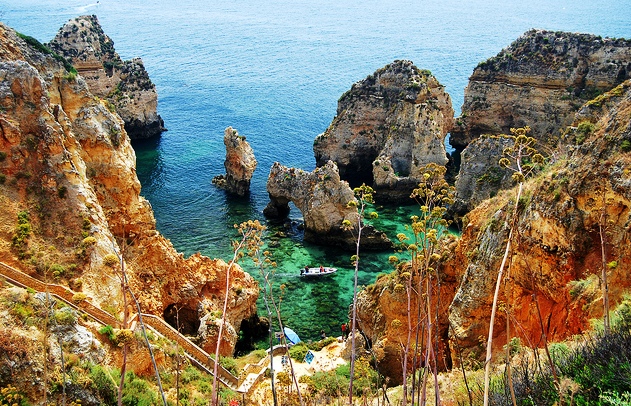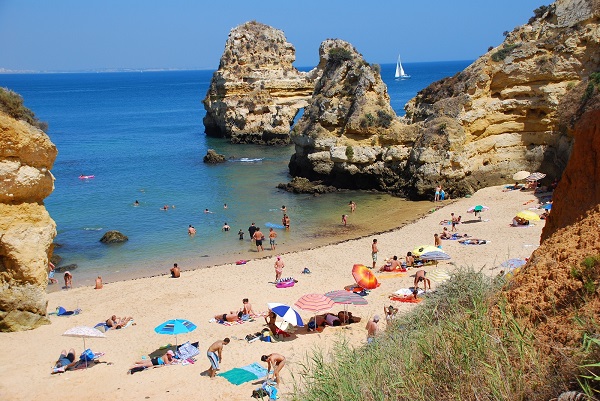 With all this to consider, as well as five golf resorts just minutes away in any direction, Lagos comes off with an air of exclusivity. With its remote location, modern conveniences and unspoiled coastline, Lagos is, in fact, a very exclusive place in the world. It is for these reasons that many expats from all over Europe are looking to buy property in Lagos. 
Lagos is arguably the hottest property market in the Algarve at the moment. Meravista.com's website traffic statistics show an increase of 236% in Lagos property searches over the past three months. Meravista.com has analyzed the property market in Lagos and has discovered why this area is so popular and is a great place to live and invest.
Lagos County Property Market Values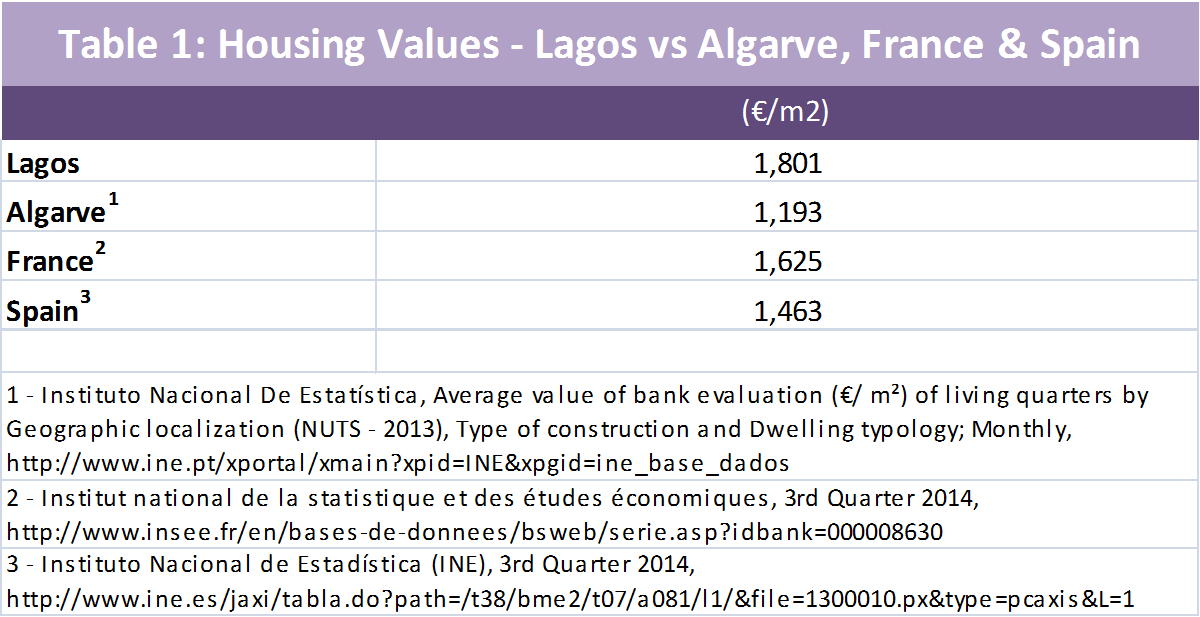 Meravista.com's database of over 24,000 Algarve listings allows the calculation of current market prices and values for Lagos which can then be compared to known indicators. As calculated by Meravista.com, the average dwel-ling value for Lagos is 1,800 €/m2, while the current bank valuation for Algarve property as a whole is 1,193€/m2.
This makes Lagos housing values 40% higher than bank valuation. However, it must be kept in mind that bank valuations are typically 20% lower than real world market values. The true median market value for Algarve dwellings as a whole, as calculated by Meravista.com, is 1,462 €/m2, which makes Lagos 21% higher than the provincial average.
When compared to other retail market values such as 1,781 €/m2 for Spain, as reported by spainhouses.net, Lagos remains comparable to other favored Mediterranean destinations…but without all the clamor and buildup that plague places such as Spain and France.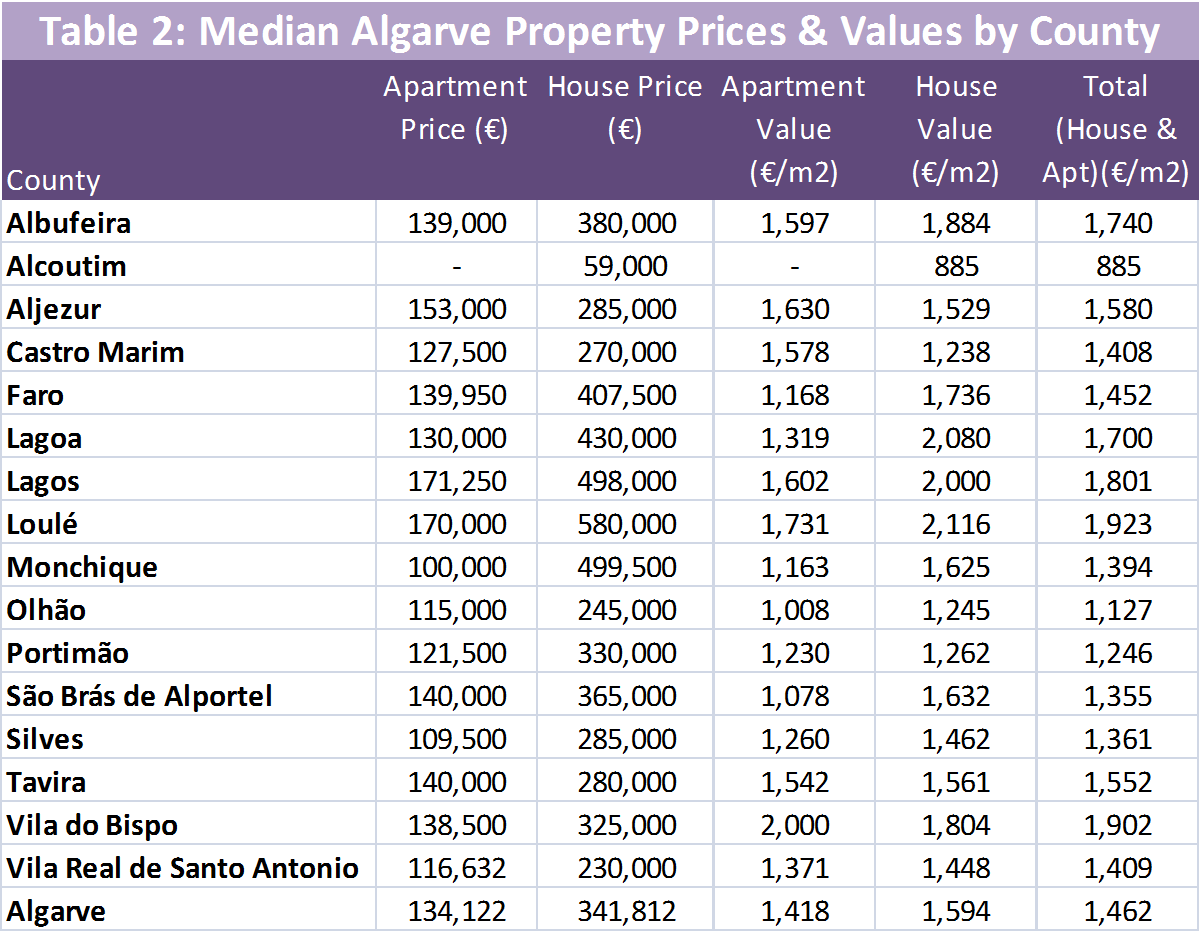 And therein lies some of the reasons for this premium out west. Chris Garvey of Ocean-Country International Real Estate in Lagos explains: "Lagos is an upmarket area, due in part to a lack of excess construction such as in other areas of the Algarve. This creates a smaller supply of low priced properties."
However, Mr Garvey notes that most of the construction in the Lagos area is relatively new which adds to value as well as cost. Sofia Almeida of Western Algarve Real Estate in Lagos concurs, stating that: "There is good value in the properties here because the construction quality in the area is so high."
It also appears that banks and property owners are cooperating on prices in the area. Chris Garvey states that: "In properties where there is a bank involvement, sales are being allowed at market rate regardless what the banks may still be owed on the property." In other words, banks are starting to bite the bullet here.
Regarding price opportunity, Sofia Almeida adds that most properties are still the same price or lower than last year which is a good sign to buy now as the economy is currently in a recovery stage and prices will be going up accordingly. She also notes that the beneficial exchange rate for Pounds versus Euros is driving a lot of UK traffic into the Lagos area with its limited supply of properties.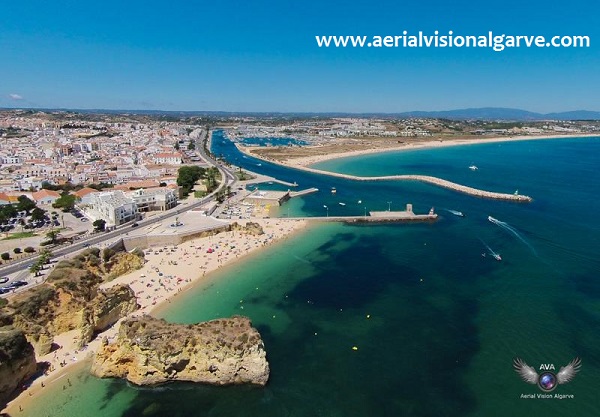 Preferred Properties and Lifestyle
Of the property opportunities in Lagos, Sofia Almeida recommends villas in Praia da Luz, Porto de Mós and Meia Praia. She explains that many of the available villas in these areas are of high standard and in very desirable locations with good views.
Chris Garvey recommends two to three bedroom apartments. He says that most complexes in the Lagos area have excellent amenities, sea views, can be had for between €150,000 and€200,000, and provide a good return on investment.
As with any place in the Algarve though, it is the Algarve lifestyle that makes Lagos so attractive. Chris Garvey explains that Lagos has a large Portuguese population which not only makes it a great place to experience the culture, but it also makes Lagos a "proper town, even in winter." Couple with the lack of big city confusion and natural beauty, the Lagos area is the perfect place to live and enjoy oneself.
Recommended for you in Lagos:
 
---
Praia da Luz: Great Location and rental potential for a 2 bed apartment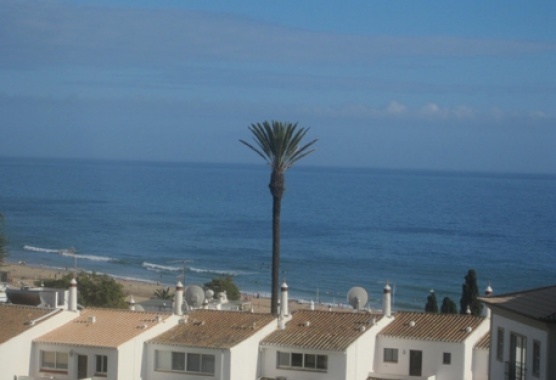 Desirable situation, in the village centre, only a short walk to the beach and promenade. Ideal property for holiday/rental, with a holiday rental history. The property also benefits from access to Ocean club facilities if required. The accom-modation on offer comprises a sitting/dining room, kitchen, 2 bedrooms, bathroom, veranda, off street parking and double glazing.
Price €1,169,000
To find out more click here
---
Porto De Mós: 6 bed Villa with terraces, pool and sea views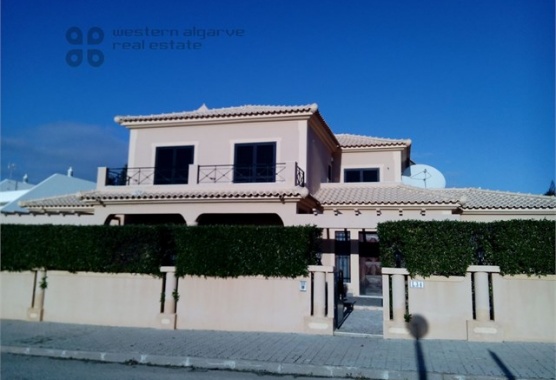 Exceptional 6 room villa located in Praia da Luz with stunning ocean views. Composed of a large living room with fireplace plus a dining room that opens to a fully fitted kitchen. 2 bedrooms ensuite and a study room comprise the ground floor. On the first floor you will find 3 ensuite bedrooms with terraces facing the sea. Amazing ocean views from the pool and jacuzzi
Price €950,000
To find out more click here
---
Porto De Mós: 2 bed Penthouse near the cliffs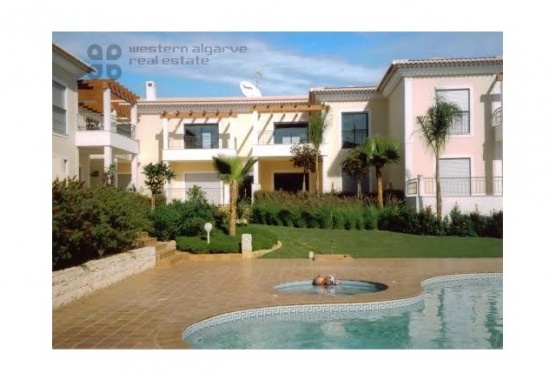 One of a kind, on its own on the top floor of the building. It has 2 bedrooms, one ensuite, both with built-in closets, a large living room with 2 large balconies - one facing south ideal for sun bathing, and other facing north, inviting to alfresco dining! The spacious, stylishly efficient kitchen, also with two balconies, is completely equipped. The apartment is located in a closed condominium with shared pool, underground designated parking space and a storage room.
Price €285,000
To find out more click here
---
Mata Porcas: 6 bed spacious Villa with Pool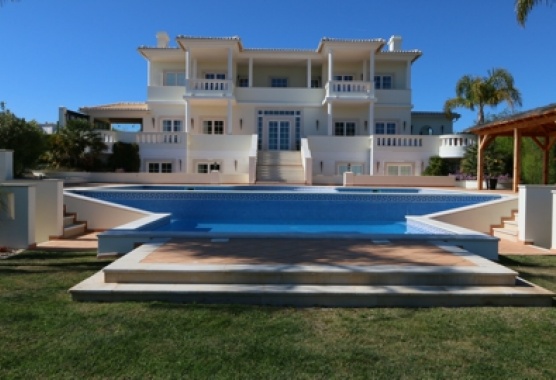 Modern U-shaped home with sweeping terraces and sea views. Ample parking and modern kitchen and amenities makes this an excellent property for entertaining or summer rental income.
Price €1,600,000
To find out more click here
*The properties featured in this article were listed for sale on Meravista.com at the time of publication, but may have since been sold or removed from the website
Article provided by Meravista.com
Meravista is the world's largest property portal devoted exclusively to the Algarve. It brings visitors the latest state-of-the art search technology, making it easy to find their perfect property in the Algarve.
View maps, listings and property details at the same time
Over 300 standardised property details
Compare properties side by side
Save your favourite properties and searches