Of the sixteen municipalities (counties) of the Algarve, Olhão in the east is the most recently inhabited.  Straddled on each side by the ancient Roman cities of Ossónoba (now Faro) and Balsa (now Luz de Tavira), the town of Olhão  did not come into being until the 17th century due to its astounding reserves of fish and seafood.
Today, the county of Olhão is a story of two spheres: the small but teaming city of Olhão with its many townhouses and apartment buildings; and the serene coastal hills with their small enclaves of villas that make up the interior. For buyers looking to purchase property in Olhão this offers two interesting choices.
Urban living in Olhão  town provides an ideal immersion into the Portuguese culture, where the Old Town and its winding cobblestone streets lead you inexorably to the famous fish market situated on the city's edge fronting the massive Ria Formosa nature reserve.
In the Barrocal to the north, calm, unspoiled nature is the way of life, with the picturesque town of Moncarapacho as a refuge to enjoy coffee or wine in an idyllic town square.
| | |
| --- | --- |
| | |
| Olhao Mercado | Moncarapacho Town Square |
Whichever lifestyle you choose, Olhão has the lowest property prices of any Algarve county, making it an ideal ticket for entry into the coveted Algarve region of Portugal.
Olhão County Property Market Values
Meravista.com's database of over 21,000 active Algarve listings allows us to calculate current market values and prices and compare them to known indicators. As calculated by Meravista.com, the average dwelling retail value for Olhão (1,175 €/m2) is substantially lower than the calculated average for the Algarve as a whole (1,530 €/m2) as well as the bank valuations for housing as determined by Portugal's INE (1,223 €/m2), Spain's INE (1,456 €/m2), and France's INSEE (1,627 €/m2) [see Table 1].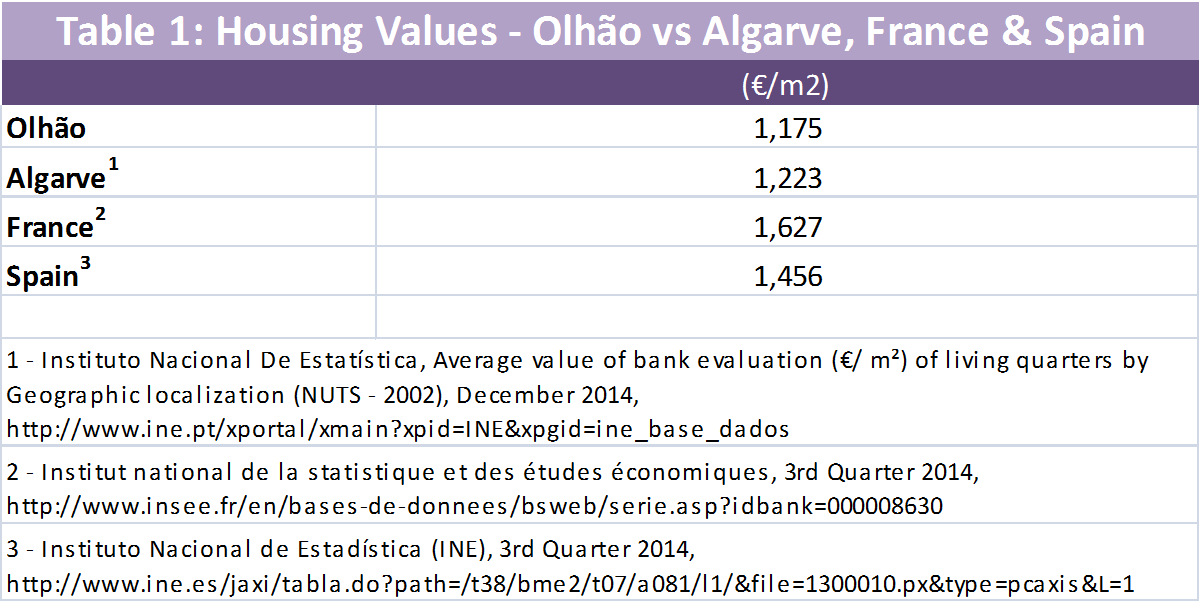 Not only is Olhão housing more economical than Spain or France, it also leads in this category amongst all the other Algarve counties (Table 2).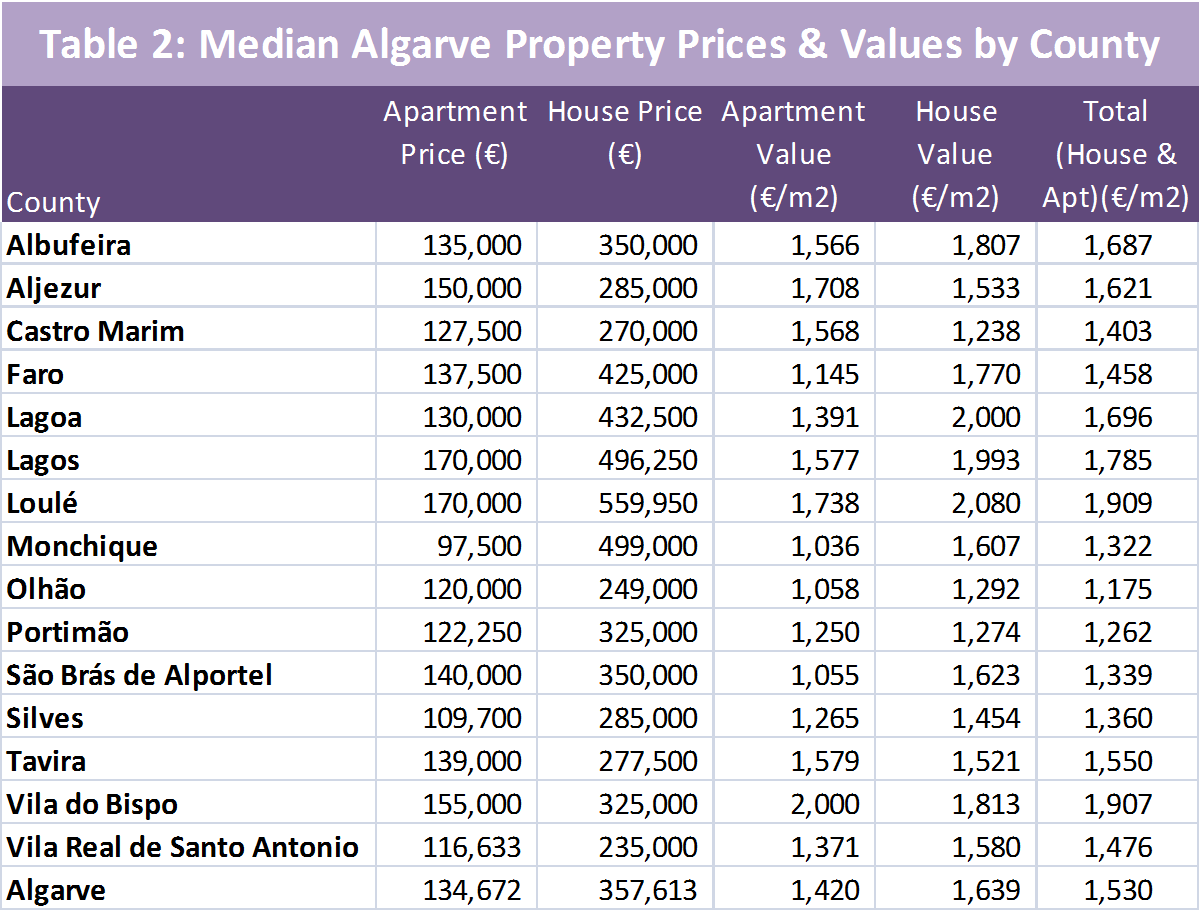 A look at the breakdown of properties amongst the four biggest towns in Olhão shows that over 2/3 (66.46%) of all dwellings in Olhão are below €200,000 (Table 3).

Property in the City of Olhão
Olhão the city presents an opportunity to live amongst and enjoy the culture of the local population. There are many fantastic dining opportunities with seafood being the top attraction. Each year the Festival do Mariscos is held in Olhão and is the most  popular in the Algarve.
With the median price of apartments at 116.750 (954€/m2), the city of Olhão has the lowest urban apartment values in the Algarve. Townhouses and terraced houses have median costs of 195.000 (1277€/m2) offering an incredible opportunity for owning a house inside a major Algarve city.
| | |
| --- | --- |
| | |
| Festival do Mariscos in Olhao | The Streets of Olhao's Old Town |
Property in Moncarapacho
Laying at the foot of the towering mountain of São Miguel, Moncarapacho and its surrounding areas offer idyllic country living.  Julie Russell, of the Russell & Decoz estate agency in Moncarapacho, elaborates on the benefits of living in the Moncarapacho area of Olhão, "This is a very quiet area, especially good for kids as the schooling is excellent for all ages, and the beach is only 7km away."
Town houses in Moncarapacho are especially appealing. Ms. Russell tells us: "Townhouses here are great for remodeling and they often have both front and back street entrances."
Ms. Russell also related that currently the property market for both Moncarapacho, and Fuseta to the south, are being heavily vetted by French buyers eager to take advantage of the  generous tax benefits offered by moving to Portugal. She says that while UK buyers are looking for 3-4 bedroom houses in the country, Scandinavian and Dutch buyers are interested in older properties with character.
Regardless your need, Ms. Russell does offer this one caveat: supplies are becoming limited in this area. Which is no wonder considering the current value of Olhão property.
Recommended for you in Olhão:
Moncarapacho: Great rental potential for a 3 Bed Villa with Guest Annex and Pool

Detached single story villa with a registered covered area of 250m², sitting in 5.400m² of land with a pool, mature gardens and a badminton field. Wooden French doors and windows with shutters. Tiled throughout. Fitted and equipped country kitchen. Delightful south-facing, covered terrace with BBQ.

Price €235,000

To find out more click here
Moncarapacho: 4 Bed Villa or 3 Apartments with Superb Country and Sea Views, Great Rental Potential

Villa on 2 levels. Covered area 150m² sitting in a 5.560m² plot of gently sloping land with mature gardens. Originally built in 2003 with high quality insulated, Poroton blocks, white aluminum doors and windows with double glazing, fly screens and shutters. The Villa was extended in 2006 and at present is divided into 3 self-contained apartments providing some rental income.

Price €495,000

To find out more click here
Moncarapacho: 2-3 Bed Quinta with Studio is a perfect DYI Project

Main house on gently sloping land with well kept orchards. The Quinta was built in the early 1900s to a simple but habitable standard with 50cm thick, natural stone walls.New 'cane and pole' ceilings and Roman roof tiles. The Studio was built later and has single brick walls and needs finishing. Outdoor stairs to a small roof terrace with lovely country views. Ideal property for a DIY project!

Price €135,000

To find out more click here
Olhão: Spacious end-of-terrace townhouse with three bedrooms in a quiet residential area

Beautiful townhouse with 3 bedrooms, living room with fireplace and barbecue on the terrace. Located in a residential and quiet area of Olhão, just a 5 min walk from the shopping area and schools.

Price €145,000

To find out more click here
*The properties featured in this article were listed for sale on Meravista at the time of publication, but may have since been sold or removed from the website
Article provided by Meravista.com
Meravista is the world's largest property portal devoted exclusively to the Algarve. It brings visitors the latest state-of-the art search technology, making it easy to find their perfect property in the Algarve.
View maps, listings and property details at the same time
Over 300 standardised property details
Compare properties side by side
Save your favourite properties and searches