There are many reasons why people want to buy property in the Algarve: the best year-round climate in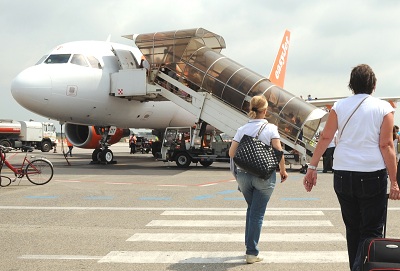 Europe, great investment opportunities, the fabulous lifestyle… but there is another reason which is often overlooked – yet once you hear about it, it seems so obvious.
Whether you are a property portal or an estate agency, it is important to know who your customer base is, and where customers are likely to come from both now and in the future. A wise Algarve estate agent once told us that if you want to know who is interested in Algarve real estate, look no further than the origin and number of direct flights to the Algarve's sunny capital of Faro.
Clearly, direct flights to a destination lower the cost and travel time, increase the number of visitors, which then leads to expanding tourism development and the related rise in real estate demand.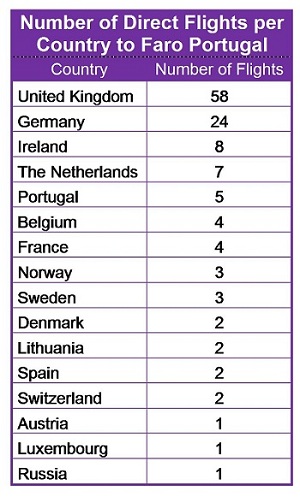 Currently the Algarve enjoys more direct flights from more nations than any other time in its history. There are currently 127 direct flights from 76 cities and 16 nations, with many routes occurring daily or even multiple times per day. For the year of 2012 an estimated 5.7 million passengers passed through the Faro airport, with the majority of them barging in unannounced between the months of April and October.
It is no surprise to Algarve estate agents that visitors - and buyers - are dominant from the UK. With 58 direct flights, the UK easily leads all nations.
However, this UK figure is not anecdotal. Meravista conducted a survey between June and July of 2013, and asked 22 Algarve estate agencies what the nationalities were of interested buyers so far this year. The results show that the UK leads the pack followed by The Netherlands, Portuguese expats, Sweden, Belgium and France.
The high number of Portuguese expats is explained as being the result of extremely low Algarve property prices driving overseas Portuguese to invest in second or holiday homes. It is also worth noting that Scandinavian countries such as Sweden and Norway are starting to make a presence in the Algarve property market.Norwegian Air has been offering direct flights to Faro since 2003 and that traffic is beginning to have an impact on property sales.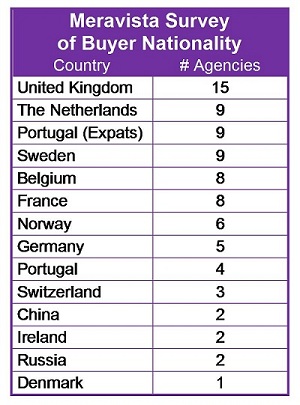 In July of 2011, Transaero began the first direct flights from Moscow to Faro, which can be seen as a reflection of the increasing buying power of Russians, and their interest in investing in favorable countries such as Portugal which offers investors golden Schengen visas amongst other benefits.
Demographic information such as this allows Meravista and the estate agents of the Algarve to position marketing resources or to even geo-target their websites to the most favourablelocations, and to better serve both buyers and homeowners.
Article provided by Meravista.com
Meravista is the world's largest property portal devoted exclusively to the Algarve. It brings visitors the latest state-of-the art search technology, making it easy to find their perfect property in the Algarve.
View maps, listings and property details at the same time
Over 300 standardised property details
Compare properties side by side
Save your favourite properties and searches