by Sun's Dragon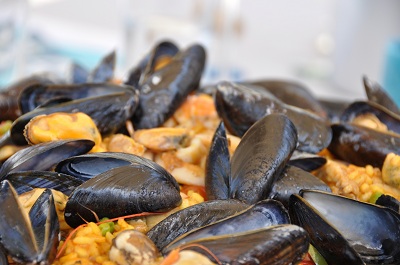 Fish, in all shapes and forms, are very popular in the Algarve. There are many fishing ports and fish markets, fish being a staple for the coastal population.
Festival do Marisco – Olhão
The biggest and most popular shellfish festival is held each August in Olhão, just east of Faro. Although this is predominantly a shellfish festival, it doesn't prevent many other types of fish being cooked and sold too.
A huge open air venue, overlooking the waterfront, attracts many thousands of visitors each year and is probably the biggest gastronomic event in the Algarve. With over 100 stalls selling everything from shellfish to bacalhão (dried salted cod) in every traditional manner, it is a mouth watering experience not to be missed. For a very small fee, one enters the World of the Sea at Olhão.
Olhão boasts the biggest and best fish market in the region and they go all out to show what they can do with their famous produce. Cataplanas, paellas, fish stews and fish soups abound, fish rice, shellfish rice and traditional tomato rice are plentiful.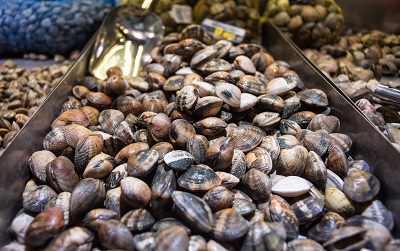 Porco à Alentejana (black pork and clams) make your mouth water as do the garlic grilled prawns, Tiger prawns and spicy piri piri boiled prawns. Fresh oysters - au natural or lightly grilled, cockles, mussels, clams and razor clams are all there for the tasting.
Delicious dressed crabs, soft shell crabs and lobsters beckon the shell fish lover with their vibrant colours. Octopus and squid are prepared in many different dishes and in many different ways, each as tempting as the last. Just one of the local delicacies is squid cooked in its black ink and is a firm favourite of many Algarveans.
Good wines and beers are on offer as well as soft drinks to compliment all the different dishes. Each evening there is live entertainment with a large variety of singers and bands, some local and some famous.
As well as all the fish stalls there are plenty of other stalls selling home-made traditional sweets and cakes, as well as handmade traditional artefacts and jewellery.

Shellfish and more – across the region
Faro too has their fish festival - the Festa da Ria Formosa - which takes place just before that of Olhão. This is a shellfish festival with as many as 40 stalls providing the best Faro has to offer. The displays of shellfish are a sight to behold and the open air cooking shows exactly what is going into the dishes and how they are made.
Entry is free and there is live entertainment with music, song and dance, handicraft stalls and a real party atmosphere. People gather at the many tables provided and often make friends with the people all around them, some sharing their wine or beer that they have brought along or purchased at the stalls.
Other towns have similar, smaller festivals: check the local press in August and September for local information.
In September, Albufeira hosts a Gastronomy festival which includes the Fishermen's festival at Praia dos Pescadores.
People from across Portugal and from all over the world plan their visit to coincide with these festivals. Better still, if you live in the Algarve, you can enjoy all the traditional festivals across the region year-round!  Thinking of making a move to the Algarve?
Check out Meravista's extensive selection of property in the Algarve!
Information provided by www.meravista.com: your best online resource for property for sale in the Algarve
Article provided by Meravista.com
Meravista is the world's largest property portal devoted exclusively to the Algarve. It brings visitors the latest state-of-the art search technology, making it easy to find their perfect property in the Algarve.
View maps, listings and property details at the same time
Over 300 standardised property details
Compare properties side by side
Save your favourite properties and searches