by Almonds & Oranges         
Exploring the Ria Formosa
Stretching along the eastern Algarve coast from Faro to the village of Cacela Velha near Tavira, the Ria Formosa Nature Reserve is a beautiful and tranquil estuary of fresh and saltwater lagoons, islands and marshes.
Classified as a Natural Park in 1987, the 170 square kilometres of unique and unspoilt coastal lagoon spans an area encompassing the Algarve municipalities of Loulé, Olhão, Tavira and Vila Real de Santo António. Traditionally used for salt farming, the area is now widely used for shellfish farming and the river is a spawning ground for many species of fish.
One of Portugal's seven natural wonders
The Ria Formosa Estuary and Natural Park was recently voted as one of the Seven Natural Wonders of Portugal and is a place that can be enjoyed by people of all ages. The paths through this park are good and safe for walking, and there is a sturdy boardwalk across part of the salt marsh. Most of the main areas are accessible to wheelchairs, prams etc.
A haven for birds and endangered species
Most definitely a bird watchers' paradise, the park is recognised throughout the world as one of the most important areas for aquatic birds. It's a wintering ground for birds from northern and central Europe and a 'stop-over' for migrating birds between Europe and Africa. Ria Formosa Natural Park is the only confirmed breeding ground for the rare Portuguese Purple Gallinule and it provides shelter for many threatened species whose habitats are declining in Europe.
There are bird hides in the park and plenty of good viewing points too.Even if you're not a committed 'twitcher' you can't fail to be wowed by the majestic flamingos or some of the more unusual varieties of ducks. Plus, there are some unique plants and vegetation to be spotted across the salt marshes and sand dunes.
Endangered species such as the seahorse and chameleon can also be seen along the Ria Formosa. In fact, the area has the largest population of seahorses in the world. The Ria Formosa is also known for the Portuguese Water Dog. Native to the Algarve, this breed of working dog was once taught to herd fish into fishermen's nets, to retrieve lost tackle or broken nets, and to act as couriers from ship to ship, or ship to shore. 
This short video gives an overview of some of the areas and wildlife of this unusual nature reserve.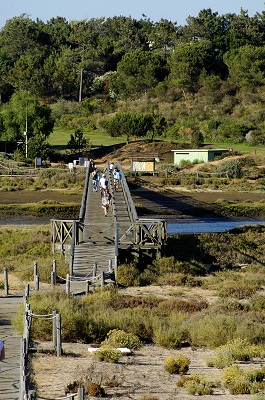 Ways to explore the Ria Formosa
There are many exciting ways to explore the Ria Formosa. It's a relaxing and interesting area to discover alone, but it can be worth paying to join a guided walk, bike ride or boat trip. There are a number of companies offering informative tours and for boat trips there are many kinds of boats to choose from. You can even kayak your way through the channels and marshes, or take a segue tour on more solid ground.
Guided tours are available all the way along the Ria Formosa coast, including all the larger towns such as Faro, Olhão and Tavira. These towns also offer excellent heritage sites and historical buildings which are worth a look. The custom-built golf resort of Quinta do Lago also borders the Ria and has some of the best walks that run all the way to Faro.
Another aspect to be enjoyed at the Ria Formosa are ferries to the islands: some islands are inhabited and do not have roads or cars. Some islands are accessible by footbridge. All offer long, spectacular stretches of beach which tend to be less crowded than some of the more famous tourist beach towns.
Property for sale along the Ria Formosa
There's a broad range of property for sale in the municipalities bordering the Ria Formosa. Take a look at the choice of properties we have on our website such as Quinta do Lago, Olhão, Tavira and Vila Real de Santo António.
Information provided by www.meravista.com: your best online resource for property for sale in the Algarve
Article provided by Meravista.com
Meravista is the world's largest property portal devoted exclusively to the Algarve. It brings visitors the latest state-of-the art search technology, making it easy to find their perfect property in the Algarve.
View maps, listings and property details at the same time
Over 300 standardised property details
Compare properties side by side
Save your favourite properties and searches