by Sun's Dragon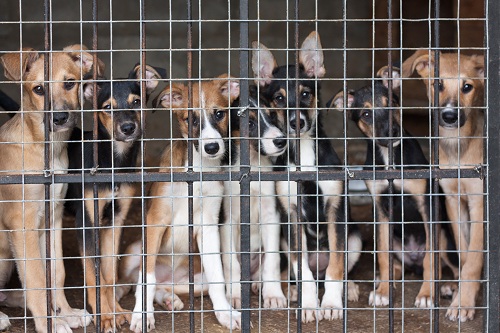 Unfortunately it is necessary to have refuges because, like everywhere in the world, there are unwanted, abandoned and ill treated animals in the Algarve. The government does very little to help alleviate this situation and most of the aid comes from charities and local individuals.
One of the biggest problems is the cost of spaying and neutering pets and strays. There are several charities in the Algarve with neutering programmes for strays. Many vets help these charities and low-income pet-owners by reducing the price of these operations to the bare minimum.
If you are contemplating getting a new pet, a visit to one of the sanctuaries is a great place to start. There are many kittens, cats, puppies, dogs and donkeys to be found in a refuge and they all need a loving home. It is guaranteed that you will receive a warm welcome and, whether you're looking for a posh pooch or a mutt, they are certain to have the right pet for you.
Some of the main sanctuaries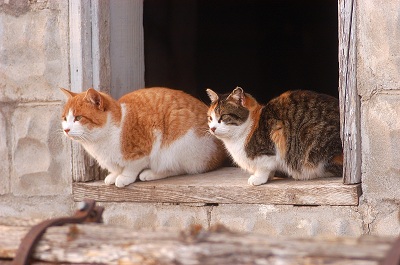 Amigos dos Gatos do Algarve: This organisation that runs a feral cat sterilisation fund.

AGA was founded by Lesley Normington, the charity is based in

Albufeira

and has a charity shop there to raise funds.

Lagos Animal Protection Society: Established in 1980 this animal sanctuary rescues birds and wildlife as well as domestic animals. L.A.P.S. Founded by Bridget Hicks and based in Odiaxere, Lagos

.

Associação Protecção Animais Algarve: The APAA 

is an English language organisation, Association for the Protection of Animals in the Algarve and is linked to the British RSPCA. They run a neutering programme and a rescue and re-homing centre. They are also the organisers of the local annual dog show, 'Scruffts'. 

APAA have 3 fundraising shops, based in Albufeira, Alvor and

Silves

. Donation and purchase of used clothes and goods is welcome – all shops are staffed by volunteers.

Associação dos Amigos dos Animais Abandonados(AAA): 

This association rescues and re-homes abandoned and stray animals. They are b

ased in Canil de S. Francisco de Assis, near

Loulé

.

Associação Dos Animais e Plantas de Olhão (ADAPO): a stray animal shelter, based in Olhão

.

Associação Ecologista e Zoófila de Aljezur

(AEZA):

This charitable organisation runs an animal rescue and treatment centre. They also re-home abandoned animals.

Liga Olhanense Dos Amigos Dos Animais Abandonados:

Based in Olhão, this charity takes in abandoned animals

CaniGoldra,

better known as the New Goldra Dog Sanctuary, was formerly known as Quintinha Dos Animais. This animal shelter for dogs takes in abandoned and stray dogs and focuses on rehoming. The refuge is run by Jan Henderson.

Refúgio dos Burros: A donkey sanctuary with small shelter for cats and dogs, based in Quinta Sao João, Estombar, Lagoa

. The refuge was started in 1989 by Peter Lee Lander and Nan Richardson. There are three charity shops, in Lagoa, Carvoeiro and Ferragudo to raise funds for this sanctuary.

SOS Algarve Animals

: 

SOS Algarve Animals re-homes between 300 and 400 dogs, cats, puppies and kittens every year, as well as sterilizing approximately 600 dogs and cats each year. This is not a shelter as such but a home where animals are rehabilitated until they are well trained and able to go to a loving forever home. Contact details: 

www.sosalgarveanimals.com

  or  

[email protected]

Coração 100 Dono: 

Next door to the New Goldra sanctuary, a charity run shelter that is in urgent need of funds in order to continue their good work.  

[email protected]

Their Voice Portugal

: 

This is a rescue centre for ill treated horses run by Sharon Clark. Although based in the centre of Portugal, The Desperate Horsewives of the Algarve are the main support for this charity which has saved the lives of so many horses. Located in Caldas da Rainha, you can contact them at 

[email protected]

  or call 919 171 079.  Any and all help is vital and gratefully received.
Most of these refuges evolved from somebody helping abandoned or ill treated animals and unintentionally expanding into a refuge. These people have devoted their lives to helping animals and are totally dependent on donations and helping hands.
To find homes for the animals

Volunteers to help with animal care and sanctuary maintenance

Groomers to keep the animals in good shape

Foster parents and walkers

To provide medical attention to injured animals

To provide vaccinations and neutering for all animals

Donations of collars, leads, brushes, kennels or crates are always welcomed.

Donations of pet food or money.
Many pets have been abandoned by owners who have moved away or were left behind when an owner died; still others just got lost and live in hope to be reunited with their owner; and many more born into life on the streets and desperate for a loving home.
Some vets help the refuges by selling calendars with photos of rescued animals and their new owners, or by advertising rescued animals on their poster boards and introducing adoptable pets to their clients.
If you are considering buying property in the Algarve and would like to help in some way after making the move, you will be welcomed with open arms by any of the Algarve sanctuaries.
Information provided by www.meravista.com: your best online resource for property for sale in the Algarve
Article provided by Meravista.com
Meravista is the world's largest property portal devoted exclusively to the Algarve. It brings visitors the latest state-of-the art search technology, making it easy to find their perfect property in the Algarve.
View maps, listings and property details at the same time
Over 300 standardised property details
Compare properties side by side
Save your favourite properties and searches