by Sun's Dragon          
Did you know?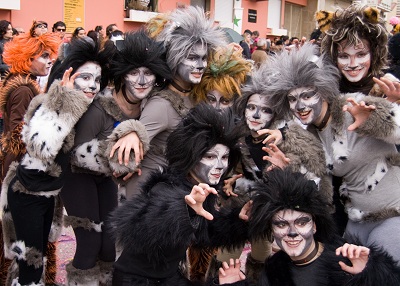 Originally a pagan festival to herald the new spring, carnival nowadays is celebrated predominantly by Catholics as the lead up to the start of Lent, the traditional Christian time for fasting. Carnival is celebrated across the Algarve region and indeed throughout Portugal.
Carnival usually starts on the weekend prior and continues through Shrove Tuesday, or Fat Tuesday as it is known in Portugal. Ash Wednesday is the day the Merry Monarch is buried and Lent begins.
Local events
While Loulé hosts the biggest and most spectacular Algarve carnival, every town and village throughout of the Algarve puts on a celebration of its own.
Usually starting on the first day with a children's parade through the streets, the youngsters toddle, walk or dance past in their fancy dress and masks. People line the streets to cheer on the little ones, who love all the fuss and attention.
Most villages hold dances every night and the village halls are filled to overflowing with fancy dressed and masked villagers. The dancing starts early and ends late with no breaks in the local carnival music that entertains young and old alike. The atmosphere is exhilarating, with music pounding and amazing costumes on display.
Towns and villages also hold street parties with local dancers, some whom are only 6 years old, in their national costumes, entertaining everyone with their traditional instruments and intricate steps. Some hold parades with music, marching bands, floats, and local groups in every type of costume from simple to elaborate. Everybody joins in with clapping, stamping dancing and cheering. Sweets and streamers are thrown to the crowds lining the streets as a reminder that this is a period of feast and celebration.
In Western Algarve, Odiaxere is the big one to visit, hosting 5 days of entertainment, parades and music. Lagos and Sagres also put on entertainment during the festival.
In Central and Eastern Algarve, besides the big event in Loule:
Quarteira, São Bras, Olhão, Moncarapacho, Tavira and Vila Real de San Antonio all host entertainment and parades of one kind or another on a smaller scale.
Other traditions
Although the festivities in the Algarve are now mainly based on the style of the Brazilian Samba, the old tradition of mischief making is still very much a part of the scene. Traditionally dressed Estudantinas (groups of singers) visit malls, bars, cafes and head out on the streets, singing their songs of ridicule of the government, politicians and world events. 
Crowds gather to laugh and jeer at the unfortunate recipients of this outpouring of 'The People's Opinions'. Being carnival, the political satire is received in good spirits.
During carnival, you can find the ancient Portuguese tradition of people holding flower fights. Competitions are held for best floats and costumes. A King and Queen of Carnival are chosen too, and on Ash Wednesday, burying the "Merry Monarch" is a big fun occasion.
Expat residents, national and international visitors, and tourists are all welcomed wholeheartedly to come and celebrate and participate at all the Algarve carnival festivities.  If you're a resident or visiting, check the schedule of carnival events with your local Junta de Freguesia (parish council) – who often host a party or ball during carnival season.
If you aren't already a resident in this wonderful region, you might want to consider buying property in the Algarve and making this your first or second home!
Information provided by www.meravista.com: your best online resource for property for sale in the Algarve
Article provided by Meravista.com
Meravista is the world's largest property portal devoted exclusively to the Algarve. It brings visitors the latest state-of-the art search technology, making it easy to find their perfect property in the Algarve.
View maps, listings and property details at the same time
Over 300 standardised property details
Compare properties side by side
Save your favourite properties and searches