by Sun's Dragon      
Did you know?
Traditional Portuguese pottery dates back to the middle ages and beyond, and until recently, this art form was almost extinct. Today, the Algarve is again famous for its many Artesenato shops featuring all types of traditional pottery.
Porches, Lagoa, the centre of the pottery industry in the Algarve, was brought back from the brink of extinction by Patrick Swift and Lima de Freitas. The two artists were passionate about the old tradition of painted Portuguese pottery and set about not only reviving the art but making it live once more.
In 1968 they set up their first pottery premises and brought in master potter Gregorio Rodrigues to join in their venture. The local potters had learned their craft from their forefathers, the skill having been passed down for generations. They were still able to produce all the ancient forms of Algarvean pottery and the artists set about painting these in the old style.
The revival of Algarvean Pottery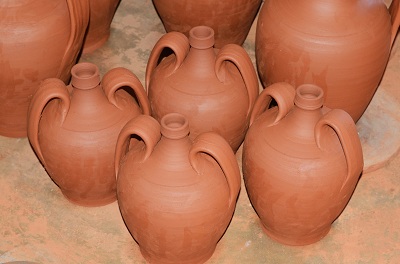 Azulejos (tiles), pots, urns, plates and figures were handmade and hand painted and with the burgeoning tourist population looking for souvenirs, the business took off. More local artists were employed and taught the art of traditional painting. Visitors can enjoy a tour of the workplace and see the artistry in action.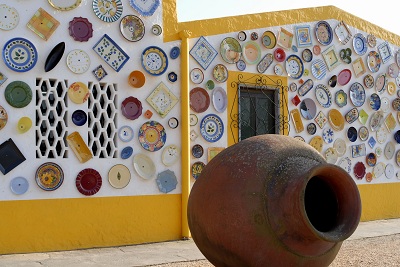 Artesenato shops are now found throughout the Algarve towns and villages. Along the N125 are numerous pottery, ceramics and stone carving outlets. The Portuguese have a fine sense of humour and many of the home and garden items are comical, sometimes even vulgar, perhaps targeted specifically at tourists. A mooch around one of these shops is likely to produce a few smiles as well as some bargains.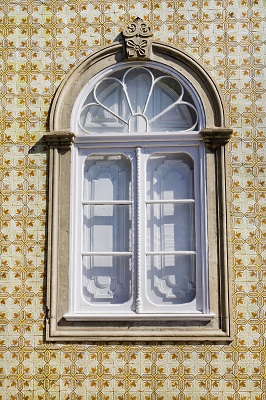 Tiled houses and intricate decor
Many typical Portuguese coastal homes have the outside walls decorated in locally manufactured painted tiles. This is not only for the colourful result but helps preserve the walls from the sea air. Gardens display pots and urns filled with gaily coloured plants and flowers, and the scene is completed with ceramic ducks, frogs, geese or farm animals. Inside the house they may have lamps, ornaments, dishes and crockery, all hand painted in traditional patterns.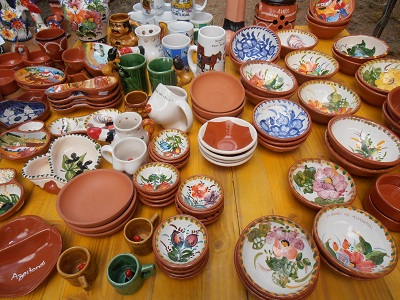 Tourists are not the only foreigners who have collections of this famous artwork. Many of the expatriates who have bought a house in the Algarve have taken to these wonderful Portuguese artefacts.
Information provided by www.meravista.com: your best online resource for property for sale in the Algarve
Article provided by Meravista.com
Meravista is the world's largest property portal devoted exclusively to the Algarve. It brings visitors the latest state-of-the art search technology, making it easy to find their perfect property in the Algarve.
View maps, listings and property details at the same time
Over 300 standardised property details
Compare properties side by side
Save your favourite properties and searches