by Sun's Dragon         
There are literally thousands of places to eat in the Algarve from beach shacks specialising in local freshly caught seafood to Michelin starred restaurants. Prices range from 7 Euros for the dish of the day at a local cafe to 80 Euros for a main course at one of the Michelin starred venues, so it is impossible to pin point any one place to eat. However at most local restaurants you can expect to pay around €20 per person if you're near the coast, and about €5 less if you're off the tourist track. This includes the couvert, main course, dessert, wine or water and coffee.
Many areas issue free maps with lists of what is going on in their area, including places to eat, listed by price ranges. It's recommended to obtain one of these for your area when you first move to the Algarve.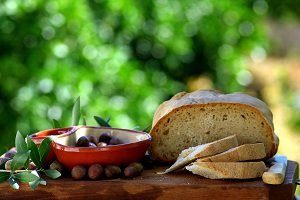 It is customary for all restaurants in Portugal to bring 'couvert' to your table as you sit down. This is usually a basket of local bread with some butter and sardine pate accompanied by a small dish of olives. Some restaurants may also bring other items such as
a small plate of glazed carrots with garlic

anchovies with oil and garlic

a small local cheese

local meat or cheese fritters or pastries
Whatever each restaurant brings, be aware that it is not free, even though you have not asked for it, and of course you can decline it as it is offered.  However, couvert is delicious, cheap and is good to snack on whilst having a drink and deciding what to have from the menu.  However, if you select "dish of the day", often you will find that the couvert, main course, a glass of wine, dessert and coffee is included in the price.

International cuisine
In the unlikely event that you might get bored with the wonderful variety available at the local Portuguese restaurants and cafés, you can find all types of cuisine throughout the Algarve. Try Da Barra's traditional Irish pub in Quinta do Lago, or the Maharaja Patiala serving excellent North Indian food in Sao Bras de Alportel. You can find The Green Room offering Mexican specialities in Lagos and Amore Vera's Italian offerings in Tavira.
On the beach
Many of the beach shacks have evolved over the past 30 years into first rate restaurants.  What started out as a wooden hut where you could get a simple snack or fresh fish BBQ in the old days are now often beautiful brick built edifices on the beach with menus and prices to reflect the change.  However, there are still a few beach shacks to be found and the simple fare they serve, especially fresh grilled fish, is delicious and usually very reasonably priced.

Wine
Portuguese wine is not exported in large quantities and so the best wines are readily available and at between €2 and €4 per bottle (in shops) for non vintage wines, are surprisingly good value.  House wine in Algarvean restaurants is excellent – order by the glass or bottle, or do like the locals and order a carafe.
Don't forget to explore country lanes, small villages and to ask local residents – you'll be sure to get recommendations for some excellent places to eat that you might otherwise never find!
Living in the South of Portugal is hard to beat! Find Algarve property for sale on Meravista.
More info:
Information provided by www.meravista.com: your best online resource for property for sale in the Algarve
Article provided by Meravista.com
Meravista is the world's largest property portal devoted exclusively to the Algarve. It brings visitors the latest state-of-the art search technology, making it easy to find their perfect property in the Algarve.
View maps, listings and property details at the same time
Over 300 standardised property details
Compare properties side by side
Save your favourite properties and searches