by Sun's Dragon         
Did you know?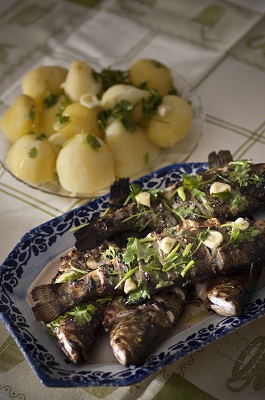 Numerous ingredients were introduced to Europe by Portuguese explorers, including pepper, coriander, ginger, curry and paprika. Current staples such as tea, rice, peanuts, tomatoes and potatoes also originated through the Algarvean ports.
Amazingly untouched by foreign influence, traditional Portuguese cuisine is a constant of recipes passed down from generation to generation. Featuring locally caught fish and shellfish, there are also specialties incorporating pork, chicken and game. Here is just a small selection of some traditional dishes.
Chicken Piri Piri
Piri Piri is a hot, spicy sauce or oil, coated onto the meat as it cooks and is a must for every visitor to try at least once. There are chicken restaurants everywhere in the Algarve where the food is both good and cheap. The two most famous restaurants for this dish have to be Marufo on the outskirts of Quarteira, near the Wednesday gypsy market, and Luis de Frango in São Bras. These are old style eateries with long tables where you are seated wherever they can fit you in.  It is recommended that you go early to avoid the inevitable queues, whether at lunch or dinner times.
Sardines
Another famous dish in the Algarve is Sardines, grilled to perfection and served with boiled potatoes and 'mountain salad', which has finely chopped tomatoes, onion and green peppers. The portions and size vary depending on the restaurant and the season, but you can usually count on at least 6 fish on your plate. Many still eat sardines the traditional way, placing the sardine on a slice of regional bread and eating it on one side and then flipping the fish and eating the other side, leaving just the head, tail and skeleton of the fish on the bread. They continue with this until all the sardines have been consumed and then eat the oil soaked bread. This is a local art and quite tricky to master - much messy fun can be had if you try it!
Cataplanas
Cataplanas are Algarvean pots shaped like a clam with a hinged lid. They are customarily made from brass or copper, and traditional fare is cooked, served, and often eaten from them. Some restaurants' Cataplana recipes call for 24 hour notice and most are served for two persons. The dishes vary from fish, shellfish or meat to a mixture of all of them and are world famous. Fishing towns like Olhão, Portimão and Lagos serve wonderful Cataplana dishes made with the morning catch of various fish, shellfish and squid.
Shellfish
Garlic features heavily in Portuguese cooking and many dishes are cooked with whole garlic cloves still in their skins. It is well worth trying Camarão Portuguesa - prawns in the shell, fried in olive oil and butter with whole cloves of garlic, coriander and a bay leaf all served steaming hot, with regional bread. Pork and clams or just clams or cockles can be cooked in a similar way are just as exotic and delicious.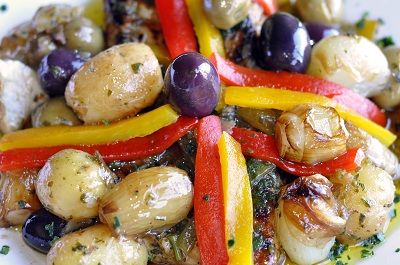 Local stews
Stews are another Portuguese speciality and people come from miles around on a Thursday to sample the lamb stew at the Laranjeiros restaurant in the hills above Vilamoura.
Jardineira is a beef stew with vegetables and is a favourite with the local people, tender and full of flavour. These stews feature frequently as the Prato da dia (dish of the day) in the local restaurants.
Traditional Algarve recipes
If you fancy some traditional Algarvean cooking yourself, the Turismo de Algarve (Algarve tourism board) has provided a comprehensive guide to Algarvean cooking along with numerous recipes under the headings of Soups, Fish, Meat and Desserts. Even if you don't plan to tackle any recipe yourself, the recipes make for interesting reading while the  ingredients for some of the dishes might be of interest.
Algarve living
Many people move to the Algarve with their families, not just for the fabulous sunshine and the spectacular scenery but to enjoy the friendliness of the Algarvean people and their delicious and unique cuisine.
If you want to enjoy this lifestyle, check out property for sale in the Algarve.
More info:
Information provided by www.meravista.com: your best online resource for property for sale in the Algarve
Article provided by Meravista.com
Meravista is the world's largest property portal devoted exclusively to the Algarve. It brings visitors the latest state-of-the art search technology, making it easy to find their perfect property in the Algarve.
View maps, listings and property details at the same time
Over 300 standardised property details
Compare properties side by side
Save your favourite properties and searches