by Sun's Dragon         
Did you know?
Legend has it that the small Algarvean town of Loulé first introduced Carnival to Rio de Janeiro, the world's biggest and most famous carnival event?
Countries all over the world celebrate carnival and Portugal is no exception. Across the Algarve the Portuguese go all-out to revel in street parties, masked balls and dances. There are many carnival celebrations in towns and villages across the region in addition to this main one in Loulé.
Loulé, a bustling market town in the heart of the Algarve, holds the grandest spectacle by far in the region, and is famous for its fantastic parade. People come from far and wide to participate. Shops are full of costumes, wigs and theatrical make up in the weeks leading up to the carnival, and there are plenty of shops with costumes for hire. Visitors are encouraged to dress up and join the fun.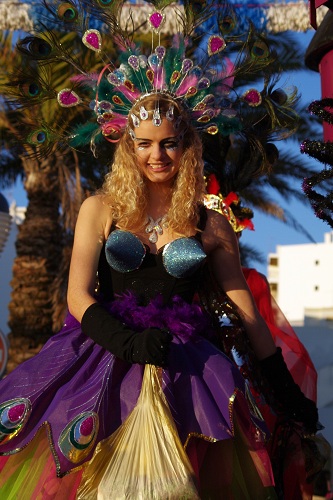 The Loulé Carnival has been held for more than a 100 years and the town virtually closes down to everything but carnival from each mid afternoon onwards. The parade of huge and beautifully decorated floats, hundreds of dancers and many local groups starts at 3pm daily. The town provides free brochures explaining the origin and design of each float.
The carnival parades along the town's main street, the Avenida José da Costa Mealha. This area is closed off, and a small entry fee is charged to enter, the proceeds of which are donated to local charities. It's recommended to come early and to find parking near the Stadium.
Restaurants and bars overlooking the main Avenue do a roaring trade as people gather on the streets and balconies above, to cheer the scantily dressed dancers and the outrageously colourful floats as they pass below. The atmosphere is electric with the pulsing music and energetic dancing. Be aware, aside from sweets and streamers, you may find people throwing water balloons and eggs as well!
Competitions are held for the best fancy dress and are very popular with so many people vying to be noticed. Everybody joins in the fun and laughter and the parties go on to the small hours each night.
The local council also organises a variety of masked balls, themed parties, sporting and cultural events for locals and visitors alike.
Don't forget, if you missed this big event this year, it will be back next year – as big, as noisy, and as much fun, as ever!
Are you considering a move to a fabulous place like Loulé?  Check property for sale in Loulé !
Information provided by www.meravista.com: your best online resource for property for sale in the Algarve
Article provided by Meravista.com
Meravista is the world's largest property portal devoted exclusively to the Algarve. It brings visitors the latest state-of-the art search technology, making it easy to find their perfect property in the Algarve.
View maps, listings and property details at the same time
Over 300 standardised property details
Compare properties side by side
Save your favourite properties and searches